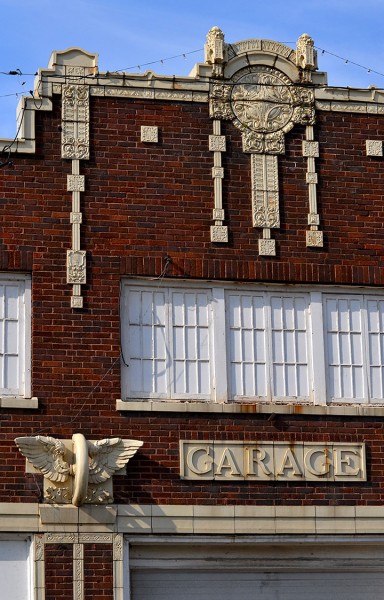 As I travel across this great land, particularly in older sections of towns, I am struck by something: buildings used to have soul and were built as monuments to the people and businesses that inhabited them.
After Curator Jessica and I gawked at Big Muskie's monster dragline bucket and marveled at the Muskingum River levels in the Great Flood of 1913, we crossed over the river into McConnelsville, Ohio.
We hadn't gone too far down West Main Street when I abruptly whipped into a gas station to take a photo of the front of this beautiful old garage.
Winged wheels

Something looked familiar about the winged wheels. Then, it dawned on me: a subtle variation of that was the symbol of the Ohio State Highway Patrol. (Click on the photos to make them larger.)
Whoever built this garage wanted to let everybody in town know that this wasn't a blacksmith's stable or some shadetree mechanic – this was a place where the automobile was celebrated.
I get the same feeling when I drive around in St. Louis and see buildings that may not have ornate artwork on them, but still carry the name of the owner or business because it was expected to last.
Where in Cape was such a building?
I'm trying to think of any buildings like that in Cape. I'd have to nominate the old Farmers and Merchants Bank at the corner of Sprigg and Good Hope whose stone columns said "bank" as soon as you saw them.
The Boat House across from Capaha Park would be another.
More?