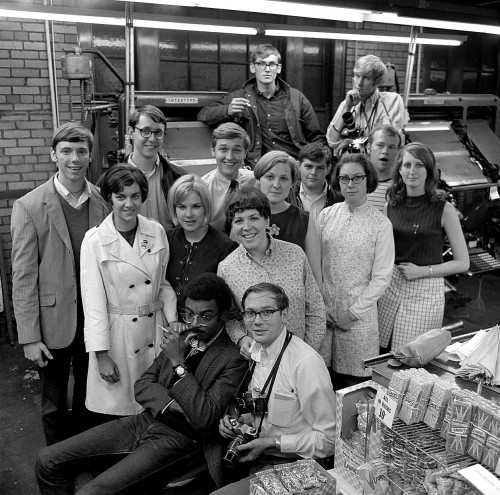 I'm going to stray off the Cape Girardeau reservation to run some photos of folks I worked with at The Ohio University Post in Athens, Ohio, in 1967 and 1968. April Fool's Day is as good a time as ever to publish them. The student newspaper is celebrating its 100th year with a special alumni reunion April 13-15. Despite what some folks might think, I was NOT around in 1912 when the paper launched as The Green and White.
The event organizers are looking for photos of old staffers (old as in age AND as in former). You regular readers can tune out for a day while I wallow in Ohio nostalgia for a day or so. Click on any photo to make it larger.
The OU Post saved my college career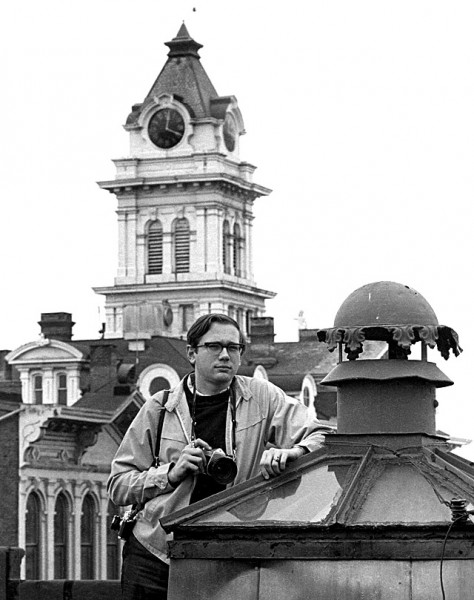 I was woefully unprepared for life in a big, impersonal university when I transferred in as a junior. It was a good thing my first stop after unpacking my bags in the dorm room I shared with two freshmen was The Post.
See, regular students in the Fine Arts program worked in gang darkrooms using chemicals mixed by other students who may or may not care if they got it right. The darkroom equipment was old and abused. I was used to working in my own darkroom where everything was well-maintained and everything had a place.
Post photo editor Walt Harrison saw my portfolio and hired me on the spot. He saw I was an experienced newspaper photographer, but didn't know that I was a lousy technician with no formal training. When you print for newspaper publication, for example, you print differently than you do for prints that hang on the wall. Newspaper photos are made up of tiny dots that transfer ink to the equivalent of splintery toilet paper. The process causes the image to pick up contrast, so you have to print "flat" when you send it back to the engravers or it won't reproduce properly.
Tiny, but efficient darkroom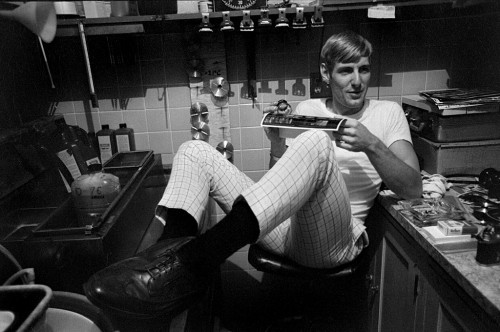 I couldn't understand why my instructors kept kicking my prints back for being flat. Fortunately, the folks on The Post and the Athena yearbook gave me the help and criticism I needed to understand what I needed to do. One night I went to cover a routine assignment, then made the first "good" print of my career to that point. A light went off in my head and I suddenly got it. My work steadily improved from that point as I grew in confidence. I cleaned up in the Ohio College Newspaper Association contest that year because most student photographers don't have as much hard news in their portfolios.
When Walt stepped down as photo editor, I took over his job. I didn't even know it was a paid position until I got a check at the end of the school year. It didn't make any difference to me: all I knew was that I had a darkroom shared with only two or three other shooters, a boundless supply of film and paper, and a bunch of accomplished photographers who weren't shy about critiquing my work. I learned more from them than from any of my classes.
"Radical" Editor Andy Alexander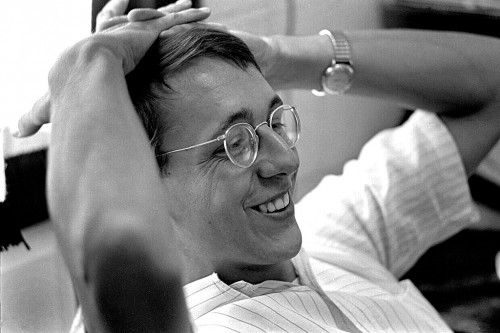 There are lots of photos of Andy Alexander because I had a freelance job from The Dayton Daily News to illustrate a story former Postie reporter Carol Towarnicky wrote about him. (I always called Carol "CT" because I couldn't spell, let alone pronounce Towarnicky.) CT's story said "Andy Alexander never marched in an anti-war demonstration. But he has marched through a few rice paddies, which would explain why the ex-Eagle Scout something talks about the United States in four-letter obscenities. And why the short-haired radical sometimes disparages the New Left.
Because Andy Alexander has a jump on most college students. He's been there. He's seen Vietnam. And it appalled him." Here's CT's story on Andy Alexander.

Andy financed a trip to Vietnam the past summer out of his own pocket. "I went to make a name for myself," he explained matter-of-factly. "I doubt I found any newsman who was there out of dedication… Everyone wanted to make it big, fast. Some of them died trying." He spent two summers reporting for the Melbourne (Australia) Herald. A year before he found himself in Prague, reporting the Russian invasion of Czechoslovakia.
I liked Andy. The Dayton Daily News might think he was a radical, but I found him a solid, steady pro who ran the student newspaper as well as any paper I've worked for.
Clarence Page like you don't see on TV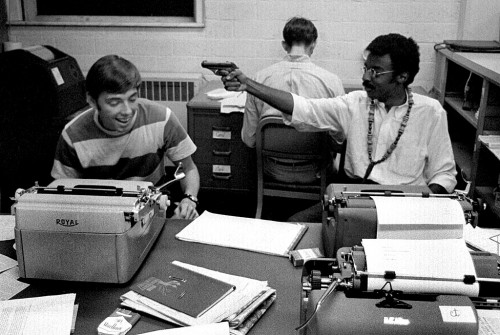 When you see Chicago Tribune Pulitzer Prize winner Clarence Page as a frequent talking head on the news shows, he doesn't look like the Clarence I knew. Here, Clarance points what I hope is a toy gun at Mark Roth. Unflappable editor Andy, with his back to the camera, ignores the tomfoolery going on behind him.
Clarence was a solid reporter who was always ready to push the boundaries. One night he used the F-word in a story and The Athens Messenger's production crew almost didn't publish the paper that night. The fact that The OU Post has been in existence was in spite of Clarence, not because of him.
I heard Clarence pontificating about something on NPR the other afternoon and had the same sense of unease as when I heard that classmate Jim Stone was trying to explain science to politicians and that Bill Clinton had been elected president. I mean, aren't they supposed to have adults doing those jobs?
Expectant fathers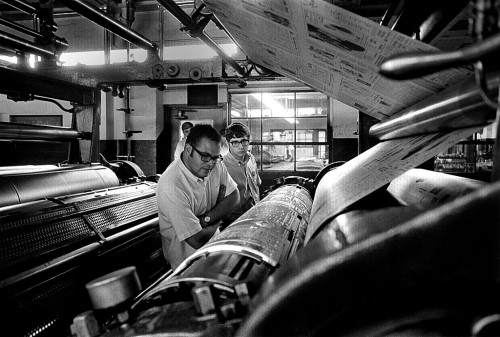 This was the first edition of the new school year to come rolling off The Messenger's presses in 1968. Jesse Rotman, Bill Sievert and Tom Hodson were pacing the floor like fathers-to-be in a delivery room.
Other Ohio-era stories
Ohio University Post photo gallery
Here's a collection of photos of Ohio University Post staffers at work (mostly). Click on any photo to make it larger, then click on the left or right side of the image to move through the gallery.