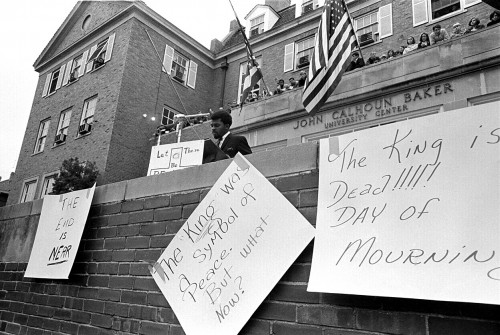 President Lyndon B. Johnson proclaimed Sunday, April 7, 1968, as a national day of mourning for Dr. Martin Luther King, Jr.
I wrote back in January about a class project at Ohio University that put me in an ideal position to cover the event in front of the John Calhoun Baker University Center as both a student and photo editor of The Ohio University Post.
Last month, I got an email from Bob Stewart who was looking for photographs of the Day of Mourning for a video to mark the date. He reached out for a mutual friend, Tom Hodson, who worked on the OU Post when I was photo editor in 1967-68. Tom said I had probably the best overall collection of photos of the formal ceremony and the sit-in that followed.
We traded emails for a few day, then I sent him way more pictures than I thought he could ever use. Much to my surprise, in a day or so he produced this video that was better than I could have ever made myself.
Here's some background on the images Bob used in the video.
Students filled the street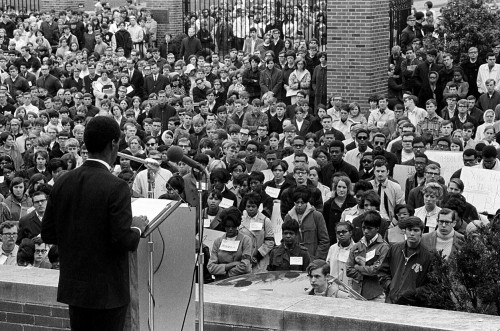 Hundreds, if not thousands, of students filled the street in front of the student union and spilled out onto the Main Green.
OU President Vernon Alden spoke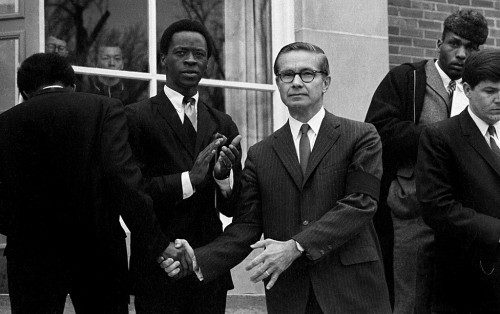 The Kennedyesque OU President Vernon Alden, center, wearing a black armband, spoke.
Religious leaders were present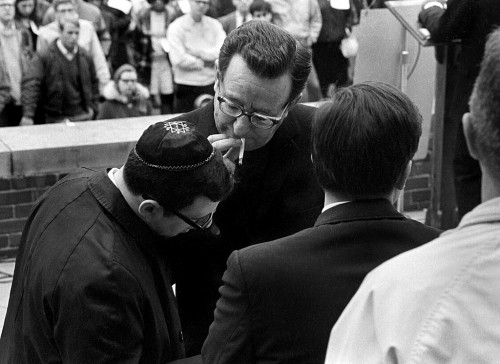 All of the local faiths were represented.
Crowd was solemn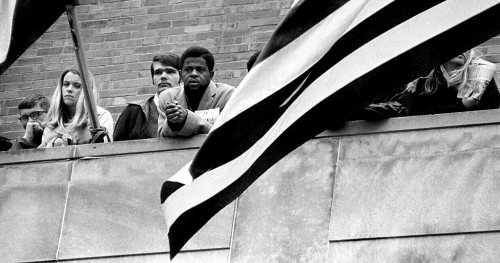 I was struck by how seriously everyone took the ceremony.
A salt and pepper group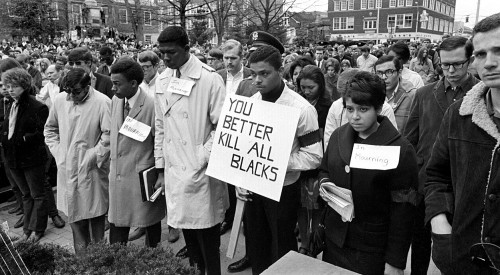 The front ranks were heavily represented by black students, many wearing signs that said "In Mourning."
Not your normal gathering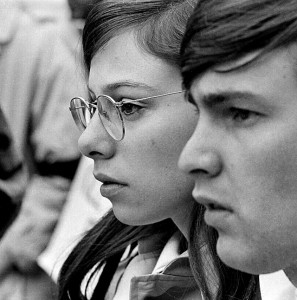 Most of the white students in the back were dressed more casually, but this wasn't your normal student gathering.
The mood was solemn and there was no laughing or calling across the group.
I had been to many protests, concerts and gatherings on the Main Green, but this one had a feeling of dignity about it.
It brought to mind the spontaneous gathering the day of the Kent State shootings.
Instead of being your normal batch of campus radicals, you had a mixture of jocks, sorority girls, frat boys, professors and townspeople all coming together to try to make sense of what had happened.
The racial mix on this day was probably proportional to the school's makeup.
The ceremony ended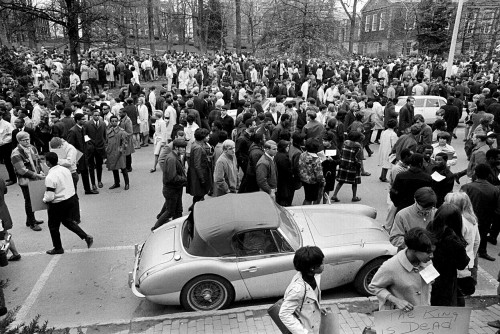 After the formal ceremony ended, the crowd started to disperse. Many of them walked a block north to Court and Union, the main intersection in town.
A small group of students sit down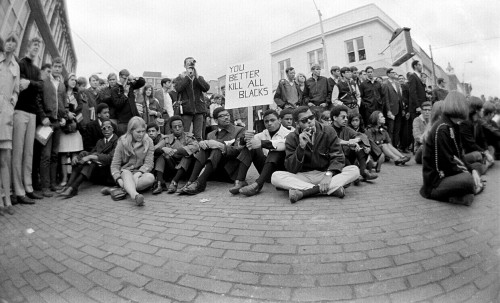 A small group of students sat down in the middle of the intersection.
The crowd grows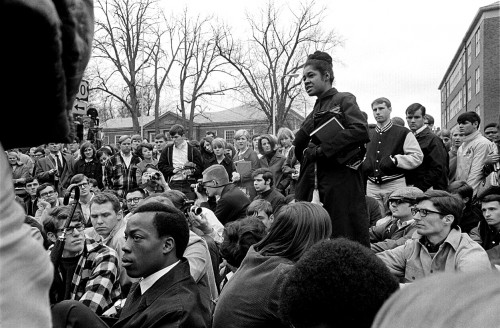 More and more students joined the sit-in. Again, uncharacteristically, this wasn't your normal group of rowdy drunk students who block this intersection on the first warm spring night after a cold winter. You can tell from the expressions that this is a serious occasion.
All of downtown is blocked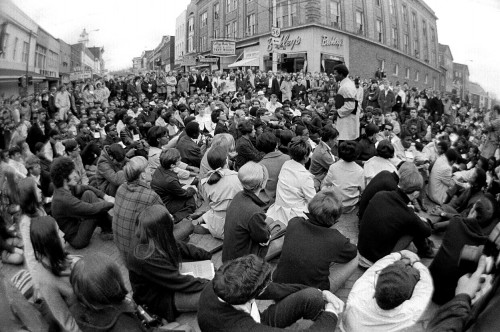 Finally, the whole intersection for at least a half-block in all directions was full of students.
James Steele addresses crowd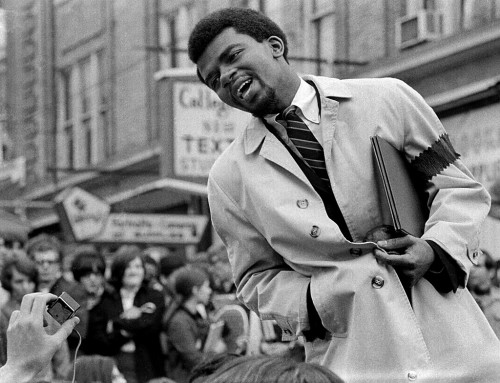 James Steele, who was one of the speakers at the formal ceremony, addresses the crowd.
I should explain something before we get to the part where things turn ugly. Ohio University was founded in 1804, so the local police have a lot of experience in dealing with unruly students.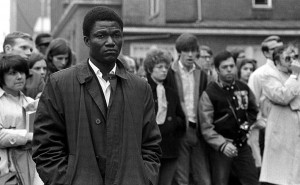 The usual procedure was to see if they'd break up on their own. If not, a half-dozen cops would show up in "bats and hats," somebody would read the riot act over a bullhorn, then there would be some pushing and shoving, followed by everybody heading back on campus.
Rarely were any arrests made. Some bricks and bottles might get thrown and a few windows could get broken, but I never heard of any looting of the downtown stores. The police didn't even use teargas at any event I covered until the spring of 1970.
Captain Charlie Cochran didn't follow script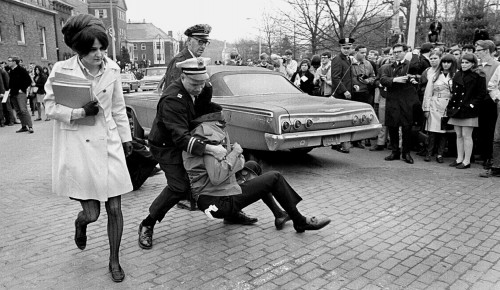 Athens Police Captain Charlie Cochran, always a hothead, didn't follow the script. Instead of giving the normal order to disperse and having enough officers present to enforce it, he waded into the demonstrators and literally threw them off "my street."
Seriously misread crowd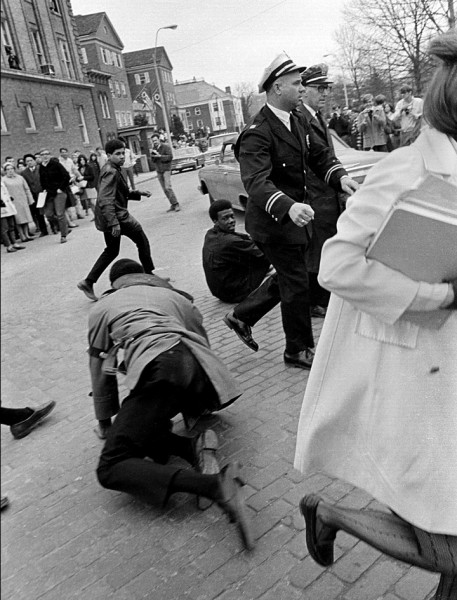 Charlie didn't realize this wasn't your normal unfocused mob of kids out for a good time. These folks had seen their national leader gunned down. They were hurting and looking for a place to direct their anger. They didn't take kindly to being manhandled on a day of mourning.
Cooler head prevails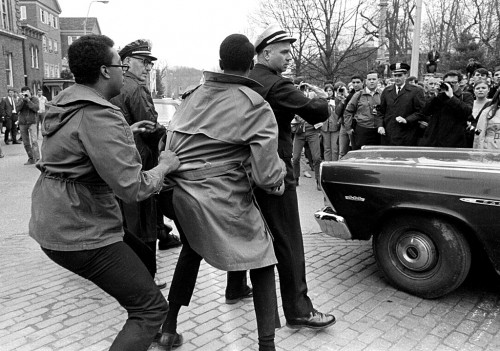 A friend grabbed the fellow who had been thrown to the ground just before he could retaliate. If the two had tangled, I'm convinced the whole crowd would have joined in and someone would have been seriously hurt.
Chief, James Whalen works out compromise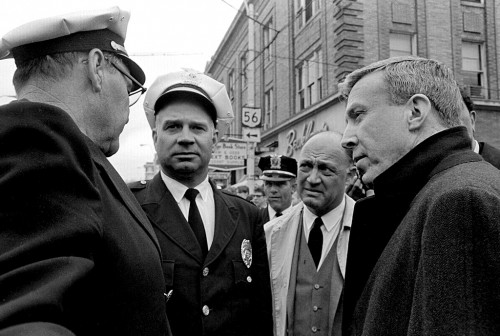 Before things could get out of hand, Police Chief Fred James, left, and James Whalen, university vice president for administrative affairs, right, worked out a compromise.
The chief agreed to allow the students to continue the demonstration for a "reasonable amount of time" and the students agreed to leave peacefully after that.
Charlie didn't look happy to have me part of this confab, but this isn't the first nor the last time that we'd have an awkward moment together. I'm not sure who the concerned citizen in the middle was.
Before long, intersection open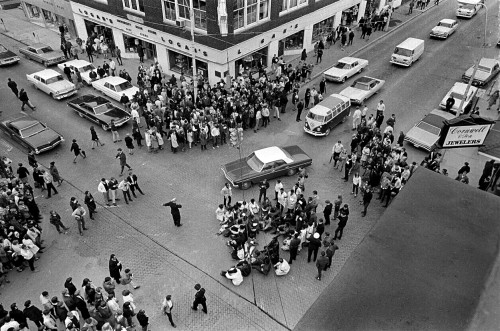 The bulk of the crowd retreated to the corners, then, after a "reasonable time," everyone else moved on.
"Where do we go from here?"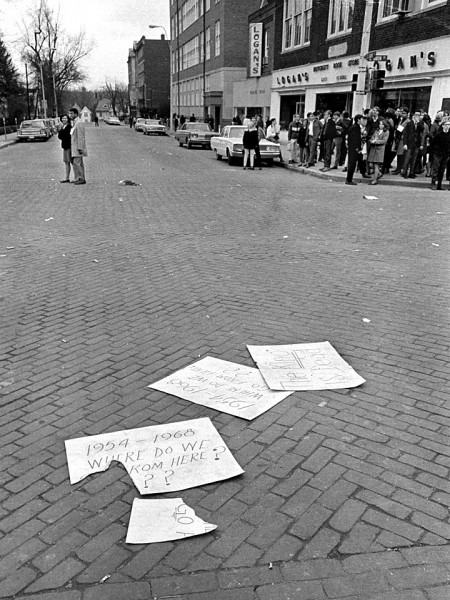 A writer in The Athena, the university yearbook, penned, "The King is Dead! It echoed in microphones; and hearts were horrified throughout the campus, country, and world. Martin Luther King Jr. started a dream, but a bullet couldn't shatter it. Now, where will his dream go?
"We talk about the coup d'etats of South America and the street riots in Europe, but when will we stop destroying our Kennedys and Luthers? Let us not scatter after the black arm bands have been put away."
Well, that's not exactly deathless prose, but it – and the scraps of posters in the middle of the street – raise an important question: "Where do we go from here?" Based on the headlines I worked on later, it doesn't look like we learned a lot from 1968.
Photo gallery of King Memorial Day
I've included a wide variety of photos. If you were there that day, you might want to share them with your grandkids. Click on any photo to make it larger, then click on the left or right side of the image to move through the gallery.
Post and Athena folks, I'm pretty sure I've spotted Clarence Page, Joyce Halasa, Ed Pieratt, Todd Schofer and Tom Price. (Now that I think of it, I think this is a class I flunked because I didn't turn in an assignment. Wonder if I could submit this for extra credit 43 years late.)
2013 Exhibit Catalog
In 2013, I was invited to put together an exhibit of the Day of Mourning photos for Sigma Gamma Rho, Inc., in conjunction with the College of Arts and Sciences, the Athens Historical Society and Museum, the Foster and Helen Cornwell Lecture Series, University College, the Campus Involvement Center, The Athens Messenger and The Post.
Here is a catalog of selected photos in the exhibit.