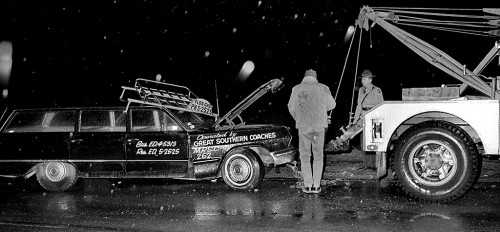 On the way to or from a basketball tournament Feb. 27, 1967, I encountered Flo's Cab which had been involved in a minor crash. The hit was hard enough to dislodge the luggage rack from atop the station wagon, but I don't see any windshield dimples, so it must not have been too bad. On top of that, it looks like I rated it worth only one shot.
What I didn't know until I just read a Nov. 23, 1974, Missourian story was that I managed to capture Flo's only accident. "Flo said she was involved in one minor accident in 1967 when the pavement was wet from rain. Her parked cabs have been struck at times by other moving vehicles, she said."
As far as I know, I never photographed Flo. She was one of those formidable characters who intimidated me.
Flo stories
When you are one of the first female cab drivers and you are a fixture for 29 years, you are well known.