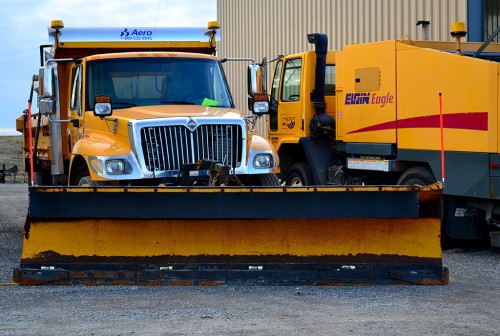 By the time most of you read this, we'll know if these trucks wasted a lot of time and salt Tuesday prepping the roads for what might, or might not, be a big deal.
A Southeast Missourian weather blog summarized the situation:
100% chance of… something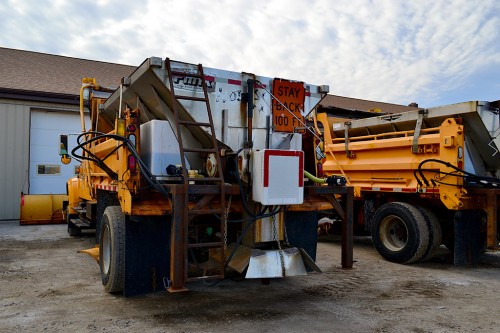 Posted Wednesday, February 20, 2013, at 5:21 PM
The forecast continues to deteriorate, with a "near 100 percent" chance of precipitation now forecast for tomorrow. But what kind of precip? That's the question.
Earlier forecasts suggested that the temperature would rise above freezing during the afternoon, hitting 34°F or so at Cape Girardeau, and melting any snow/sleet/ice/whatever that accumulated during the morning. In that scenario, Winter Storm "Cupid" would be mostly a non-event.
 Now the forecast has dropped a few degrees, projecting that the temperature will hover around 30° or 31° all afternoon. Surprise! That could produce a drastic change in the severity of the storm.
 As usual, Southeast Missouri is straddling the dividing line between "no big deal" and "a huge mess." The official forecast is leaning toward "a huge mess", but it could go either way:
 THURSDAY…A CHANCE OF SNOW AND SLEET POSSIBLY MIXED WITH FREEZING RAIN IN THE MORNING…THEN FREEZING RAIN IN THE AFTERNOON. SNOW AND SLEET ACCUMULATION UP TO 2 INCHES. ICE ACCUMULATION AROUND ONE QUARTER OF AN INCH. HIGHS IN THE LOWER 30S. EAST WINDS 10 TO 15 MPH. CHANCE OF PRECIPITATION NEAR 100 PERCENT.
When did this become normal?
Snow was a big deal when I was a kid. When did multiple big snows or sleet storms become the norm?