While rooting through a box of crumbling clips, I discovered this 1968 Advance Advertiser with Ruth Ann Seabaugh's photo on the front page. She and two other young women were finalists in the Miss U.S.A. Beauty Pageant held in the Advance High School gym. I scanned the photo and sent it to her sister, Mary Francis and her daughter, Leslie Stewart.
The two women and I had exchanged emails when I mentioned Ruth Ann in some earlier stories. Mary answered almost immediately, saying the timing quite a coincidence: Ruth Ann died on March 5, 2012.
An extraordinary woman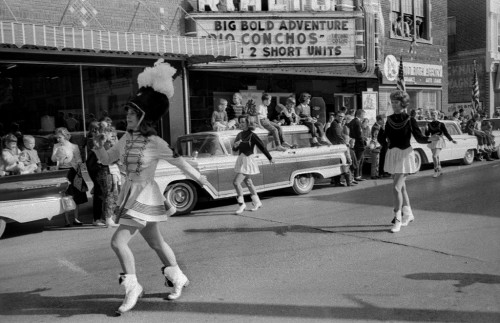 I've written before about how majorette Ruth Ann owned the street when she strutted down it. She had a presence you don't see in many young women of that age. I didn't realize exactly how powerful a woman she was until her daughter, Leslie sent me an email last year:
That's the remarkable thing about finding your page…She is in print again. It feels like she isn't forgotten and that feels wonderful.
Mom was hit by a drunk driver in 1979. I was 6.  He T-boned her car as he ran a stoplight doing 80mph.  She survived because the accident occurred right in front of a hospital. She was leaving a doctor's appointment.  She was in a coma for 9 months and ultimately in the hospital 2 years before she could come home.  She was a very determined and tough-minded person.  Because she spent the rest of her life disabled, most people didn't see her beauty.  That's another striking thing about finding these pictures.  You captured her, and I can tell you really did get it.  I can also tell you're an excellent writer, something I really admire. [Editor's Note: Insert blush here.]
Daughters went into military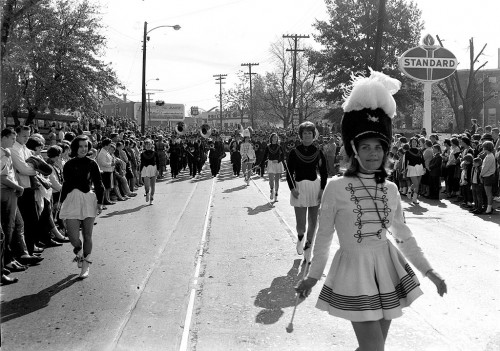 My sister and I both went into the military after high school. I went into the Air Force and my sister went into the Army. People wondered about that and thought maybe it was some male influence that drove our success.  My sister was the first female allowed to deploy in the field with the "Big Red One" as an Intel Analyst.  I was Airman of the Year for the 1st (now 16th) Special Operations Wing my first year in the service.  Mom was the one who modeled determination and resourcefulness for us. Nothing stopped her. Nothing.  
She endured a lot, alone. Even disabled, she returned to work as a nurse for a nursing home for a time. It meant she had to give up some of her social security benefits but she liked helping people.  She was a hard worker and she taught her girls the same.
I eventually got a commissioning program and studied Human Factors at Embry-Riddle Aeronautical University.  I became an Aerospace Physiologist in the Air Force, went to pilot training and got to fly jets until God called me to the Church.  
I graduate with a Masters of Divinity from Southern Methodist University on May 17th. I'll be ordained in the Episcopal Church in June.
I'm a little nervous, but seeing these pictures of mom leading a band down the street reminds me I have no reason to be.  I was formed to lead by someone who did it very well.  Thank you, Ken.
 Ruth Ann's obituary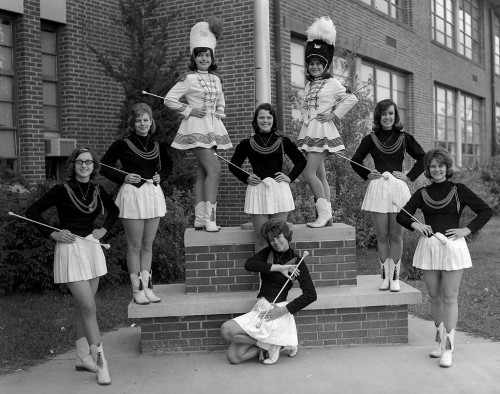 Ruth Ann (nee Seabaugh) Jahnssen, passed away, Monday, March 5, 2012.
Loving wife for 29 years of John Jahnssen; devoted mother of Makaden "Laura" Nite and Leslie Ann (Mike) Stewart; loving step mother of Sherman (Jan), Jimmy Lee (Sally) and Sandra Dee Jones; dear sister of Mary Jane (and the late Alvin) Francis, Pyrtle "Buck" ( Joanie), George (Edie), Delores (Orville) Krauss, Doug (Marie), Marlene "Boots" (Edgar) Schott, Harold "Butch" (Linda), and Kay (Ronnie) Thiele; loving aunt, cousin, and friend to many.
After college Ruth Ann began her career as a teacher, and then became a registered nurse, serving the St. Louis community for over 20 years.
Interment: Jefferson Barracks National Cemetery. In lieu of flowers, contributions may be made to The Siteman Cancer Center Washington University, Campus Box 1204 St. Louis, MO 63105-2161.
Leslie added some details in an email: "the obit failed to mention my son, Ryan, and also mom's step-grandchildren.  Mom died of brain cancer but she was herself until the day she died. When she was diagnosed they gave her 3-6 months but she made it 18 months from the diagnosis.  She was really something!"
More photos
You can see more photos of Ruth Ann in these posts.