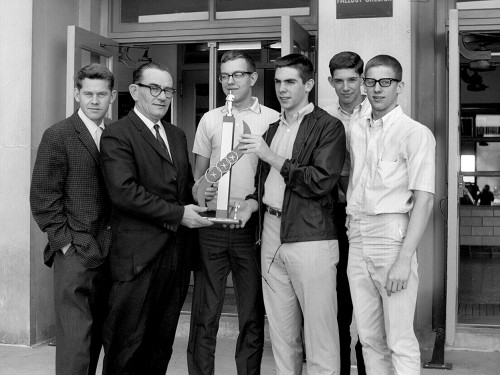 Looks like the Central High School Debate Club had a good run at the Charleston tournament in 1963.
From left to right, Calvin Chapman, advisor, projecting his JFK persona; Fred Wilferth, principal and co-owner of the Jackson skating rink; John Mueller, my freshman debate partner; Bill Wilson, the other candidate who was beaten like a drum by Jim Feldmier in our run for Student Body President; Rick Meinz and Mike "Dink" Daniels. You can see a tiny, tiny me taking the photo reflected in the window inside the door.
"Meinz would rat me out"
I can remember being at a state student congress in Jeff City and passing a note to Dink that a couple gals from Sikeston or Charleston or somewhere wanted us to go to dinner. "I'd love to," he responded, "but Meinz would rat me out to Bunny [his girlfriend]."
You can tell by the mischievous expression on Rick's face that he would have done it in a heartbeat, too.