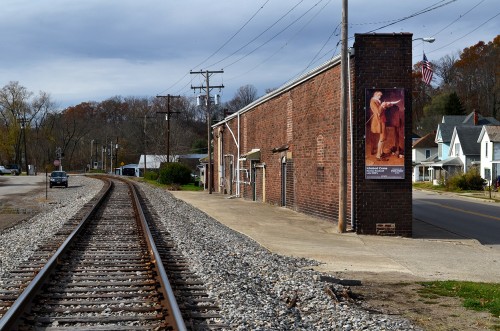 I didn't pay much attention to this building when I was northbound through Glouster to the Burr Oak Lodge where I was staying the last time I was in Athens, Ohio, but I did a double take on the way south. (Glouster is the place where I shot the epitome of a small-town football game last fall.)
That is one skinny building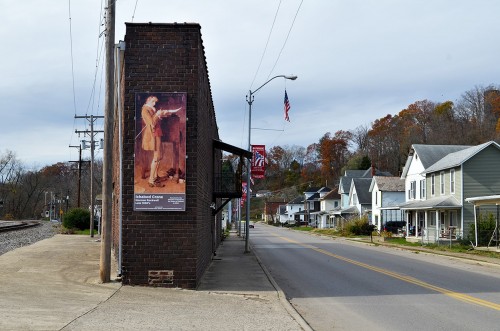 I had to stop to make sure it wasn't an optical illusion.
No, it really WAS that skinny. It got bigger at the other end, but I could easily span the back wall without having to stretch my arms out as big as I had gestured before to describe the size of a fish that got away. (Click on the photos to make them larger.)
Only eight bricks wide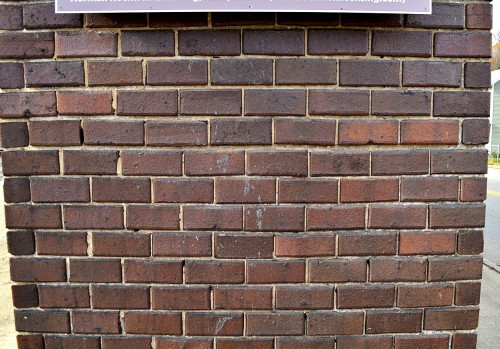 That wall was only eight bricks wide. If a standard brick is eight inches long, and you figure the space for the mortar between the bricks is half an inch or less, that would be, let's see 8″ x 8 bricks x 7 mortar rows @ 1/2 inch equals just 67.5 inches or a little more than 5-1/2 feet wide. Allowing for the thickness of the walls, the open space inside the thin end would have had to have been less than four feet.
Why would anybody use that many bricks, not to count the labor of laying them, for such a small return of space?
I don't know the answer to that question, but my guess is that both bricks and labor were cheap in Glouster when that building was constructed.
Bricks were a big deal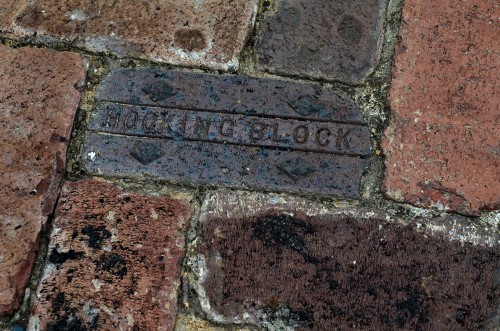 Here's a really good history of the region that explains how important the iron, coal and brick industries were.
Curator Jessica is somewhat of a brick expert, so she's always looking for SE Ohio bricks like this Hocking brick she spotted when we were walking around the Ray Charles Plaza in Albany, Ga.