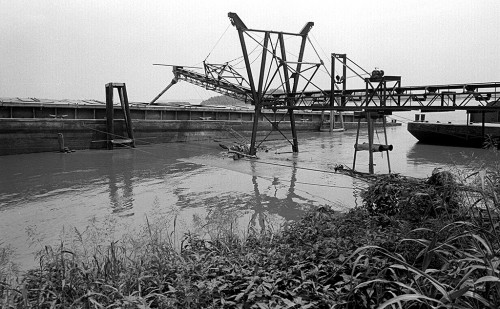 While cruising around looking for flood photos, I stopped at the Cape Girardeau Sand Company for a couple of shots. David Hente had a good piece on the sand company in the August 30, 1992, Missourian. At that time, Cape Sand had been in business 75 years and was the largest company of its type between Cape and Chester, Ill. (In another month, the river was higher.)
Family-owned business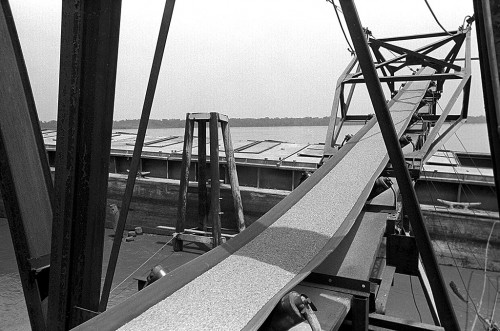 The company was created in 1919 when Peter Deimund and his son, Linder, launched the business with a capital investment of $5,510. When the story was written, it was still a family business. Members include Linder P. Deimund, Jr., who helped construct a sand conveyor system with his father and who does all the maintenance work; Richard Deimund, the pilot of the sand dredge Miss Catherine; Jerry Beckett, deckhand on the Miss Catherine; Jeff Deimund, clamshell shovel operator; Gary Hester, front-end loader operator in the sand yard, and office manager Sonny Deimund.
Business started at the foot of Themis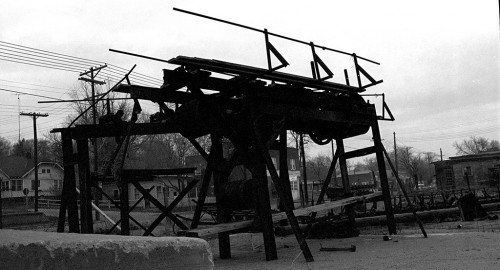 The company's first site was at the foot of Themis Street, then it moved north to Broadway. In 1924, the Deimund family bought riverfront property in the 300 block of North Main Street. This is where I took this photo around 1964. It was supposed to be an arty silhoutte. It ended up neither arty nor a good record shot.
The building in the background with the white on it has a hanging sign that says "North American Van Lines." Across the front of the building is lettering that says something "& Storage." I'm going to guess that was Nichols Transfer and Storage listed at 447 North Main Street in the 1969 City Directory. The sand company moved to its final location in the 1300 block of Water Street in 1963.
Red Star and Cape Sand Co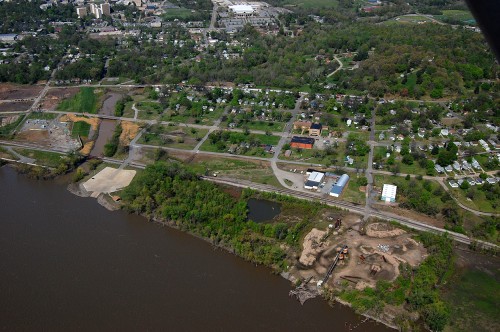 This aerial showing the Cape Girardeau Sand Company and what is left of the Red Star District was taken April 17, 2011. The concrete pad at the left of the photo is what we used to call Honker's Boat Dock. To the left of Sloan Creek is the area that is being cleared for the Isle Casino Cape Girardeau. The light-colored building at the top center is the Show-Me Center.
Housekeeping note
The program that sent out email notifications when I posted new material quit working. Son Matt installed a new one that we hope will work more reliably. We'll find out soon if everyone's email address transferred over. If you haven't signed up for a free subscription, put your email address in the box at the top right of the page and press Subscribe Now. You'll get an email confirming that you are you. Click on it and you are in business. You may unsubscribe at any time (but we'll hate to see you go.)