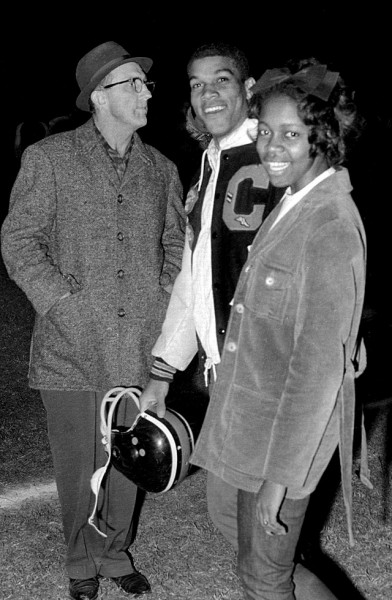 This shot of Charlie Duncan and Fanny Clemmons walking off the field after Central bested Perryville 20-6 in the homecoming game was published in the 1965 Girardot.
Duncan was a superb athlete and one of the nicest guys at Central. The Girardot Senior Directory lists his activities as "President, Treasurer of Homeroom; Varsity Club; Football; Track; All-State Honorable Mention, All Conference First Team."
Fanny was in the Sports Club and was Secretary, Treasurer of the Volleyball Club.
"Glory Comes Late in Season"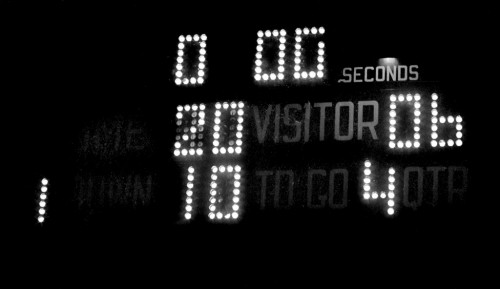 The Girardot said "The highlight of this year's season came in a triumphant victory over the Perryville Pirates, 20 – 6. This being the homecoming and final game, the Tigers would settle for nothing less than victory. Executing brilliant plays and coordinated teamwork, Central took and early lead. The second half showed as much determination as the first, as the Tigers maintained a definite advantage and ended the Pirates' winning streak."
Cape Beat Jackson 19 – 0
I remember Jackson as being Cape's biggest rival in our generation. The Girardot reported on the season's fourth game: "The rivalry between Cape and Jackson surged to a climax as Central downed the Indians, 19 – 0."
There were several players with numbers beginning with 5 in the yearbook team photo. Since I can't read the whole number, it could be Mike Gray (52), Wayne Roeder (50) or Leslie Carlton (56). I know it's not Bill Jackson (54), and I'm pretty sure it's not Mike Gray. The girl on the left looks like she might have been one of the Dunklin girls, but I'll let somebody else confirm it.
CHS lost squeaker to Sikeston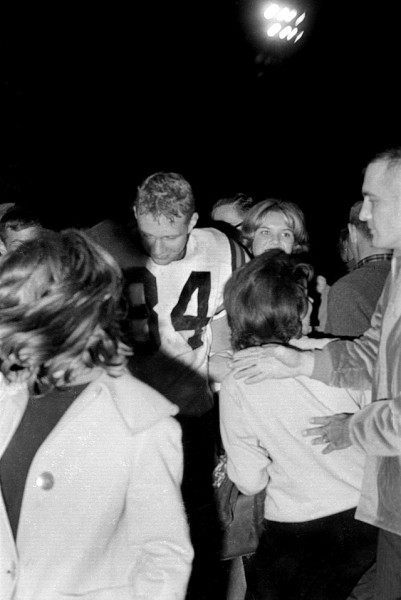 The Sikeston – Cape Central game I covered in 2010 was a blowout, with Sikeston scoring in the first minute and winning 21 – zip. The 1965 Girardot said "One of the most thrilling games was the Tigers' encounter with the Sikeston Bulldogs. The last 52 seconds proved to be the deciding point when the Bulldogs scored a touchdown, ending the game in a close 20 -19 defeat for the Tigers.
I'm pretty sure # 84 was Jerry O'Connell.
1964 Varsity Scores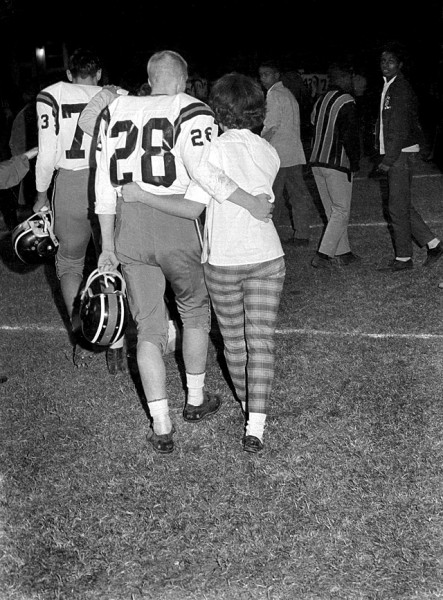 The Girardot: "Highlights of Central's 1964 football season included both disappointments and triumphs."
CHS vs Blytheville: 6 – 12
CHS vs University City: 7 – 14
CHS vs Paducah Tilghman:  6 – 6
CHS vs Jackson: 19 – 0
CHS vs Poplar Bluff: 0 – 14
CHS vs Sikeston: 19 – 20
CHS vs Chaffee: 34 – 13
CHS vs Charleston: 0 -14
CHS vs Perryville: 20 – 6
The yearbook's team photo has some of the numbers obscured, but I'm going to guess that #28 was Mike Friese. Girlfriends, unfortunately, didn't wear numbers, so I'm not sure who the girl was. Ron Riley was wearing #73 in the yearbook.