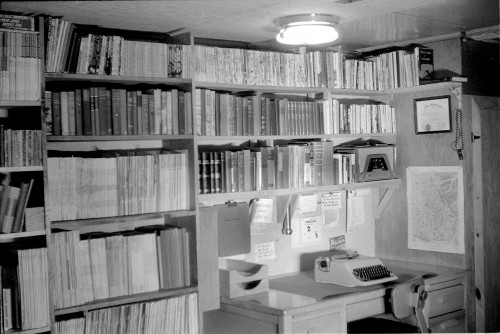 I was driving down the road this afternoon when someone on the radio mentioned that this was World Book Day. That caused a flashback to some photos of the side-by-side offices Dad and I had in the basement.
This was my desk, which is uncharacteristically neat and clean. I'm normally a stacker. The radio dial is set somewhere to the middle, so I was probably listening to KFVS, which I think was 960. It's doubtful I could have picked up my favorite stations: WLS out of Chicago, WLN out of New Orleans or KXOK out of St. Louis.
The reference books I still have on my shelf nearly 50 years later are to the left of the radio. The Olivetti portable typewriter followed me to Ohio University and points beyond. I passed it on to Brother Mark at some point, and he still has it.
My darkroom equipment was eventually set up behind me on a table and Dad's workbench. These photos must have been taken before I bought my enlarger and other stuff.
Shari saving me from Algebra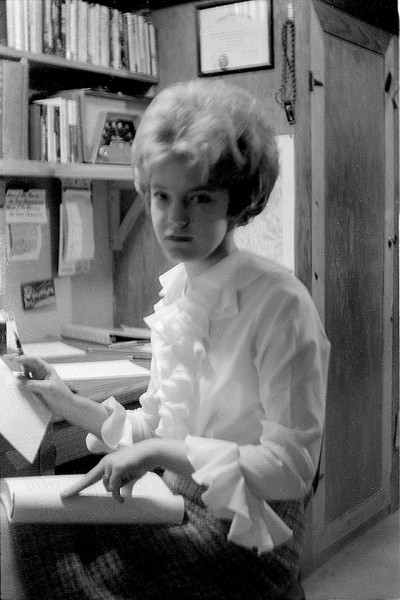 Maybe I cleaned up my desk because Girlfriend Shari was coming over to try to drill algebra into my skull. If you blow it up big enough, you can see a hand-scrawled note on the wall that says, "When I'm right, nobody remembers; When I'm wrong, nobody forgets."
Dad's side of the world
Dad had a real office where he did most of his book work, but he'd also work on things at home. There's a blueprint on the left side of the desk. That lamp hanging down is still in use, and the fan is still there. The book shelves gradually filled with books, mostly about Scouting, but there are still a lot of Pinewood Derby cars and wooden neckerchief slides gathering dust. There is a stack of aluminum film cans containing our 8mm home movies to the left of the light.
Getting back to World Book Day, I've always been surrounded by books and magazines. When we lived in a tiny house trailer that Dad pulled from job to job, there wasn't a lot of storage space, so my comic book collection was housed in a wooden seat with a hinged lid back in my bedroom. When you are an only child (at the time) and living out in the boonies, your books become your closest companions.
Dad and my grandfather liked murder mysteries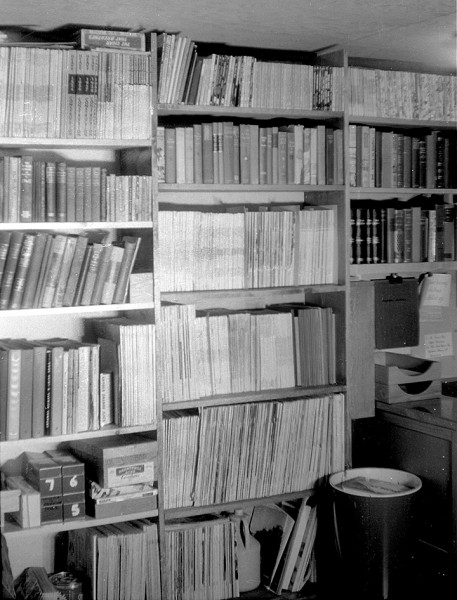 I asked my grandfather, who lived with us, why he liked Earl Stanley Garden and Perry Mason books and not the fishing magazines I subscribed to.
"Because I can read a mystery without wanting to kill someone, but if I read a fishing magazine, I'd want to go fishing," he answered.
Our family subscribed to The St. Louis Globe-Democrat in the morning and The Southeast Missourian in the afternoon. We must have gotten at least half a dozen magazines. If nothing else was available, I'd read the cereal box.
When I finally got a library card, I checked out as many books as I could carry. I made a tiny mark inside the books when I finished them. A few years back, I prowled the aisles of Cape's library until I saw some old friends that still had the marks in them. If any of the book police are reading this, I hope they will forgive my youthful transgression.