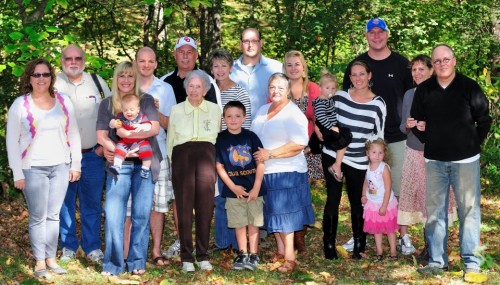 Family was my Number One Thing to be Thankful for in 2010, and it tops the list again in 2011.
The Steinhoff Family from Florida, Missouri, Colorado and Oklahoma managed to make it back to Cape to celebrate Mother's 90s Birthday Season. Son Matt shot this group photo. (Click on any image to make it larger.)
He had everything set up earlier in the morning to do the photo in the back yard, but the sun moved and the shadows were bad. He shuffled us over to the side yard where the light was better, but still spotty. He worked fast, mainly because so many of his subjects were young and prone to crankiness and because so many of his subjects were old and he didn't know how many takes he'd have left.
Matt's last perfect family portrait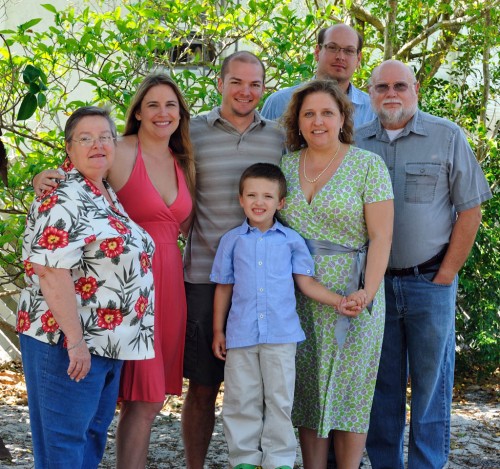 He took much longer to shoot this one of the Florida branch on Easter Sunday 2009. In fact the video I recorded of him arranging everyone, running to get into the photo before the self-timer tripped, checking the camera display, yelling at various of us for minor infractions, then redoing it time and time again, runs 7:46, something that a couple of commenters have complained about. They didn't get it: it was SUPPOSED to be long. That's why it's titled How to Shoot a Family Portrait (In the Real World).
Here's where you go to see still photos of the extravaganza and / or subject yourself to a 7:46 min video.
They're both iPad proficient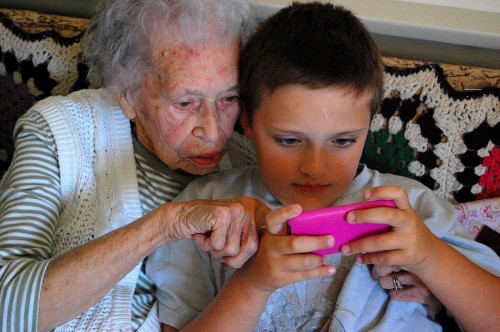 I'm thankful that my grandsons have had a change to meet and get to know their Great-Grandmother. Malcolm gets to see his great-grandmother only once or twice a year, but they're close enough that she can kibitz his computer game. There's not that big a gap between 90 and seven, I suppose, when you both know how to use iPads. Malcolm is Matt and Sarah's son.
Graham – the newest addition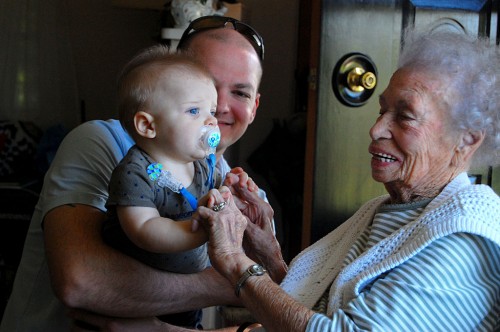 Mother journeyed to Florida shortly after Graham was born in February (remember our Road Trip back). Graham doesn't know a stranger. I have a snippet of video right after this still shot was taken that shows him breaking out in a huge grin and reaching for her.
Both of my sons keep in regular contact with their grandmother by phone calls and email. Even though they didn't grow up in Cape, they feel the same attraction to the area that I do. Graham belongs to Adam and Carly.
Missing from the photo, but not forgotten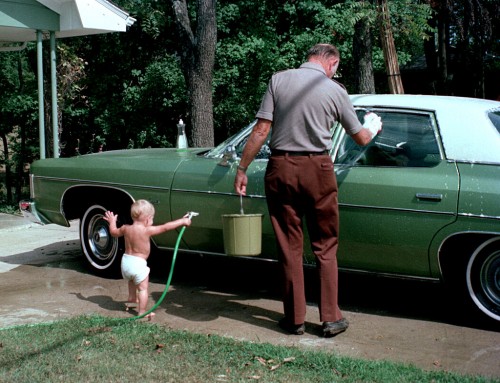 Even though Matt wasn't much older than this when Dad died in 1977 – and Adam hadn't even been born yet – both boys have heard so many stories and memories that it's almost like they grew up with him.
Dad may not be in the photograph at the top of the page, but he's still in the picture for us.