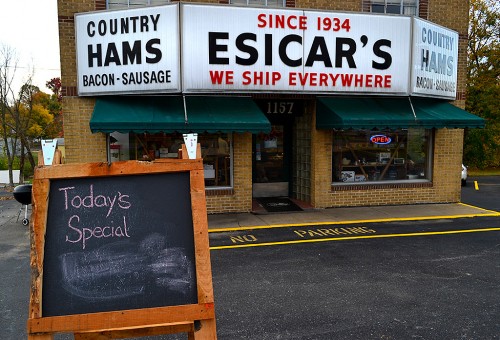 If you drove by Esicar's at 1157 North Kingshighway this week, you might have noticed a neon OPEN sign in the front window. No, Esicar's isn't coming back after a March 6, 2011, fire that put it out of business. There's a new meat store in town: The Butcher Block held its grand opening October 26.
I'm going to mark Day One as a success. When I stopped by Friday afternoon, owner Peter Whisnant and manager Dawn Petersen were so busy waiting on customers that they barely had time to tell me their names. Their new sign was supposed to be up, but it looks like it'll be the first of the next week before it's installed. Mail orders will be accepted.You can place an order by calling 573-339-8757 until a website goes up in the next couple of weeks, Peter said.
Owner Peter Whisnant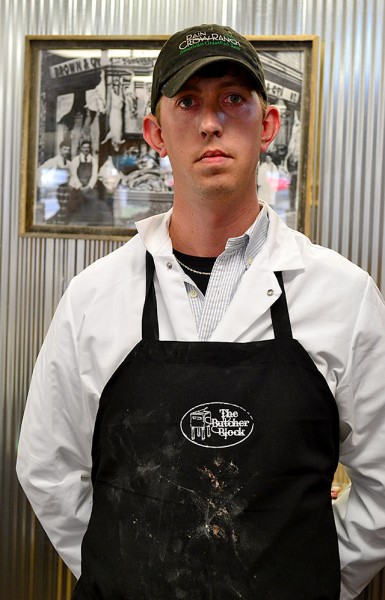 A Missourian story on October 22 had the new owner's name spelled with a P on the end instead of a T, but I'm almost positive that I heard T. In addition, I did a search of The Missourian's archives and saw it spelled with a T in two other stories. I'm going to call The Missourian's latest name spelling a typo unless I hear otherwise.
Peter, who owns Fruitland American Meat, decided that Esicar's was the perfect place for a specialty meat market because of the location's long association with country hams, bacon and sausage.
Kelley bakes the bread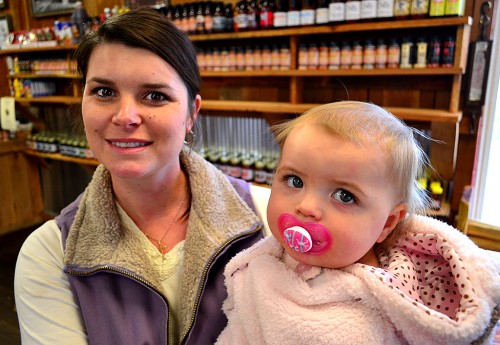 In addition to selling Bunny Bread, the store carries Kelley Whisnant's own special Mennonite / Italian bread. Right now, she's baking about nine loaves of bread a day (while  chasing Daughter Abbigail, 1).
"What happens if you become a success and you need 25 or 30 loaves a day," I asked.
"I guess I'll just have to get a bigger mixer," she replied. "Maybe that's what I'll get for Mother's Day."
Earlier stories about Esicar's
The Butcher Block photo gallery
Here's a collection of photos taken in and around the store. Click on any photo to make it larger, then click on the left or right side of the image to mover through the gallery.