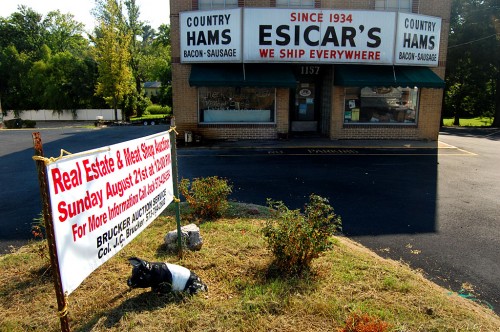 Rumors have become reality. The building that housed Cape Girardeau's landmark business, Esicar's, will be sold at auction Aug. 21 at noon. Missourian business reporter Melissa Miller wrote that the three-story building, its contents and the one-acre site it sits on will be sold. Included in the items up for sale is Esicar's original brass cash register, antique furniture, meat processing equipment, coolers, and a concession trailer.
This will be the end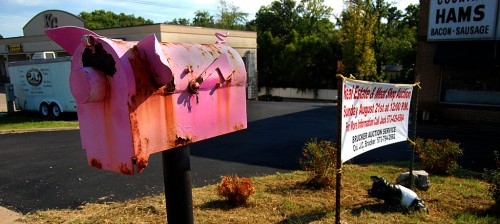 A business like Esicar's can survive one owner change, but I gather from comments that I've read and heard that the current owner didn't have the loyal following of the original family.
When it's sold this time, it's going to be like the classic story of the man who was offered an axe owned by George Washington. The prospective buyer hefted it and said, "It looks awfully new to have belonged to George Washington."
"Well, to be honest, it's had three new handles and two heads since Washington used it."
I think the Esicar spirit left the building well in advance of the auction. I'm going to predict that an entirely different business will go into the building when it's all over.
Earlier links
I admit never having been a fan of Esicar's and was taken to task by my readers. You'd have thought I had said that McDonald's was better than the Blue Hole.
I speculated that Esicar's was closed because the store didn't show any signs of life.