Regular readers of this blog have been treated to a series of non-Cape stories about the adventures of owning an older home in Florida.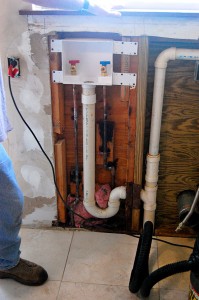 Two days ago, you heard about our Termite Travails.
Years ago, I worked on a special edition of The Palm Beach Post called "Crests of Hope, Troughs of Despair," which chronicled the Cuban Boatlift and the plight of Haitian refugees. Yesterday's post was a lot like that, starting with "fits like socks on a flamingo," and ending up with "SHUT THE WATER OFF!!!!"
This morning, while Wife Lila was getting ready to go to church, her brother, John Perry, was installing the connections for the washer hookup. He wanted to have someone standing by the hookup to look for leaks while he was out at the street turning on the main. Since that's a pretty good distance, I volunteered to stand in the living room to relay the word from Lila that all was good.
The last thing John said as he headed to the front door was, "I left the faucet on outside, so if you hear water running, don't worry."
A relay person wasn't needed
As soon as John opened the main valve, I'm pretty sure you folks in Cape heard Lila screaming. It seems that John had left the faucets open to let steam escape when he sweated the fittings. He forgot to close them for the test. The water came out full force right at Lila.
I'll be ready to pull the plug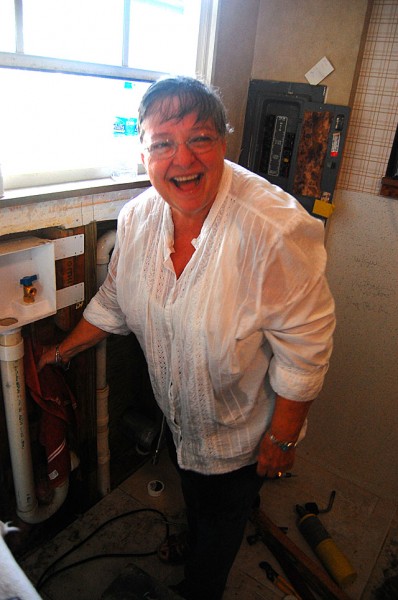 The next nearest experience like this was when Lila and I shared an old house in Gastonia, N.C., with Chuck Beckley,  a photographer I brought from Athens, OH. We needed to hook up the ice maker on our refrigerator, but I couldn't find the main shutoff valve.
"Chuck, you drill a quarter-inch hole in the cold water supply pipe, then we'll stick the ice maker tap into the hole. A little water won't hurt anything because we're in an unfinished basement. I'll keep my hand on the electrical cord back here at the receptacle in case the drill shorts out from the water." See, a good supervisor always thinks about the safety of his workers.
You'd be surprised at how far water under 40 to 60-psi will shoot through a quarter-inch hole. You'd be even MORE surprised at how much water can come gushing out of two faucets aimed at eye-level.
All is forgiven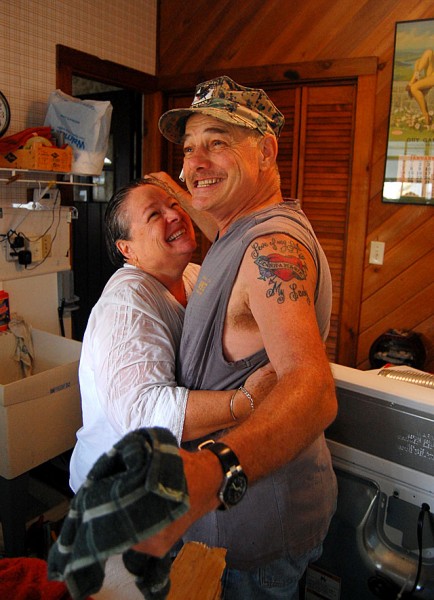 Just to show that there were no hard feelings, Lila quickly ran over to John to give him a big hug. The fact that she was soaking wet with cold water very quickly became apparent to John. She was sharing more than the love.
How do you shoot pictures like this?
Some of you may wonder how it's possible to quickly capture photos like these.
It's all part of the going to special photojournalism classes at schools like Ohio University where you learn how to quickly make the right choices and decisions. I recall one test question that asked, "You see a man jump off a bridge. You have a camera in one hand and a rope in the other. What do you do?"
The answer: it all depends on whether you have a wide angle or a telephoto lens on the camera. You may have to change lenses before you can shoot.
Actually, I WAS confronted with a jumper on a bridge once. You can read about my experience on the Blue Heron Bridge here.