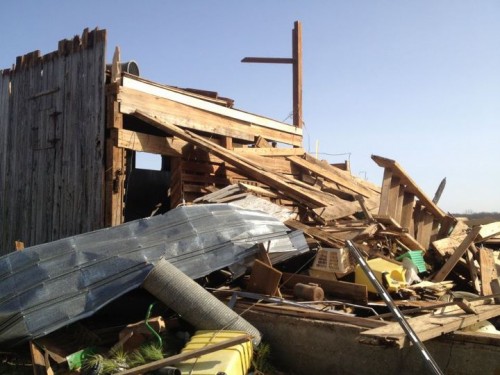 I checked the weather before I turned in around 2 a.m. Wednesday and saw a fast-moving narrow band of ugly weather headed toward Cape. When I got up, news reports indicated that Cape had dodged the bullet, but some other local communities, including Puxico, hadn't. That was significant because Wife Lila's brother, John Perry, had come down to do some odd job repairs for us. His Wife Dee's parents and brother live on farms near Puxico.
Tree came through roof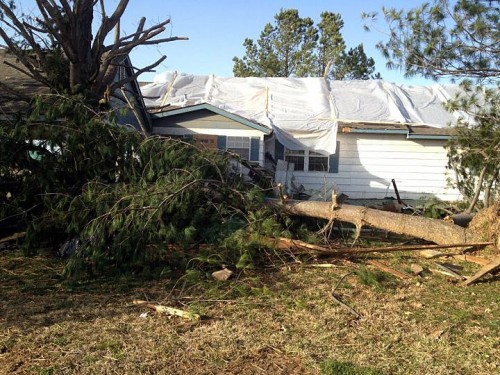 She called him to say that her brother Don's house was destroyed and he was feared dead.
He was later dug out of debris in his basement. He was pretty badly battered, but didn't go to the hospital. Her parents, D.L. and Fern Douglas, who live nearby, had a tree come through their roof, several outbuildings destroyed and a tractor blown into a pond. A neighbor in a mobile home was killed.
Dee's Facebook updates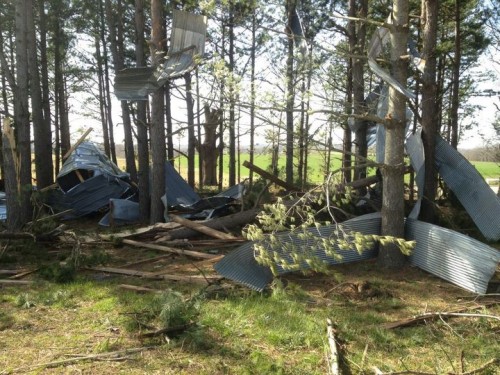 Here are some of Dee's Facebook posts to friends and family Wednesday evening. John and Dee's son Wyatt was kind enough to share these photos.
WOW, what a day!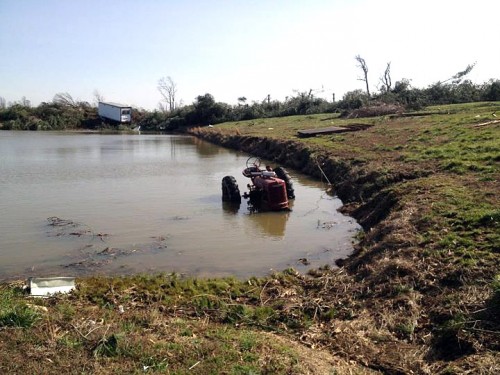 9:21 p.m. – WOW, what a day!……The storms in Puxico flattened my brother's house. My parents' farm and home look like a war zone. Everyone is fine, shook up, but fine. My heart just breaks for everyone…..I spent the afternoon doing what I could do for my parents with Wyatt. I just cried when I saw my brother's house. I am so thankful that everyone is alive.
We thought my brother was dead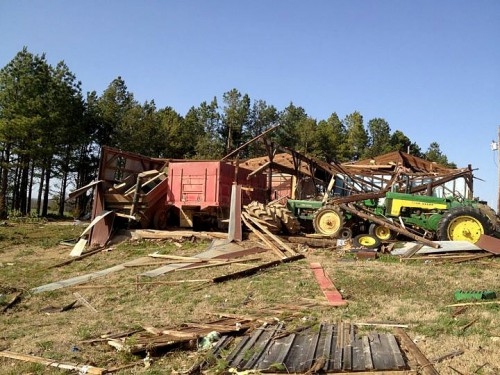 9:46 p.m. – My brother was thought to be dead. That was told to my Mother, so we were touch and go for awhile, I thought it was going to put her under, but she is one strong woman. My brother is pretty banged up, but I got to kiss him and hug him and that is all that matters!
10:41 p.m. – [Referring to wire service photo of her dad looking at his barn] He is so pitiful, all he has ever worked for was on that farm, but I still have him and Mom and the rest of my family, so for that I am thankful!
Pine trees snapped off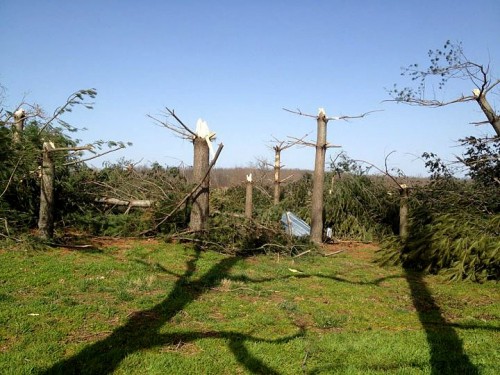 11:08 p.m. – As Mother puts it – and I saw it – it's like a war zone, but I can tell you, that it was really awesome to be able to hug and kiss and talk to each and every one of my family. It almost took my knees out from under me…….it was so hard to have to stay at work today.
John's on his way home
John's Missouri family needs him more than his Florida family does right now, so we're putting him on a plane Friday morning to help his in-laws dig out. Wife Lila says the folks at Southwest Airlines were great in letting him change his return flight with no additional charge.