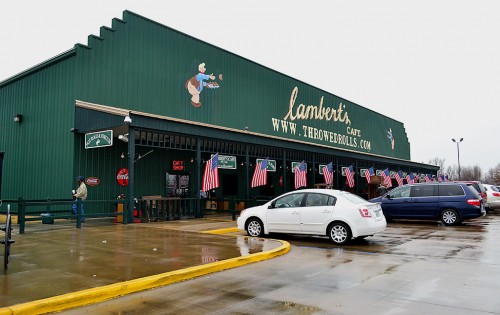 For some reason or another, I've never been a big fan of Lambert's Cafe, which bills itself as The Home of Throwed Rolls, but the place has a huge following. Mother, Friend Jan and I were getting a little empty while we were on a trek to the Stoddard County Confederate Memorial in Bloomfield, so we decided to pop over to the tourist attraction for Jan's benefit.
License tags everywhere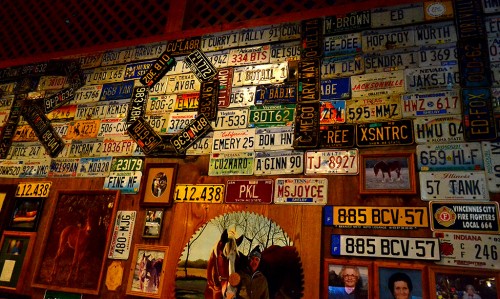 I can remember going to Lambert's when it was a small place. This one is huge with all kinds of interesting artifacts – particularly license tags – covering everything.
Throwed rolls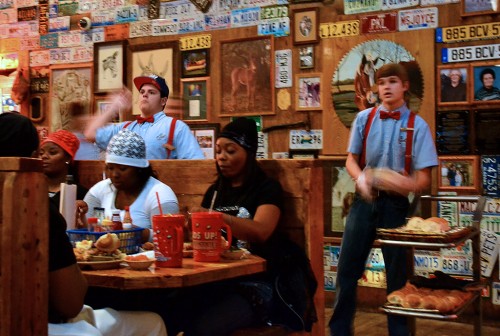 When things got busy on May26, 1976, servers started tossing rolls across the room to customers. It has become as famous as flinging fish at Pike Place Market in Seattle. I'm not big on gimmicks, so that's probably one of the reasons I'm not overly fond of the place. It IS good fun for folks who like that kind of thing.
The cafe's website says they bake on average 520 dozen 5-inch in diameter rolls a day, for a grand total of 2,246,400 individual rolls a year. It doesn't say how many of them aren't caught.
Huge servings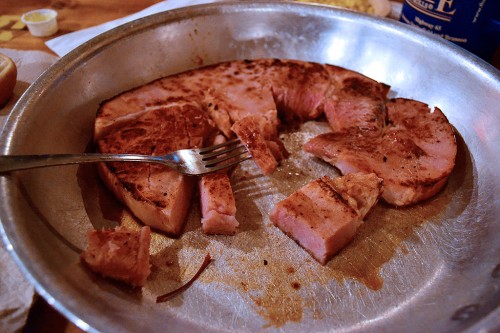 I ordered the XXL Center Cut Ham. The site says they served 52,322 pounds of ham, country ham and pork steak a year. I think it all must have been on my plate. I wish I had taken the picture before I started carving. It was nearly half an inch thick, and as big as the platter. I brought home at least half of it.
Photo gallery throwed together
Here's a gallery of photos taken in and around Lambert's Cafe. I could pretend that I had done a bunch of research, but I'll send you directly to the source for interesting factoids about the place. They LOVE keeping stats. Click on any photo to make it larger, then click on the left or right side of the image to move through the gallery.