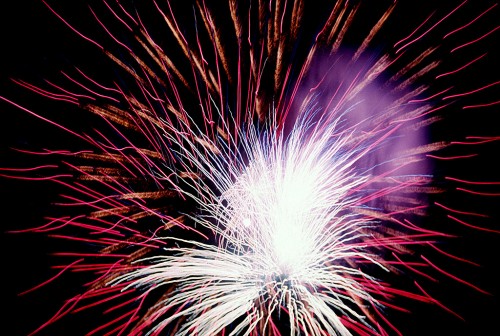 Missouri Governor Jay Nixon sent out a press release saying he had signed a fireworks bill that "removes a discrepancy between Missouri and federal laws on the labeling of commercial fireworks, and makes those fireworks that are legal under federal law now legal under Missouri law. Because Senate Bill 835 contains an emergency clause, it takes effect immediately, and brings clarity for communities and civic organizations that plan and sponsor Fourth of July fireworks displays."
Arena Park at night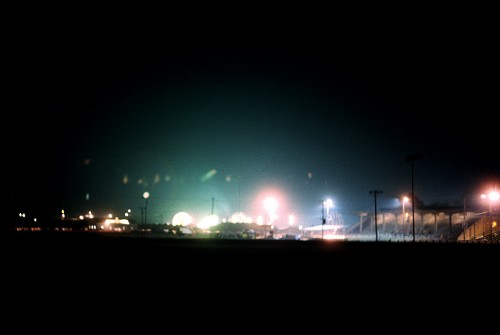 I don't really care much about the new law – it was mostly clearing up some technical stuff – I just wanted an excuse to run these firework pictures from 1963. (You can click on them to make them larger, by the way.)
We didn't generally go to Arena Park for fireworks. When I was a little kid, we lived on a hill just south of the Colonial Tavern that overlooked the park. The hill has long been leveled, so that vantage point is gone.
We can ALMOST see them from Kingsway Drive. This photo of the park looks like it was taken near North Broadview Street.
The 4th was almost as good as Christmas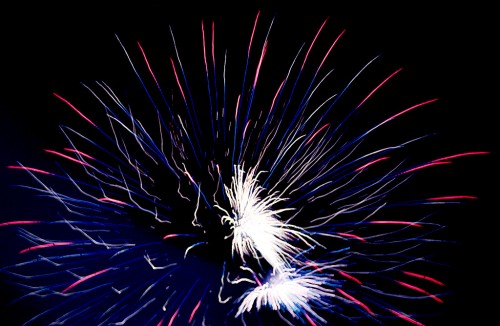 Kids ranked the 4th of July right up there with Christmas, their birthday and Easter as a biggie in the holiday parade. Your birthday and the religious holidays offered gifts and Easter eggs, but the Fourth gave you an opportunity to blow things up.
Here are two examples:
I love the comment you all have left. (If you've been to those pages before, you may need to press Ctrl-F5 to make sure you see all the new comments. (I'm not exactly sure what pressing Ctrl-F5 does, but it's a lot less messy than the alternative – sacrificing a chicken.)
I don't know about Cape, but down here in Florida, it seems like somebody's putting on a big fireworks display every time you turn around. On top of that, some of our neighbors must spend hundreds of bucks on fireworks of the caliber that they used to shoot off at Arena Park. Kinda dilutes the thrill.