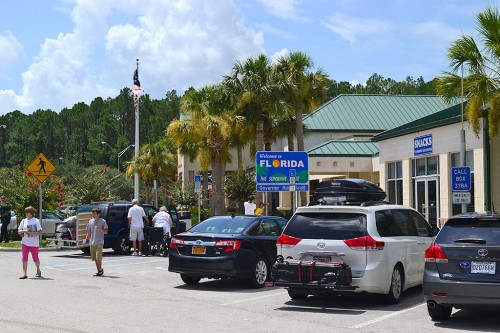 I got back into West Palm Beach around 7:30 p.m. I didn't get much sleep last night. The huge mass of fish camp oysters and shrimp were rolling around in my stomach communing with each other or something. You'd think frying would kill 'em, but they were doing loop de loops and pole vaulting until about six in the morning.
Traffic moved along pretty steadily. There was a jackknifed overturned travel trailer in the median somewhere in S. Carolina, but it didn't cause much of a delay.
It's SUMMER in Florida
A hundred or so of my fellow road warriors decided to pull into the I-95 Florida Welcome Center at the same time I did. Geez, what are those folks doing here? This is SUMMER. I chugged my obligatory paper cup of orange juice, jettisoned a corresponding amount of liquid, then dodged the chaos in the parking lot to head south.
Wife Lila was at a meeting, so I decided to stop in Ft. Pierce for a sandwich. Just as soon as I got on the Big Road, the clouds decided to open up. Visibility was down to about 100 feet a few times, then it cleared up enough for a spectacular rainbow to pop out. When I backed into the driveway, it was raining so hard I could barely see across the street. This was a shock since I had only seen rain about twice in the six weeks I was in Missouri.