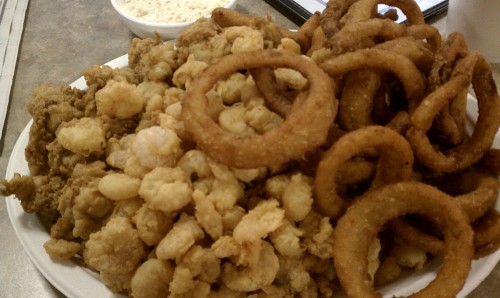 I spent a day and a half roaming around Gastonia, N.C., looking for familiar sights without finding many. Maybe being in the town for just under two years didn't imprint many memories, or maybe the town really HAS changed. I couldn't even find the two places we lived while we were there.
One thing I wanted to check out, though, was a fish camp. They were huge, barn-like affairs with long tables (and equally long lines of people waiting to get in). Huge quantities of seafood and other delicacies were served family-style and all-you-can-eat.
First fish camp so-so
I was told the one we used to frequent had changed hands several times, but another one was just down the road from it was recommended. I showed up and got a huge quantity of food, but it was nothing to write home about. It tended to the greasy side.
Long Creek Fish Fry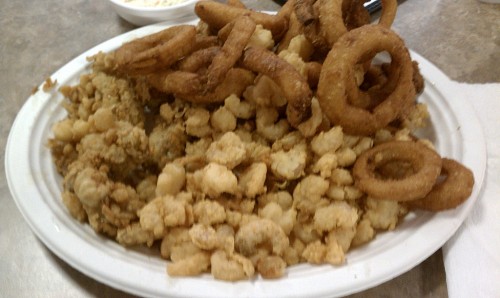 I was still in town at 2 o'clock, so I thought I'd give Long Creek Fish Fry a try for a late lunch. I ordered a shrimp/oyster combo and added a buck to get onion rings instead of another side.
I hadn't expected to take any photos, but I just had to pull out my Droid smart phone to shoot the Before photo of my plate to send back to Wife Lila.  Sorry for the fuzzy pix.
The sad thing is that I ate so much that one more bite would have caused an unpleasant explosion, and I still had almost half a plate of oysters and shrimp left. I was tempted to stay another night so I could heat the leftovers in a hotel microwave.
Cost: about 20 bucks, including tip.