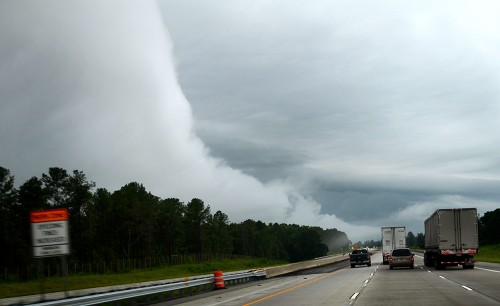 After all the fits and starts of Day One of my Return to Florida Journey, I was hoping things would go better Sunday. I saw it was raining, so I slept in to give it a chance to pass through.
It was late, so I skipped breakfast so I could stop at Dave's Modern Tavern atop Monteagle Pass for their incredible lobster bisque and Oink Moo Burger. It was as good as ever.
Traffic was light going through Atlanta. I don't think we ever came to a creep and crawl full stop through the whole town. Just about the time I hit the Macon bypass, the sky opened up. Southbound traffic was moving OK, but I saw the northbound lanes backing up and emergency vehicles headed that way. I took that as a sign to stop at the next rest area for a 22-minute nap to let the bad weather move on.
Weird storm cloud
Not too far down the road, this strange cloud came up. Fog was swirling out of the trees and the leading edge of this squall was white, not black. A couple of miles down the road, it was monsoon city.
Maybe somebody can explain to me why people drive with their four-way flashers on. I admit to turning mine on if there is a sudden slowdown in traffic, but I turn them back off as soon as I see the vehicles behind me are slowing. Three lanes of idiot drivers kept blinking away for four or five miles, making it impossible to figure out if they were braking or just blinking.
I hit moderate to heavy rain off and on all the way to Florida, but traffic was light and my Rain-X kept the windshield clear.
It'll be good to get home Monday night. I wonder if the locks have been changed?