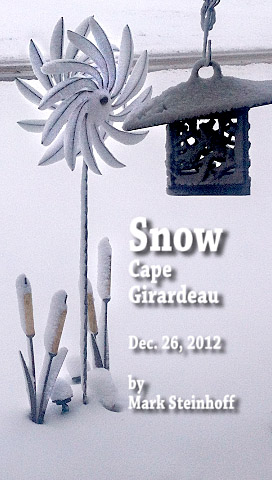 If news reports are right, there's gonna be a lot of stale bread in Southeast Missouri in the aftermath of the blizzard warning that predicted as much as 18″ of snow. There was a rush on the stores for staples in the days leading up to the storm.
The Cape area received from 4 to 6 inches, but winds gusting as high as 40 mph piled it up to look much higher in some places. The hard blow caused the wet snow to stick to vertical surfaces. Fortunately, there was very little sleet and ice in the storm.
Video of spinning ornament
Here is a video Brother Mark shot with his iPhone of Mother's snow-covered lawn ornament spinning in the wind. (You can see the same ornament spinning in an afternoon thunderstorm last summer.)
Mark: I should have bought her a pony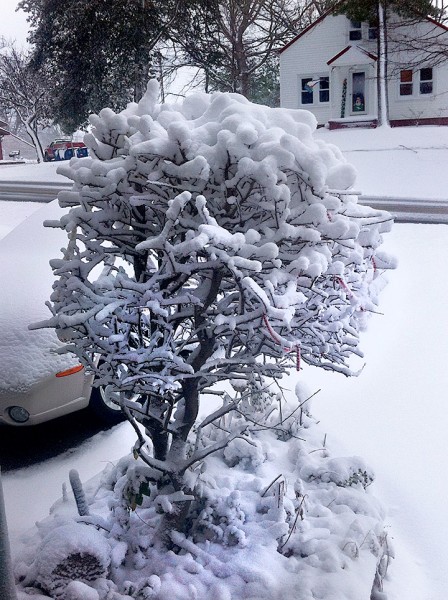 Mother's cordless phone was getting a little iffy, so I bought her a new one with three remotes for Christmas. Brother Mark called and said, "I wish you had bought her a pony."
"A pony?"
"Yeah, 'cause if you had bought her a pony, we could be out riding it and having fun…"
"Instead of setting up the phone?"
"Yep."
Here is an Amazon link to the Panasonic phone I bought her. The range is great: it worked all the way to the far end of the basement. I wouldn't be surprised if it didn't reach all the way to the clothesline in the back yard. Sound quality is excellent and she loves the speakerphone.
Of course, I'm not the guy who had to set up something more complicated than a missile defense system. (Gee, do you think I might have planned it that way?)
More snow photos
Click on any photo to make it larger, then click on the left or right side of the image to move through the gallery. Click here if you want to see what our snows looked like in the 1960s.
.