Curator Jessica and I were headed to the Discovery Park of America so she could steal some ideas for the new museum the Athens County Historical Society was moving into. We decided to avoid the Interstate, which put us going through Cairo and Wickliffe.
About half a mile south of Wickliffe on U.S. 51, we spotted a 90-foot cross off the right side of the road. At first, I thought we might have made a wrong turn and had hit the Bald Knob Cross in Alto Pass, Ill. (Click on the photos to make them larger.)
First cross was at Ancient Buried City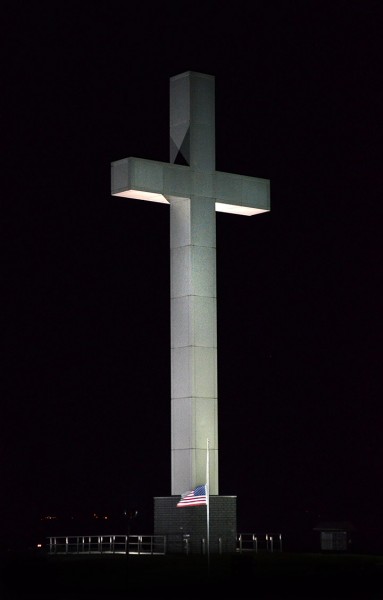 No, it wasn't the Bald Knob Cross. It was the Fort Jefferson Cross at the Confluence. This project started in 1937, when a small cross was erected in Wickliffe at what was then called the Ancient Buried City. It was replaced with a 35-foot cross in 1951.
After almost 15 years of planning and fundraising, this 90-foot cross was erected on a two-acre site leased from the city of Wickliffe for 100 years. By the time the project was completed, the costs had nearly doubled, to about $300,000.
The goal was to create an object large enough that it could be seen from the tri-state area of Kentucky, Illinois and Missouri, and be close to the confluence of the Ohio and Mississippi Rivers.
Impressive at night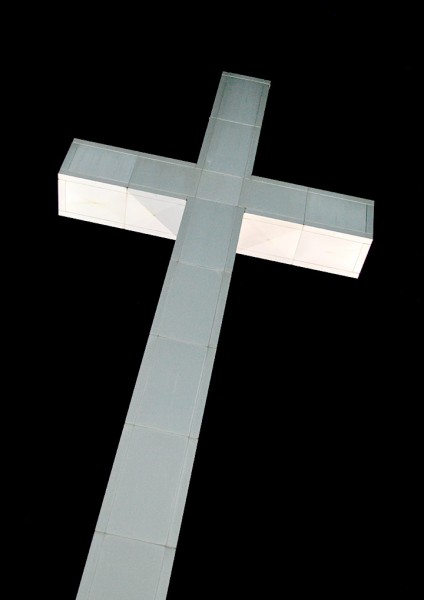 The cross was eye-catching in the afternoon light, but I figured it would be even more impressive if it was lit at night. It was. Admission is free. There is plenty of parking.