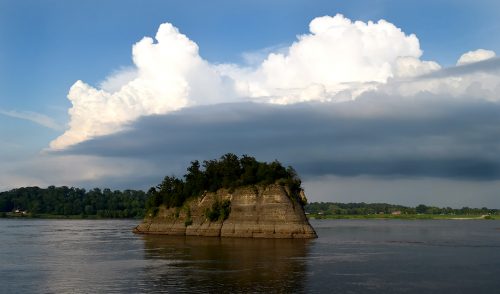 If it's Wednesday night, that means it's Liver & Onions night at The Mississippi Mud Tavern in Altenburg. Buddy Gerard and I usually top off the evening with a trip down to Tower Rock to check on water levels and see if any boats are passing.
This night, the only boat traffic we heard on my scanner was far, far away and breaking up, so the prospects of seeing a towboat go by was slim. Radar was painting some strong storms around, but they were mostly east and south of our position. Still, these clouds made for a pretty picture. Click on it to make it larger.
I was sort of hoping for a shot like this recent visit.
I ran into some heavy rain north of Fruitland, but Jackson must have REALLY gotten a deluge, based on how the creeks were running.