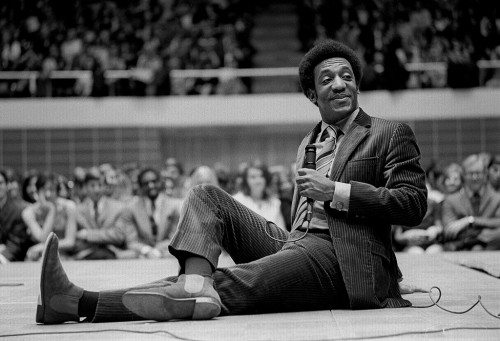 SEMO Classmate, photo buddy and, eventually, best man, Andy McLean introduced me to Bill Cosby. Andy had every Cosby LP every pressed and had memorized every routine until he could do them better than Cosby.
So, when I had a chance to see Cosby in concert at Ohio University in 1969, I snagged two tickets for Fiance Lila and me. We had a front-row seat for his performance in the round (OK, it was in the square, but I didn't do all that hot in geometry, so I didn't quibble).
Unusual experience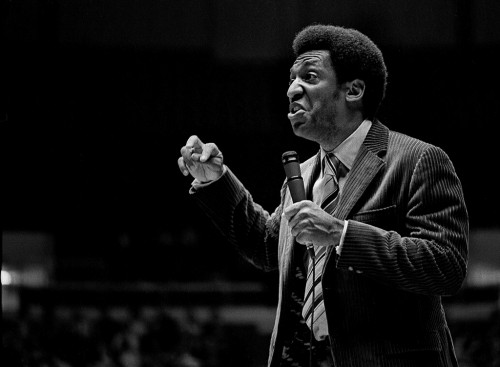 This was an unusual concert for me. Usually I'm so busy shooting the show from every angle, including the overhead catwalks, that the actual performance is a blur to me. Well, my pictures are sharp, but my memory of what the artist performed is fuzzy. This time, though, I enjoyed the performance as a civilian. I still shot pictures from my seat, but I got to enjoy the show.
Depending on your generation, you may remember Cosby as Fat Albert, Cliff Huxtable or the guy who pitched Jell-O, but he'll always be Noah to me.
"Come around, Idiot, Come around"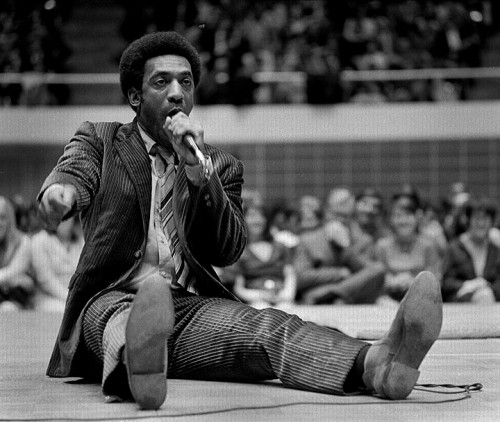 Cosby's routine about driving a stick shift in San Fransisco resonated with me. See, Athens is said to be built on seven hills, and some of them are ungodly steep. Usually with a stop sign at the top of them.
I had never driven a manual transmission before, but I wanted a Volkswagen Squareback. I bought the car and trusted that Lila could teach me how to drive it. Trust me, if your girlfriend can teach you to drive a stick and still be willing to marry you, then you better snatch her up.
There was one killer hill (with a stop sign) on the way from the house to the office. She taught me the technique of pushing the clutch down with my left foot, putting my right foot on the gas, holding up on the emergency brake with my right hand, and frantically waving my left arm out the window while shouting, like Cosby, "Come around, Idiot, Come around."
Did he cut it short?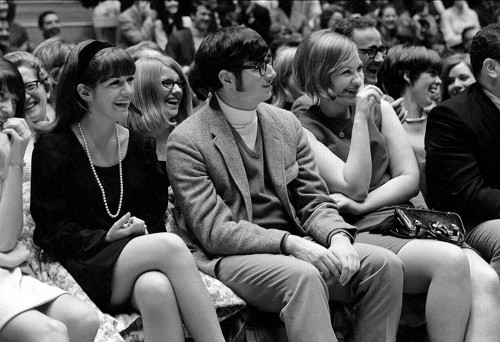 I had a coworker on The OU Post who thought Cosby had cheated the audience by putting on a short show. If it WAS shorter than usual, the audience around me didn't seem to mind.
Well, maybe Andy could have done it better, but I was pleased with the performance.
Other performances
I was telling someone the other day that I'm embarrassed to have shot a bunch of performances and paid so little attention to them that I don't know if they were famous or not when I run across the negatives. Here are some I DO remember:
Bill Cosby photo gallery
Click on any photo to make it larger, then click on the left or right side of the image to move through the gallery.