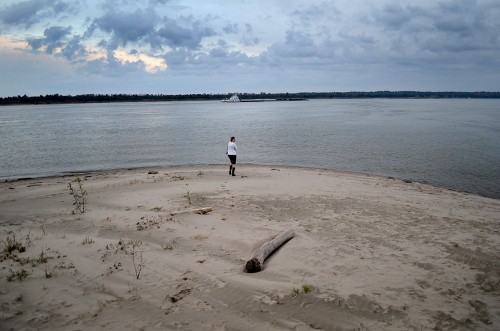 I always take visitors to see Fort Defiance, the southernmost tip of Illinois, where the Mississippi and Ohio Rivers meet. Wednesday was Curator Jessica's turn. (Click on the photos to make them larger.)
You have to wade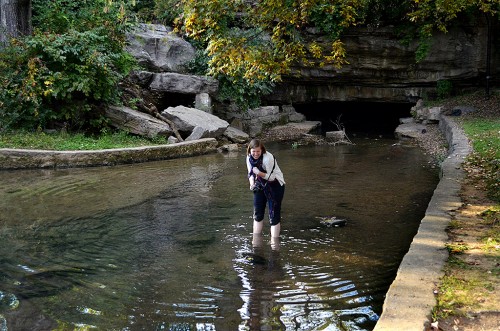 I should have known better than to say, "You have to wade in the water so you can say you straddled two great American rivers," because I said something like that when we were looking at a spring in Princeton, Ky.
The next thing I knew, she was splashing and frolicking, much to the amusement of some pre-teens who were watching from a bridge.
Shuckin' off the boots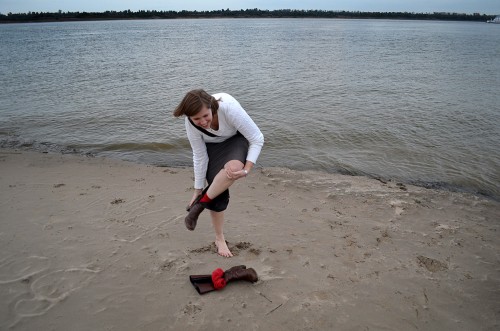 After not more than a moment's hesitation, she started shucking off her boots.
Is this REALLY a good idea?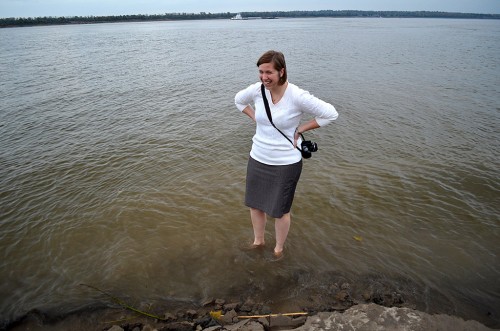 This is her "Is this REALLY a good idea?" look. To be honest, I wasn't sure. I didn't know how quickly the bottom fell off or what might be lurking under the muddy waters.
I don't think you're in both rivers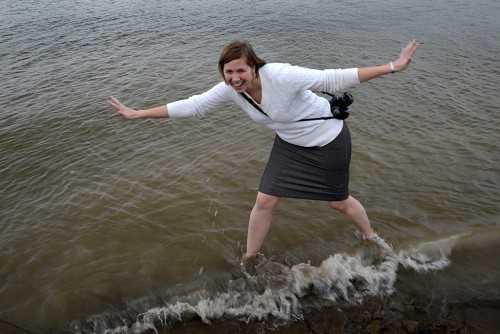 "You need to spread out," I told her. "I don't think you're actually in both rivers." About that time, a wave from a passing towboat started rolling ashore.
She kept her balance, but I guess a splash wouldn't have been too bad. Jessica kept saying on the trip that she really likes New Orleans. If the 300-foot rope I carry in the car turned out to be short, I calculated she would be passing the Big Easy in a week or so.
Headed to St. Louis
I have to put her on a plane in St. Louis back to Ohio on November 4. We'll go up a day early so she can meet Brother Mark, Robin and Friend Shari and do some sightseeing.
I promised I'd bring along some alcohol wipes to clean off an area of the stainless steel Gateway Arch so she could lick it, something that all first-time visitors are supposed to do.
Meet her at First Friday
She and I will be at Annie Laurie's on Broadway on First Friday, November 1. I'll have Snapshots of Cape Girardeau calendars and the Smelterville book with me. Laurie says she'll have cookies and hot cider.
Maybe you can help me come up with other quaint Missouri customs like arch-licking that I can share with our Ohio visitor. I've found that she is willing to try just about anything once.
Other Fort Defiance photos