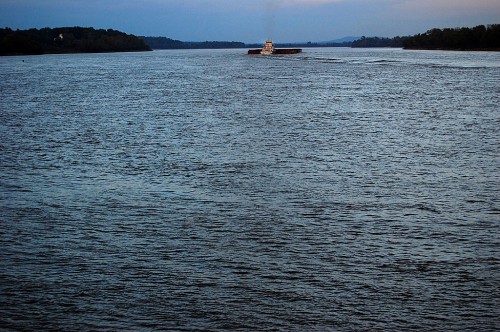 The Mississippi River that boiled past Cape Girardeau in the 1960s wasn't a waterway for skiing and other recreations pursuits. Sewage treatment upstream was minimal in the days when the solution to pollution was dilution.
The first time a water skiier saw the unspeakable goop that was splashed up on the sides of of his ski boat was probably the last time he dipped himself into the ooze.
Our Mississippi was a working river
No, our Mississippi was a working man's river, full of massive tows of coal, grain and concrete going to build and feed this great land.
It was also a challenge to the adventuresome.
Adventure on the Mississippi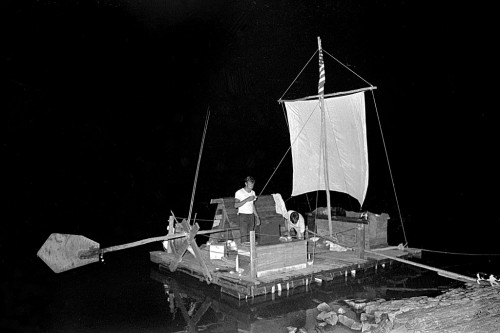 It was my phone that would ring early in the morning or late at night when someone spotted a raft, an innertube, a kayak or a canoe pulling into the wharf. Since I was a two-fer – a combination reporter/photgrapher – it meant that two people didn't have to head down to the river.
I couldn't find The Missourian story about these two guys pausing at Cape on their journey south. I know I did a story, but I don't know when it ran, and Google Archives didn't have it indexed. I used every search term I could think of: raft, rafters, Huck Finn, Tom Sawyer, journey, adventure…. and came up blank.
Two college girls happy to abandon quest
I DID find a story about Miss Marrianne Ahrne, 21, of Falkoping, Sweden, and Miss Betty Kozak, 19, of Downwers Grove, IL, in the June 17, 1961, Missourian.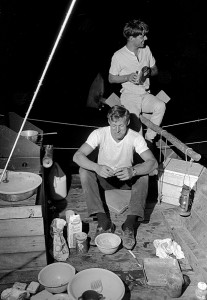 They started out from St. Louis headed to Cape, but were turned back by the Coast Guard because they were using a flimsy plastic raft. The next day, they hit the river with a more substantial rubber raft, two cans of beans, two cans of spaghetti, blankets, blue jeans and bathing suits, "contemplating an idyllic float on the Mississippi River, golden brown sun tans and the good life."
It wasn't long before they hit a storm that almost swamped them. They were rescued by a northbound towboat, which handed them off to the southbound Motor Vessel Illinois, which took them as far as Chester.
Cold, miserable and bug-bit
Another storm stranded them on a sandbar where they were spent the night soaking wet and covered with mosquitoes. They decided to wade through ankle-deep mud to see if they could find help. Unfortunately, they saw no sign of life at the only building they came to.
The next morning, scratched, bruised and covered with mosquito bites, they made it down near Wittenburg, where a farmer gave them a ride to Cape. They cleaned up at the St. Charles Hotel, shipped their baggage by rail and abandoned their river adventure.
Did they make it to New Orleans?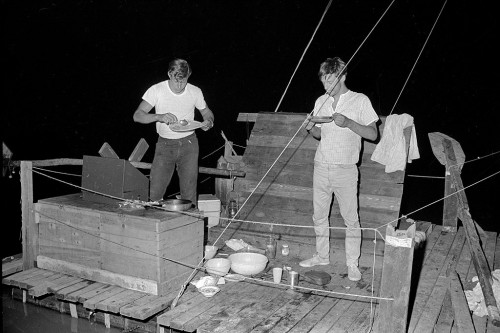 These guys seemed a little better prepared than the hapless Misses Ahrne and Kozak. I wonder if they made it all the way to the Gulf of Mexico. I also wonder how many cub reporters interviewed them along the way.