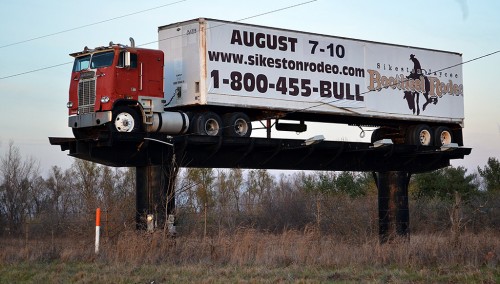 I've passed this high-flying 18-wheeler a bunch of times over the years, but this is the first time I've bothered to pull off the road to snap a picture of it. It's on the east side of I-55 near Sikeston. And, yes, it's the real deal, not a billboard or a model.
I was prepared with an excuse if a cop pulled up to tell me that stopping on the Interstate isn't allowed: "But officer, my Check Engine light came on and I wanted to make sure everything was OK."
Of course, when your van has 181,000 miles on it, the Check Engine light is ALWAYS on. I get out, raise the hood, check to see if the engine is still there and then keep driving down the road. If the light ever DOES go out, I'll assume that the bulb burned out, not that the problem mysteriously healed itself.
The Kid has theories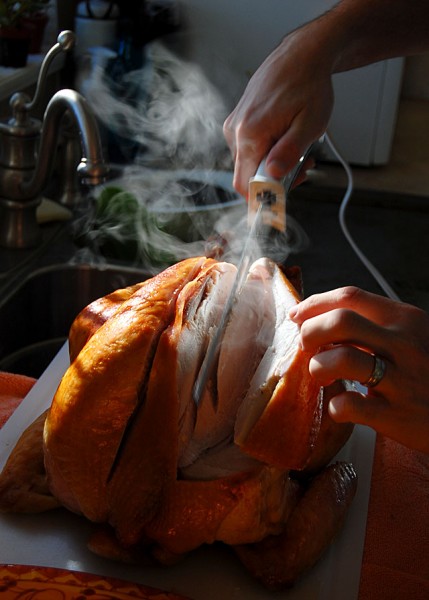 (That might be the reason Kid Matt concocted this Shameless Plug page. He doesn't want to have to drive to some Podunk town to pick me up when the van dies.)
(He has a second theory, too: he says everybody is too busy heading out for Turkey Day, preparing for Turkey Day or recovering from Turkey Day that they aren't going to be reading the blog this week. That's why you're going to get some light-weight content while I'm on MY way back to Florida.)
Oh, by the way, I covered the Sikeston Rodeo. Jim Nabors performed there in 1965. Here are more photos of the 1965 Rodeo.
On the road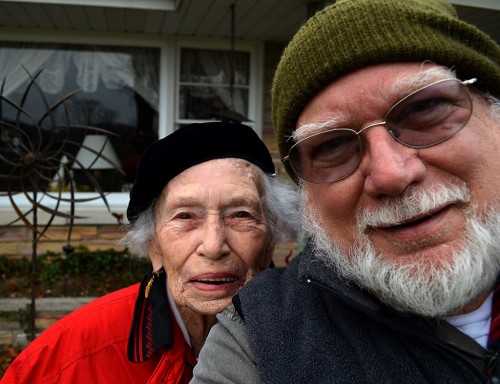 Speaking of travel, I left Cape Monday morning for Athens, Ohio. I was worried about the weather because of all the freezing rain, ice pellet, snow and sleet warnings along the route. On top of that, there was a forecast for four inches of snow in Athens on Tuesday.
To get home I was going to have to go over some pretty tall stacks of rocks where Florida Friend Jan saw her first snow in January.  I may end up staying an extra day in Athens if West Virginia gets any serious snow.
As it turned out, I must have been racing the frozen precip all day. I could see I was on the eastern edge for at least 40% of Monday.  The snow pellets sounded like my car was being peppered with BBs; the snow, fairly heavy from time to time, was pretty. It swirled around in the wake of traffic, but it never stuck.
Here was the obligatory Good-Bye selfie. It only took 19 frames to get one even close to having both of us in it.