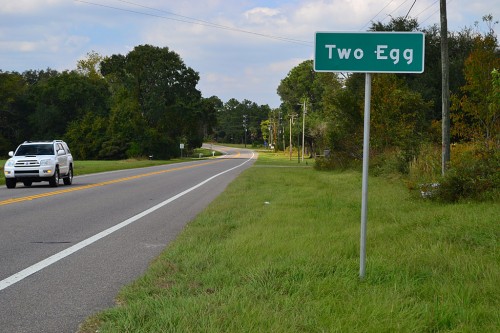 About 25 years ago, I did a story about Grand Ridge, a small school system in Florida's Panhandle that was trying a new reading program. I met the Hollister family and grew to really like them. Charles and Annie had two children – Hobie, who was Son Matt's age, and Heather, who was a year or two older. I made it a point to stop in on them when we passed through on vacation or when I had an assignment in the area.
But, that's not the reason for this post.
Two Egg general store
Eleven miles up Hwy 69 from Grand Ridge is Two Egg. You can't get that close to a place with a name like Two Egg without stopping in. A quarter of a century ago, there was a small general store that sold me a couple of souvenir T-shirts to take back to the kids.
I thought it would be fun to pick up a couple of shirts for Grandsons Malcolm and Graham this trip. A few houses and the city limit signs are about all that's left of Two Egg. There was no sign of the general store.
Holiday Ranch Motel
I was going to take a picture of one of the three worst motels I had ever stayed in, but it, too, was gone. I've stayed in some real dives over the years, but that didn't bother me much because I usually didn't spend much time in the rooms.
When I pulled into Grand Ridge for my assignment, I was pleased to see the Holiday Ranch Motel about five minutes from the school where I'd be working. It was the old-fashioned tourist court kind of place and one that had seen much better days. The manager took me to one of the stand-alone rooms and warned me that the door had a tendency to stick. "You have to play with it, but it'll open.
The weather had turned cold, so I was happy to see that the room had a gas heater against one wall.
Psssssssssssss
After I had snuggled up under the covers, I heard a Psssssssssssssssss sound. That was the gas heater filling the room with natural gas. Just about the time I was wondering if I was going to be gassed to death, there was a loud BANG!!!! as the gas ignited, sending a huge gout of fire out into the room.
Maybe I should check to see just how hard it WAS to get out of that room. "Stick" was an understatement. Visions of bad thriller movies and Alfred Hitchcock kept filling my mind.
All night long, "Psssssssssssss BANG! Flame!" "Psssssssssssss BANG! Flame!" "Psssssssssssss BANG! Flame!"
Several options were possible
The Pssssssssssssss could continue until the room filled with gas and extinguished all life in the room except for the cockroaches.
The Pssssssssssssss could fill the room with gas and the whole-shebang could go up in a flash of light and thunder.
Some combination of the above.
The next morning I checked out and moved to a motel that wasn't quite as close, but was out of the blast zone of the Holiday Ranch Motel. (I'm pretty sure that was the name of it. The first name was definitely "Holiday," but I'm positive the second word wasn't "Inn.")
Travel update
I'm staying in the same Comfort Suites in Cullman, Ala.,that Mother and I took refuge in on our last road trip. Joy Pannell, the same woman who told us where to go in case of a tornado that night, was working the desk tonight. Nice room, reasonable price, friendly service. I'll make it a point to stay here whenever I pass through.