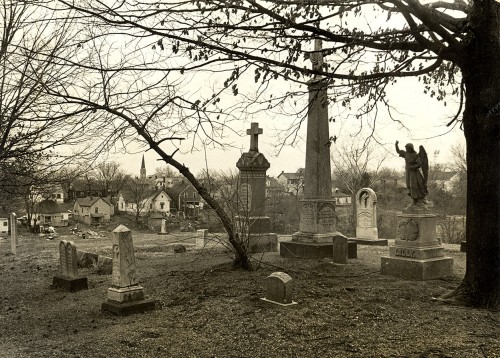 I ran across this yellowing print from the Old Lorimier Cemetery that I must have taken around 1966. You can see the an angel with wings and an upraised arm to the left of the big tree. There's a tall monument to the left of it that has a cross on its top. Both of those grave markers would be vandalized about twenty years later.
Click on the photos to make them larger.
Mamie Lee Lilly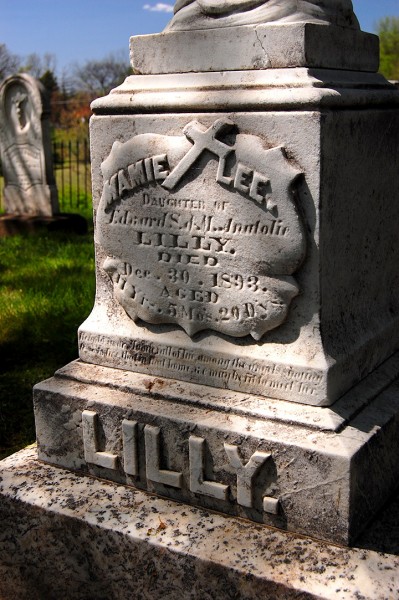 Mamie Lee Lilly was an 11-year-old girl who died Dec. 30, 1893. The March 22, 1989, Missourian reported that Terrell Weaver, Old Lorimier Cemetery's sexton helped to piece together the apparent solution to a cemetery crime. More than 50 tombstones were vandalized the previous August. Police who served a search warrant at 129 South Lorimier recovered a damaged angel, a tombstone and a stone cross, which Weaver helped trace back to Old Lorimier.
Two men and a woman were suspects in the vandalism, but no charges had been filed when the story was written.
Made of hand-sculpted Italian marble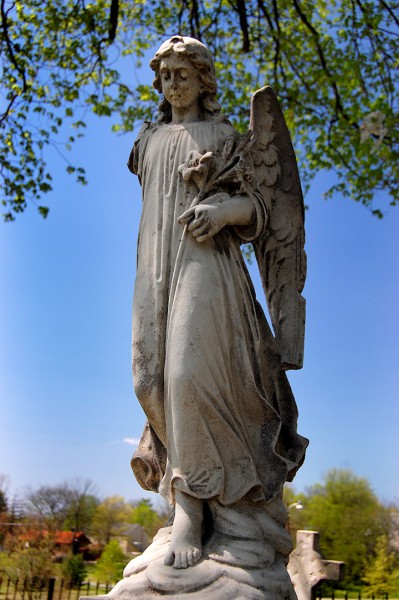 The angel, Weaver said, is made of hand-sculpted Italian marble. He thought the 100-pound cross belonged on top of the 10-foot-tall monument for the Albert family to the left of Mamie Lee. "I climbed up there yesterday and tried to feel the top," he said, but the only way to be sure would be to fit the cross to the monument.
Old Lorimier Cemetery has about 2,000 tombstones. "Over the years, probably 90 percent have been vandalized," Weaver was quoted.