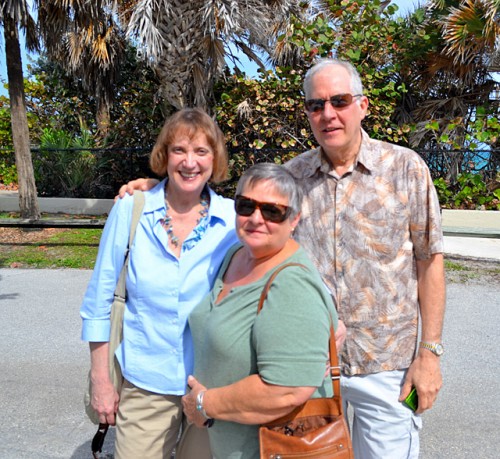 When we moved to West Palm Beach in 1973, Wife Lila and I discovered something curious: folks who hadn't bothered to call us collect when we lived in Gastonia, N.C., suddenly started showing up on our doorstep as soon as the temps started dropping up north. We were usually happy to see them.
Over the years, the visits started tapering off. Maybe it was the bricks we put under the mattress, maybe it was because we pointed out the bullet hole in the window above where they were sleeping. Who knows what actually worked?
Neumeyers were welcome visitors
When Jane McKeown Neumeyer said she and her husband Don were going to be down this way from Madison, Wisconsin, to take in some spring training baseball, we said we'd be happy to meet up with them at The Loggerhead Cafe on the beach at Carlin Park in Jupiter (that's a town, not a planet. It got its name because it was a stop on the Celestial Railroad, along with Juno, Mars and Venus).
Headed for the beach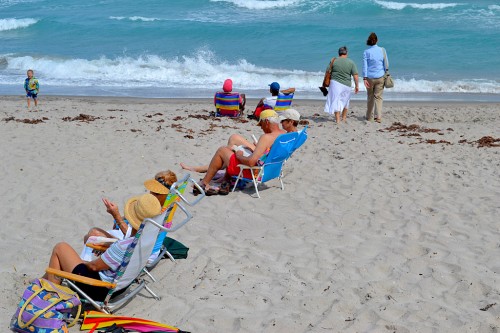 After an excellent round of dolphin sandwiches, we decided to check out the beach. It was a perfect, if windy, Florida March day.
Watch out for the Wave God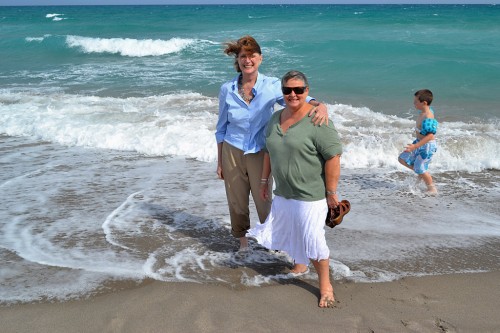 Jane rolled up her pants, but not quite enough. (She'd have been fine in her high school majorette skirt, but she said she didn't bring it with her.)
Folks from the Midwest take some learnin' before they understand waves. I had an assignment to check out a report of a beached whale. When I arrived, I saw some helpful spectators who were trying to to push the grounded mammal back out to sea. The swells were long and gentle, so it looked like I'd be able to wade out quite a way into the water to be able shoot back toward the shore for a better angle. I had just turned my back on Europe and started to punch the shutter release when a rogue wave picked me up and deposited me next to the whale.
Fortunately, nothing was damaged but my pride. That's about the time I started going to the beach about as much as if I lived in Kansas. Somebody or something out there wanted me and I wasn't about it give it another shot.
Marilyn Monroe imitation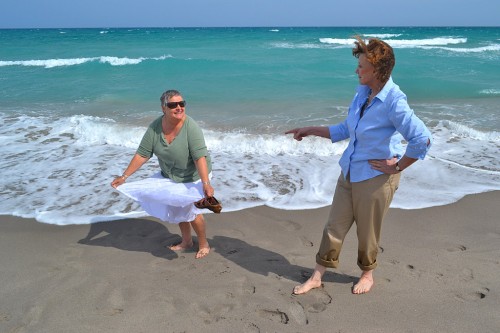 The wind was whipping Wife Lila's skirt around, so she tried to imitate Marilyn Monroe's famous steam grate pose with stage directions from Jane.