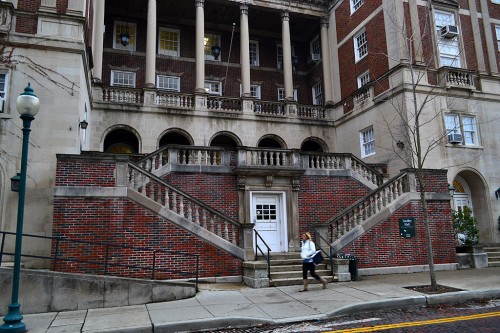 Today is May 4. I'm going to be disappointed if I don't hear from my old chief photographer, John J. Lopinot, today. He always sends me a message on May 4 that says, simply, "Never forget." He's referring to the killing of four students at Kent State on that date in 1970.
I've published pictures of the protest era over the years and am working on putting together a photo exhibit for May 2014.
While I was killing time before speaking at a photo exhibit of my Martin Lutheran King National Day of Mourning pictures, I wandered around the Ohio University's Main Green, feeling a lot like the old geezer in Catcher in the Rye who went back to his old school to see if his initials were still carved in a bathroom stall.
When I stood in front of Lindley Hall, a dorm on Court Street, I had a flashback to 1970.
May 15, 1970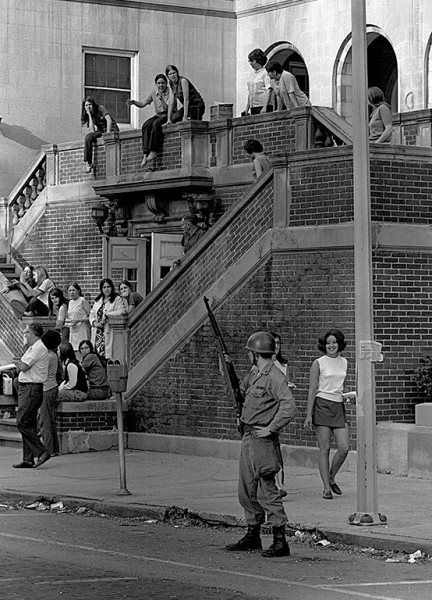 After two nights of tear gas and rioting, Ohio University closed and students scrambled to get home.
Anxious parents descend on town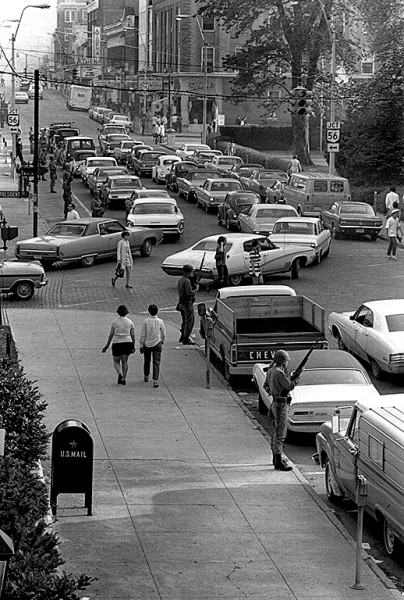 Frantic parents clogged all the streets in town trying to pick up their students. Every breeze would cause tear gas powder to rain down from the trees, causing red eyes for blocks. National guardsmen, some with bayonets affixed were spaced all over the downtown and campus area.
Incredible wave of emotion
I climbed to the landing where I had taken the photo above and felt an incredible rush of emotion. I was transported back to that time. I can't explain why that particular location triggered the feeling.
Did something happen here?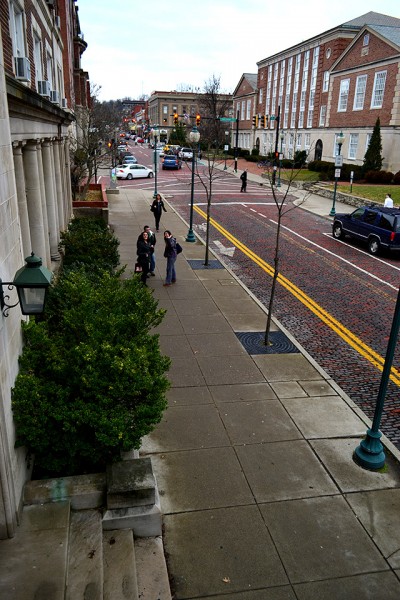 While I was coping with that and composing this photo, two coeds ran squealing down the street and jumped on the back of a male student. There was much high-fiving and quite a reunion going on. Finally one of them saw me with a camera and gave me a friendly wave. I returned the wave and walked down to them.
"You know, the last time I stood on that landing and took a picture looking down Court Street it was May 15, 1970. Tear gas was wafting through the air and there was a National Guardsman with a rifle spaced about every 25 feet."
"Really? Something happened here?" one of them asked, giving me a "is this old geezer harmless?" look..
If I don't get the message from John, I guess it's a sign that we really have forgotten.
My initials were gone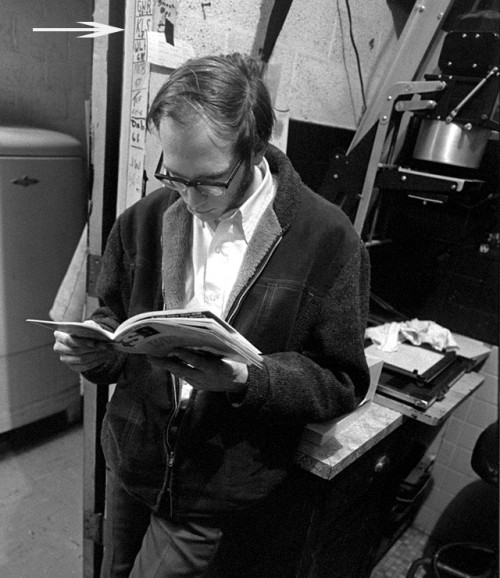 I didn't carve my initials on the wall of a bathroom stall, but it was a tradition for the photo editor of The OU Post to put his (they had all been male up to that point) initials on the darkroom door. The white arrow, top left, points to my "KLS 68". I was killing time waiting for that night's demonstration or other madness to start when this picture was taken in 1970.
Baker Center, where The Post lived, is being remodeled and the basement where my initials were scrawled has been gutted no telling how many times over the years. That's the way it goes.