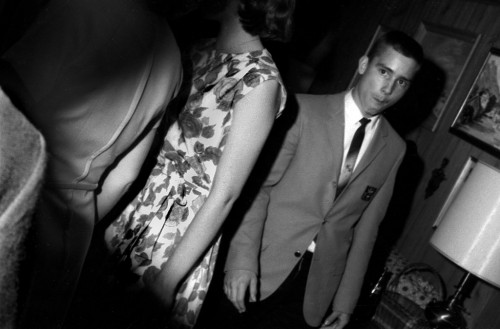 I didn't go to a whole lot of parties. First off, I'm a social wallflower. My enjoyment of an event is inversely proportional to the number of people attending. I don't do small talk well and Shari Stiver can tell you how well I dance from the first and only time we went to a place where dancing was committed.
Wife Lila, who loves to gyrate, doesn't realize what an act of kindness it is that I don't get out on the floor with her. I haven't tried moving to music in years, but I'm fairly sure it would look like a combination of stomping out a campfire and being attacked by ants.
Here are three frames from what was slugged "McGinty Party." No date, no indication of WHICH McGinty it was or what was being celebrated.
Couple ranked Number One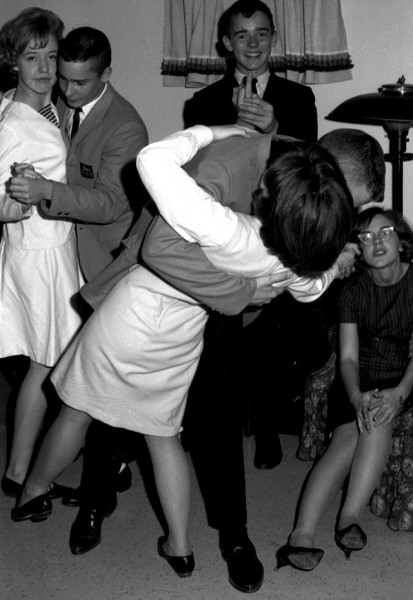 This photo would lead you to believe that there must have been some kind of dance contest going on and this judge is rating the couple Number One.
The dance participant in the middle is probably STILL going to the chiropractor to recover from the evening's event.
Special event: it has balloons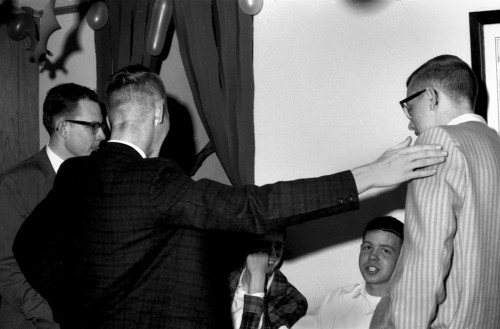 I wasn't going to guess names to protect the guilty, but the guy on the left looks like John "Doc" Carpenter, a Sikeston debater and future Cape Coroner. I published a photo of him doing a swoop and scoop at a wreck on Main Street. The fellow on the right looks a little like my debate partner, John Mueller.
When I look back at these photos, maybe there's a good reason why I didn't get many party invites.