Steve Crowe's Corvette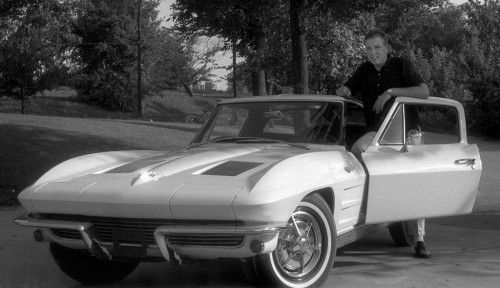 Bill and Sue Roussel do a great job of producing an email newsletter aimed at the Decade of the 50s. (Send an email to nunyab@sbcglobal.net to sign up for it.) Sue sent me a message that Bill's brother, Jim Roussel, sent a bunch of pictures that were too big to go out in the newsletter and she asked if they would work for this site. I'm happy to have someone send me material, so I said I'd run them.
That reminded me that I had a picture of Steve Crowe '65 and his new Stingray.
Gallery of Photos from Jim Roussel
Click on any photo to make it larger, then click on the left or right side to step through the gallery.
Students from the 50s and their cars
Jim sent this list of students from the 50s and the cars they drove
BENNY HINTON: 50 DODGE, GREEN
BILL ROUSSEL: 50 OLDS, GREEN
TOMMY MEISNER: 56 DODGE D500, GRAY
KAREN WILSON: 56 DODGE
JIM PUTMAN: 56 PONTIAC, GREEN AND WHITE
SHIRLEY DAVIS: 55 PONTIAC CONV, RED AND WHITE
MIKE STEVENSON: 58 CHEVY CONV, BLACK AND WHITE
ROBBIE ROBISON: 59 RENAULT (SHARP CAR), BLACK
FRANCINE FORD: 55 CHEVY, PINK AND WHITE
CATFISH MOORE: 56 OLDS, RED AND WHITE
BILL CLARK: 56 OLDS, RED AND WHITE
SKEETER JONES: 56 DESOTA, BLACK AND WHITE
DICK NEEDLING: 50 BUICK (SIKESTON BOUND), GRAY AND BLACK
R. J. BOLLINGER: 50 MERCURY CONV, BLACK AND WHITE
NIP KELLEY: 57 BUICK CONV, RED AND WHITE
JOHNNY JONES: TWO 57 CHEVYS
TERRY HEUER: 57 PLYMOUTH FURY
BOB REDWINE: JAGUAR CONV (BOB WAS 14 OR 15 WHEN HE DROVE TO CENTRAL)
EDDIE CRITES: 1954 Mercury Green & White (Gas pedal would stick)