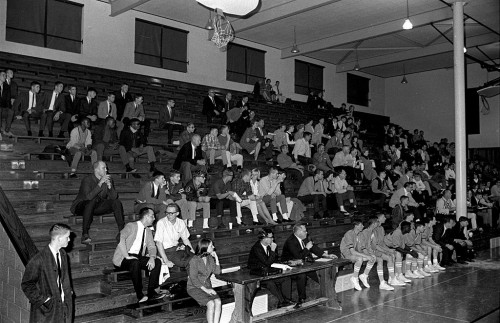 She also serves who only sits and waits
(With apologies to English poet John Milton, who actually wrote, "They also serve who only stand and wait.") That often mis-quoted line came to me when I saw this frame from the December 28, 1966 College High Tournament that pitted the Central High School Tigers against Delta .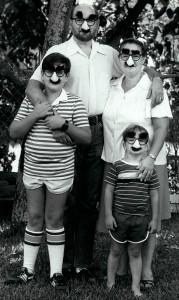 The cute girl sitting at the left of the scorers table is Lila Perry (Class of 66). This week marks the 45th year since we started dating. This is also her birthday week, which prompted Bill Hopkins to write on her Facebook wall, "I know that being married to a man several decades older than you can be stressful at times." Bill has, obviously honed his survival skills over the years.
She's a treasure. Our dates weren't like most other couple's dates. Going to a sporting event meant she was  sitting in the stands or bleachers while I ran up and down the sidelines shooting pictures. While our classmates were paired up admiring the full moon from Cape Rock, we were in my basement darkroom processing film for the next day's paper. I guess the orangish-yellowish safelight looked sort of like a full moon.
Instead of music, we listened to the police radio in my 1959 Buick LaSabre. Many an evening's plans would get derailed when an interesting call came across the speaker. If you follow the link above, you'll read of a few more of my transgressions.
It's a wonder we were ever together long enough to have two great kids and a grandson. It's amazing how much we all look alike.
The basketball bleacher shot was a good reminder to me of what a trooper she's been to put up with my crazy lifestyle all these years.
Central High vs. Delta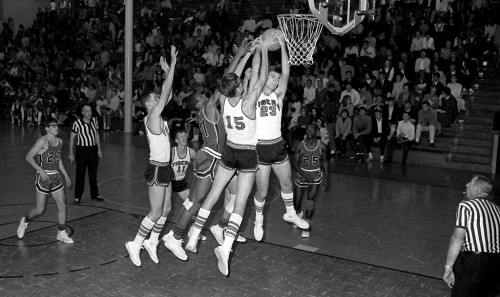 The taller, six-seeded Tigers won 64-57 over the 11th-seeded Delta team, but The Missourian's account the next day made it sound like a squeaker.
Delta played an aggressive game until the final minutes, when the Tigers bulled their way to layups. The Tigers went into the lead 56-66 as Terry Field connected with a free throw with 2:30 left.
From that point on, it was easy layups as Delta tried to get the ball and left the tall Tigers unguarded under the nets.
Both teams hit on 25 field goals and the Tigers made 14 of 24 charity tosses for the margin of victory. Delta made 7 of 15 and had only three chances from the free throw line in the last half. The lead changed hands 16 times and was tied nine times as the teams struggled.
Larry Johnson led the scoring with 23 points for the Tigers. Carl Eakins paced the Bobcats with 24 points and took game honors.
Cape Central High School Scoring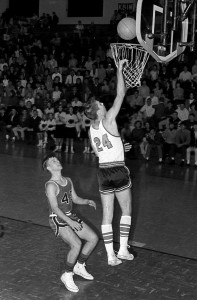 Field 12
Johnson 23
Blackiston 19
Kirkpatrick 6
Proctor 4
FG – 25
FT – 14 of 24
F – 11
Delta High School Scoring
Eakins 24
Below 8
Burnett 6
Cook 12
FG – 25
Ft – 7 of 12
F – 17
Gallery of photos from Cape Central vs. Delta
Click on any picture to make it larger, then click on the left or right size to move through the images.