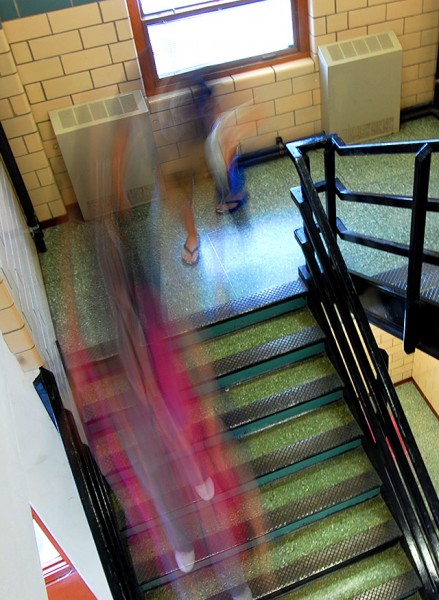 I got permission to wander around the halls at what used to be Central High School, but I had to double pinkie swear that I wouldn't show any student faces. That's a big switch from the old days when you could shoot just about anything, but I agreed to the rule. I wanted to show those stairs we had climbed so many times, but a shot without students was dull and a shot WITH students would have landed me in detention.
You can click on any photo to make it larger. (If you see any recognizable faces, don't tell on me.)
How to shoot a time exposure
This was my compromise. I shot a time exposure of the kids during class change. The pictures weren't as successful as I had hoped – those kids cleared the halls way too fast, so I didn't have time to experiment with settings.
To be able to shoot with a slow shutter speed, I had to drop my film speed down to ISO 200 and put my camera in shutter priority mode. That meant that I locked down two variables: film speed and shutter speed and let the camera control the lens aperture or opening (f/stop). The top photo was one second at f/11.
The light must have changed a little on this photo, because it had the same ISO 200 and one-second exposure, but the lens was at f/10. The one below was f/13.
These weren't the only ghosts
The old stairs still made the same sounds as they did when we were there. They are as solid as ever. I hope the school board isn't looking to turn it into a pile of rubble like Washington and Franklin Schools. If they try, I think they'll have more than bees to contend with.
Terry Kitchen describes in a video just how unhappy the spirits were when he tried to move the old trophies out of our Central to the new school out in the hinterlands. You don't muck with Central spirits.