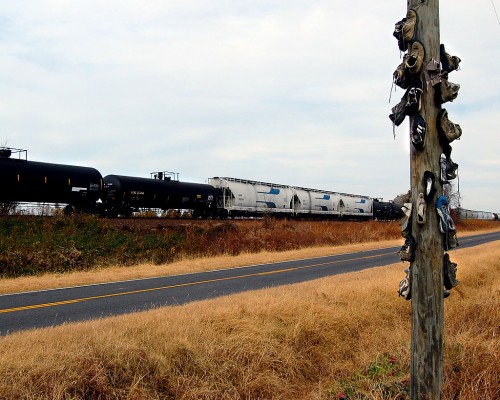 I wrote about a utility pole near Perkins that has become a shoe magnet. Mother mentioned that she'd like to add a shoe to it. In fact, she mentioned it several times, just in case I didn't get the hint the first time.
The Tulsa Clan consisting of Brother David, Sis-in-Law Diane and Niece Amy came to Cape to meet up with Brother Mark at Mother's for Turkey Day.
I had to leave town, but Mark said he'd establish the New Steinhoff Family Tradition of adding shoes to the utility pole (dubbed tree, because it sounds better).
They ended up at the Perkins Shoe Tree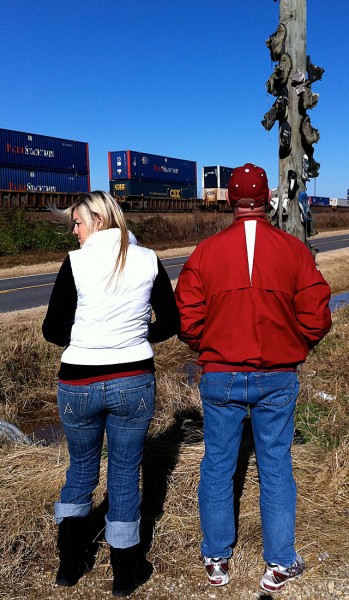 You can tell from this photo that there is some measure of confusion. Bro David is thinking, "Perkins? THIS is Perkins? I thought we were going to a pancake house."
Amy, a veteran Black Friday shopper is looking around for a mall. "This isn't a Shoe Tree like they have in Dallas next to Neiman-Marcus."
Mark prepping the shoes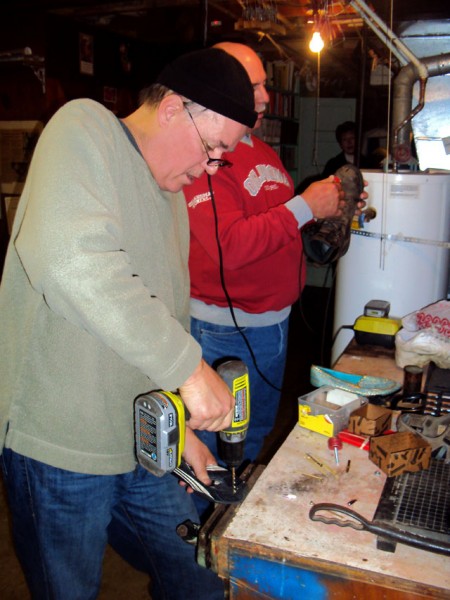 They should have had a clue that something unusual was going to happen when Mark told them to bring old shoes and then started drilling holes in them.
Red Door Antiques added shoe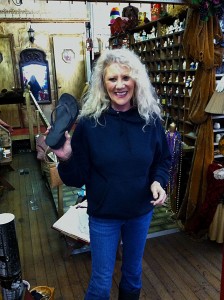 Mark, an antique hunter, stopped in at Red Door Antiques in Delta along the way. While chatting with owner Ellie Cook, he let slip the Steinhoff Family mission.
Ellie said she had heard of the Perkins Shoe Tree (pole), but had never seen it. She contributed a shoe to the project.
Madeline DeJournett, chronicler of  all that passes as news in Advance and its environs, said she was going to show up shoe in hand to meet the group, but begged off at the last minute because of family obligations.
Mark said he would leave an empty screw in the pole waiting for her. Do NOT read this as him saying that Madeline has a screw loose.
Collection of shoes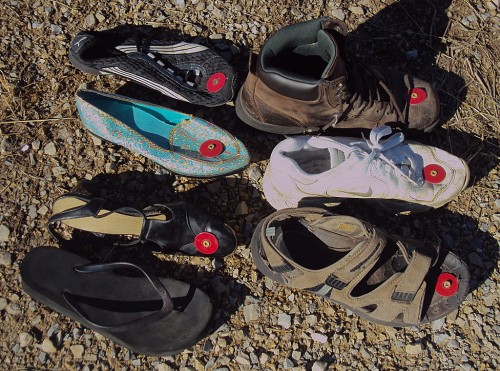 Note the red washers in six of the seven shoes. Mark thought it would be nice if it would be possible to identify the family shoes and which year they were put up.
Red is 2010.
I'm not sure if that is to reflect the Red State shift in the 2010 elections or if red was the paint that was handy.
The shoe without a red washer is Ellie Cook's.
Legend identifies shoes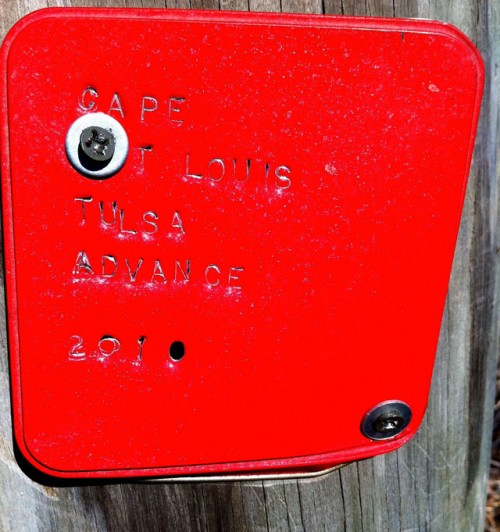 Mark decided that there should be a color-coded legend to go with the red washers. Cape represents Mother; St. Louis is Mark; Tulsa was David,  Diane and Amy. Madeline isn't family, but she's from Advance, so he was going to make her an honorary Steinhoff for the occasion. (Then she didn't show. Real family trumps honorary family any day.)
Memorial shoes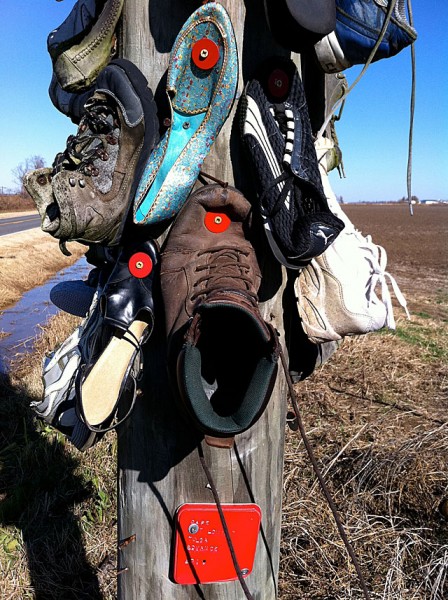 Here's a look at some of the shoes and the legend. We sure hope nobody from Perkins takes offense at us interlopers taking up space on their pole. If it turns out that it's illegal to tack shoes on utility poles, I want to point out that I was in Florida while all of this was going on.
The culprits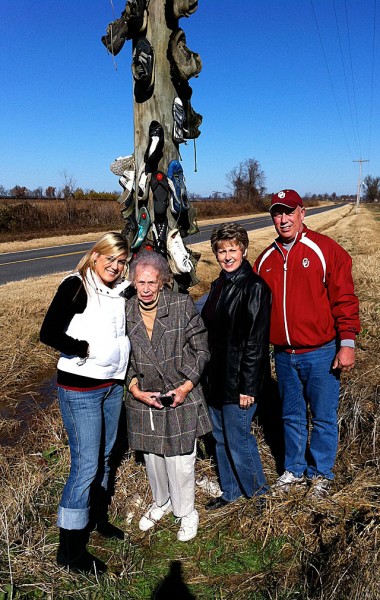 Here are the shoe tackers at the scene: Amy, Mother, Diane and David. Mark, who wanted to avoid being documented at the scene, didn't take into account his shadow at the bottom of the photo.
Wife Lila is headed back for a visit in December. Mother mentioned that she was going to swing back to check on the shoes on her way to Advance before Christmas, so I bet she could be persuaded to show Lila where to tack a spare shoe.
Thanks to Mark and Amy for the photos