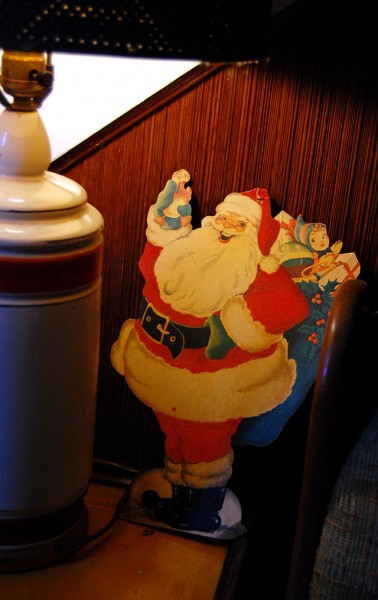 Mother is a decoratin' fool. She loves nothing more than to drag out boxes of ornaments and mementos and scatter them all through the house.
Any holiday works: Easter, Thanksgiving, Halloween, Christmas, Groundhog Day (OK, I'm not sure about that one.)
I put in a fold-down staircase a couple of decades ago so she didn't have to perch on a step ladder to get the stuff out of the attic. Now that the house is empty, there's plenty of closet space, so she, thankfully, doesn't have to climb up the ladder anymore. (I wired the attic lights to the porch light and told the neighbors if they see it on for a couple of days and they don't see her, check the attic.)
This Santa is probably almost as old as I am. (Click on any image to make it larger.)
Nativity Scene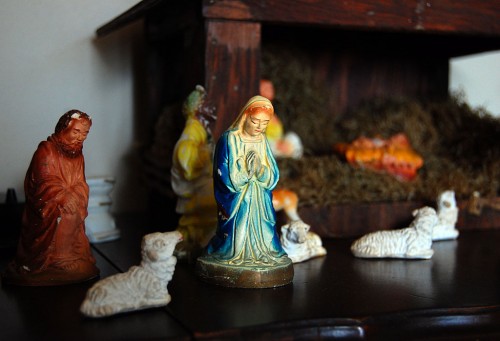 I can remember carefully placing these figures when I was about the age of Grandson Malcolm. Based on the number of chips, my destructive younger brothers much have been less diligent. I can just see them playing Shepherds vs. Wise Guys.
A lump in my throat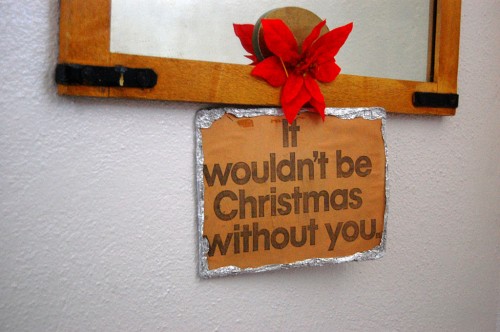 The one decoration that always brings a lump in my throat wasn't storebought, it isn't fancy and it's a bit worn.
It means more to me than all the others combined.
My Grandmother made this sign and had it hanging in the stairwell the first Christmas I came back from Ohio University. When I see it, I know I'm home.
I'm typing this in Cape as the last thing I do before loading the van to head home to Florida. By the time you read this, I'll be back with Wife Lila, Sons Matt and Adam, Daughters (we don't need that in-law business) Sarah and Carly and Grandsons Malcolm and Graham. Here's wishing you all a Merry Christmas and a New Year with lots of new tales.
Monday night update
Well, I made it back to Florida by Monday night, but I stopped in Lake City. Wife Lila won the pool for how late I'd be getting out of Cape Sunday. I quit just north of Monteagle Pass when my eyes got heavy.
I was going to push on to Ocala tonight, but I saw something about 200 yards north of the Florida line that made me a little cautious.
About half a mile after a fire rig passed me headed south, I saw the largest collection of police and fire vehicles I've seen in one place in a long time. When I crawled past them, I saw at least two van/SUV type vehicles that had rolled over and down an embankment just before they reached the Florida welcome center. I don't know if the response was so great because it happened on the state line and Georgia and Florida folks both responded or if enough vehicles and patients were involved to require that much turnout.
I suspect that one or more of the vehicles changed lanes when they spotted the welcome center sign, resulting in the crash. They didn't make it to the welcome center OR Florida. I hope the people were damaged less than their vehicles.