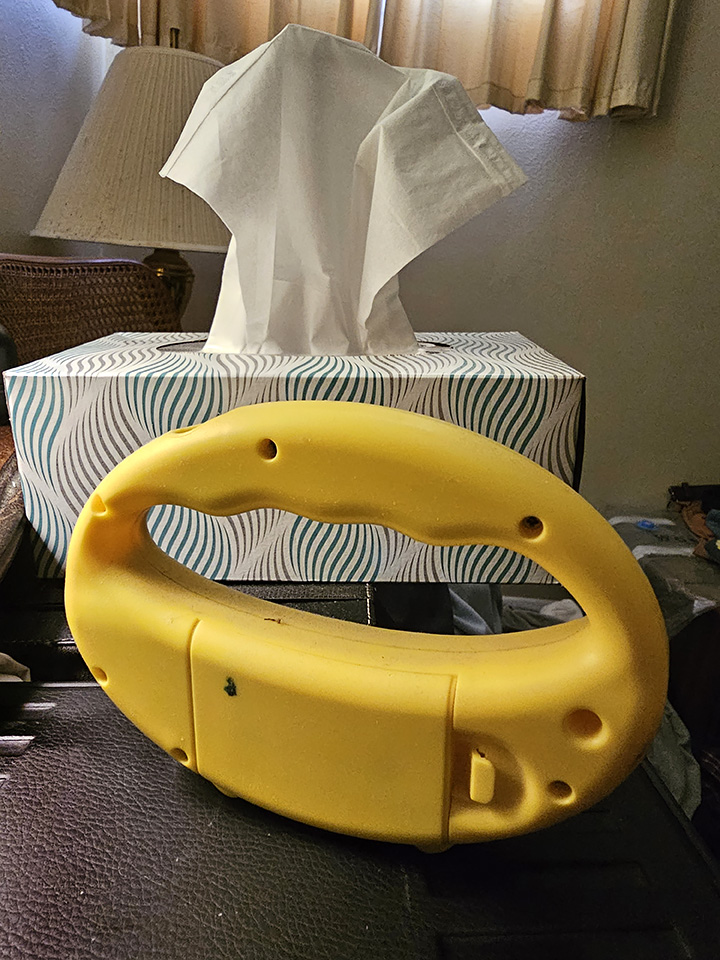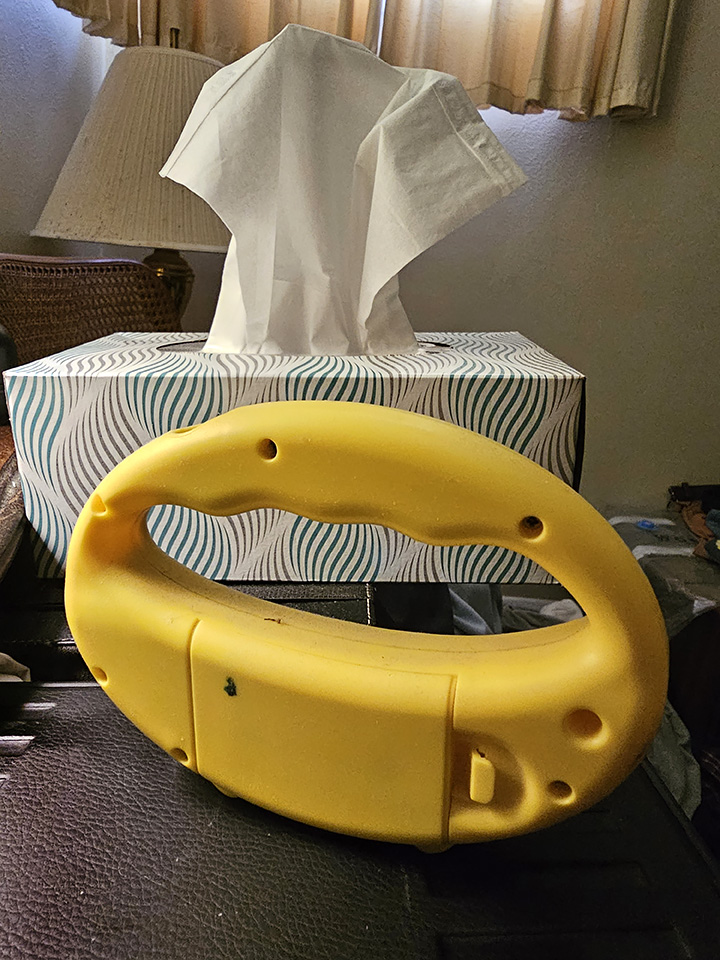 I went to bed uncharacteristically early Friday night, which caused me to wake up around 5:15 a.m. I went into the kitchen for something to drink and decided to watch a little TV.
I hadn't been there long when the kitchen went dark. That can happen if I try to use two high-wattage appliances at the same time, but nothing big was running.
The blackout was followed by a few encouraging flashes, then total darkness. The whole block was dark. The radar was clear and it wasn't storming. (It reminded me of the blackout during Y2K.) Scanner traffic said that power was out around the Mt. Auburn neighborhoods, too.
I have little dollar flashlights hanging strategically in every room in the house, so I had enough light to wander back to the bedroom where I grabbed Mother's old faithful bedside flashlight.
I bought it for her 25 or more years ago, and she always kept it next to her bed. She loved it because of its bright yellow color, but also because the shape made it easy to grab and to carry. It had an easily pushed button that would project a beam straight ahead, or at your feet.
We debated burying it with her, but figured she'd be mad that we wasted such a useful gizmo. I inherited it with the house.
Held off on the generator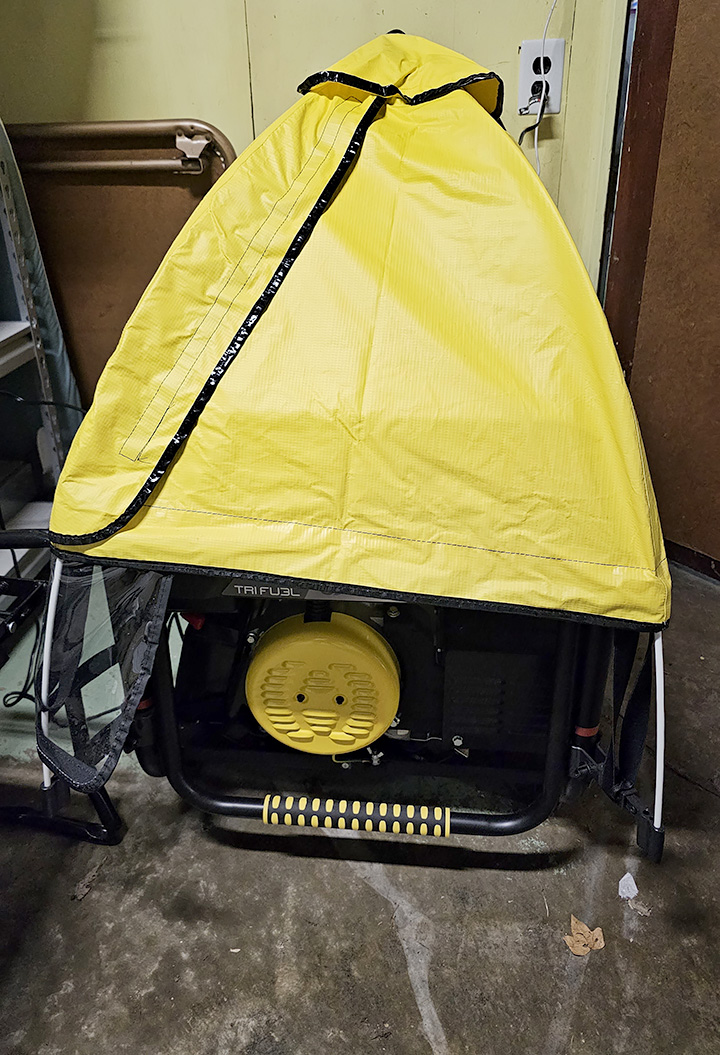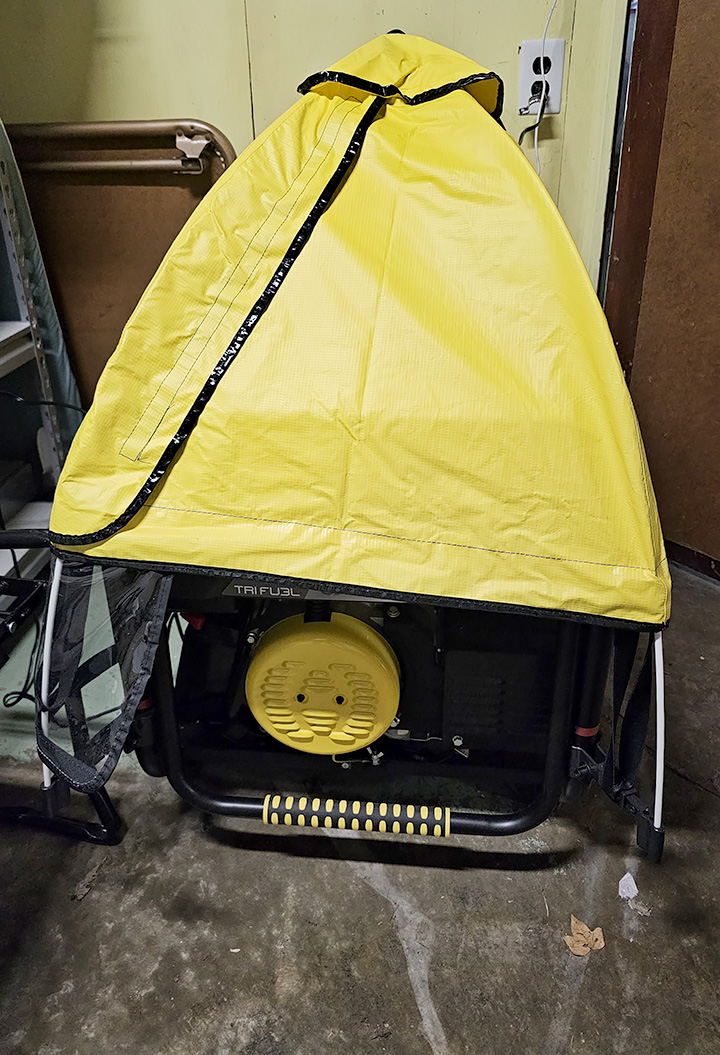 I bought a Champion tri-fuel generator last year, but didn't get around to extending the natural gas line and electrical hookup until AFTER I lost power for 16 hours and 38 minutes in the winter.
I gave some thought to hooking it up, but the house was cool enough for sleeping, and I decided it would be easier to do it after it was light, if the power hadn't been restored by then.
As it turned out, that was a good decision because things started coming back to life at 6:06 a.m..
So, the generator is patiently waiting. Its battery is trickle-charged, and it's wearing its GenTent cover ready to spring into action.
Ready in Florida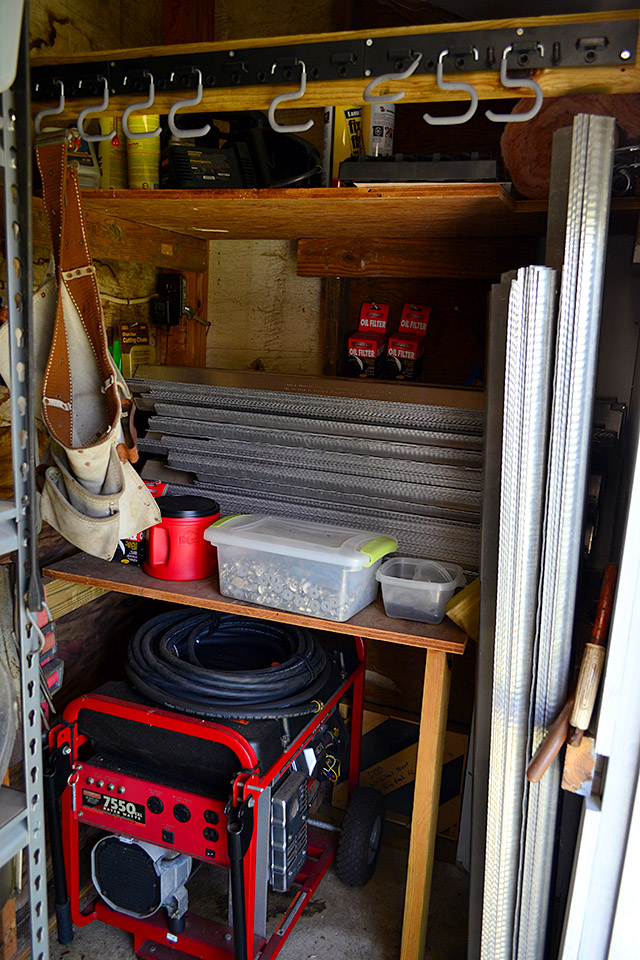 I bought a little 3000-watt generator after Hurricane Hugo, and didn't use it until a series of storms rolled over Florida ten years later, starting in 2004.
I gifted the small unit to Son Matt, and bought a larger one that I adapted to run off propane and natural gas. It sleeps in our backyard shed, along with hurricane panels, tarps, sleeping bags and other storm supplies.
Generator's only good if you can keep it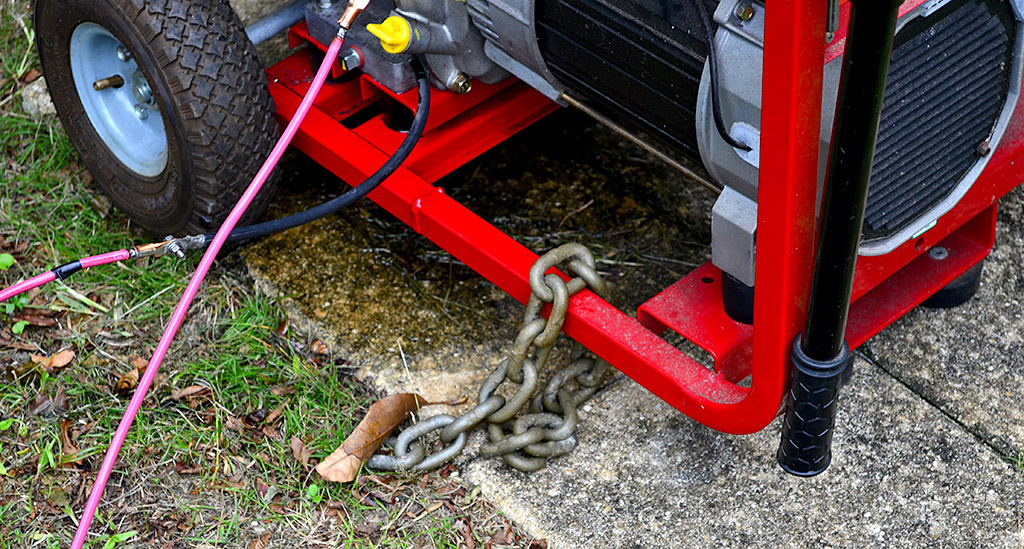 There's a story that may or may not be apocryphal about a guy who parked his generator right outside his bedroom window so he could make sure it was still there.
In the middle of the night, he could hear it humming away, but his room was getting hot. He went out to find a thief had substituted a running lawnmower for his generator.
There are some stories that should be true, even if they aren't.
Here's how we secure the Florida power supply. A thief could still make off with it, but he'd have to have the right tools and a degree of determination.
(If he leaves a lawnmower, I hope it's one of equal value.)
THIS was a surprise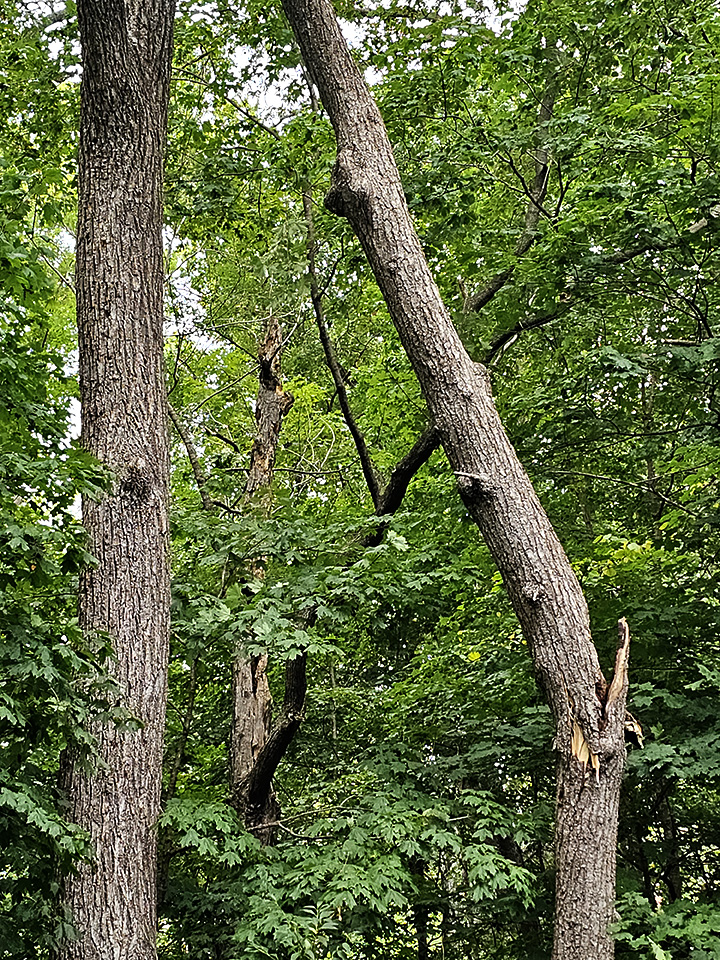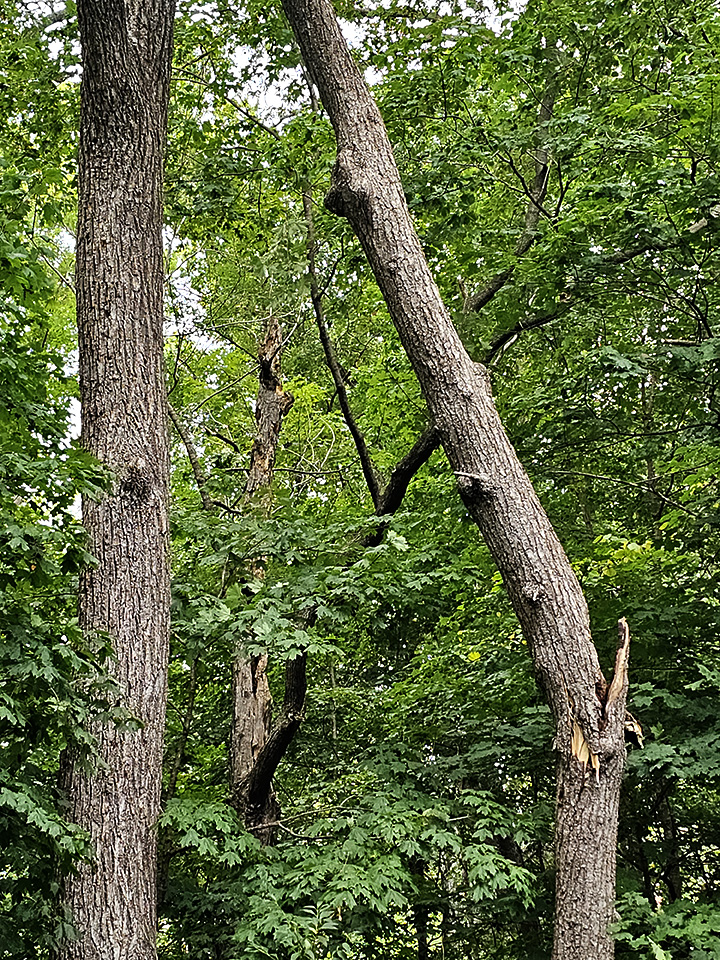 The region was under a severe thunderstorm warning a big chuck of the July 1 afternoon. It blew through fast with some gusty winds and rumbles of thunder, but only about .03 inches of much-needed rain.
I heard scanner reports of trees down and power outages, but I thought we had escaped any excitement on Kingsway.
I went out to pick up a limb that had fallen off a maple tree several days ago, and was surprised to see this splintered walnut tree. It's leaning against another tree, and isn't in a place where it would damage anything except a concrete birdbath.
I'll let God and gravity take care of it.