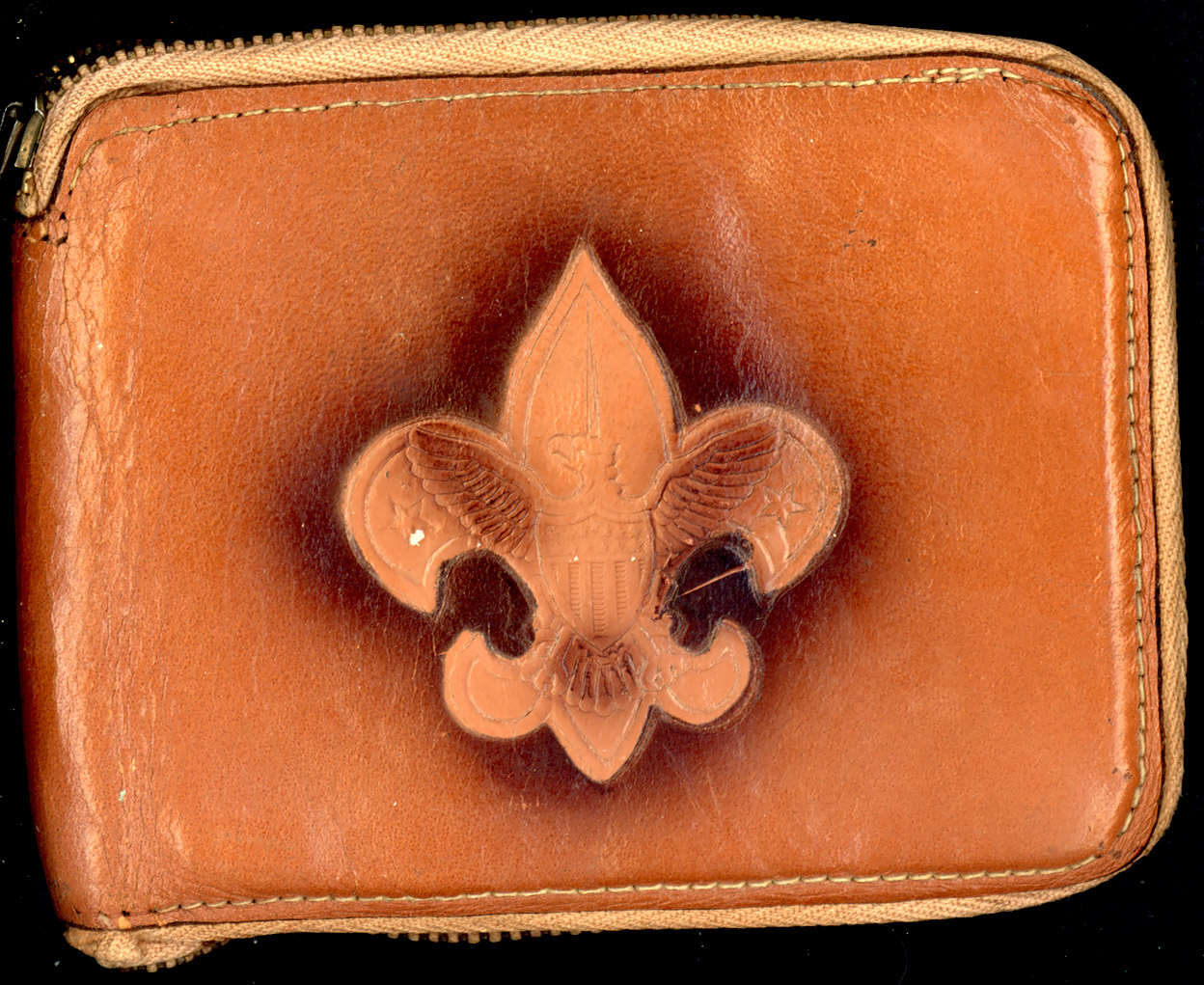 When I was a kid, my grandmother gave me a small cedar chest to hold my "special" things. Nothing in it had much value – it had lots of Boy Scout detritus, including my Boy Scout wallet, some Scout rings and bracelets, a carved Order of the Arrow, and lots of certificates for awards.
Is that green sticking out?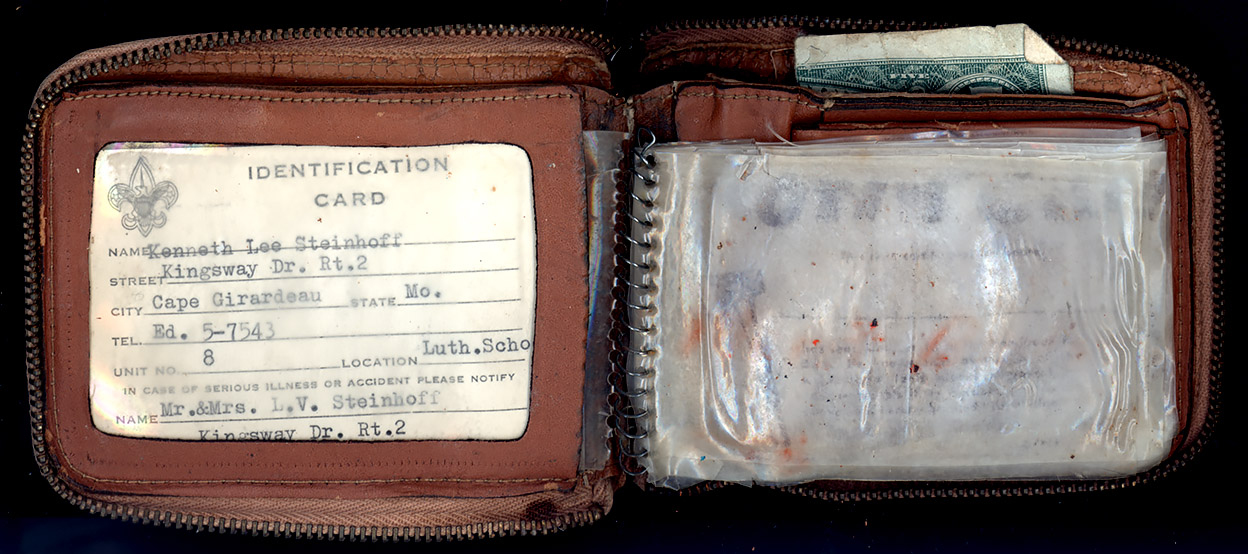 I thought I had hit paydirt when I opened the wallet and saw a green bill sticking up. Note my address: Kingsway Dr. Rt. 2. Our mailing address for years was just Route 2 because we were outside the Cape city limits.
Looks like a folded five-dollar bill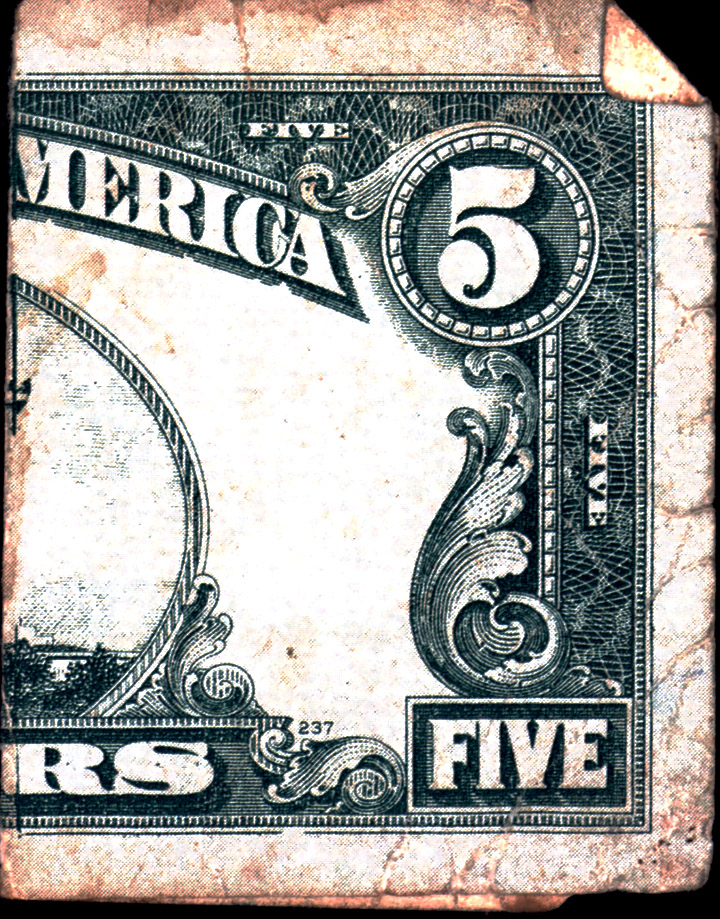 Yep, sure is. I don't recall having many of those at that age.
All that is green is not money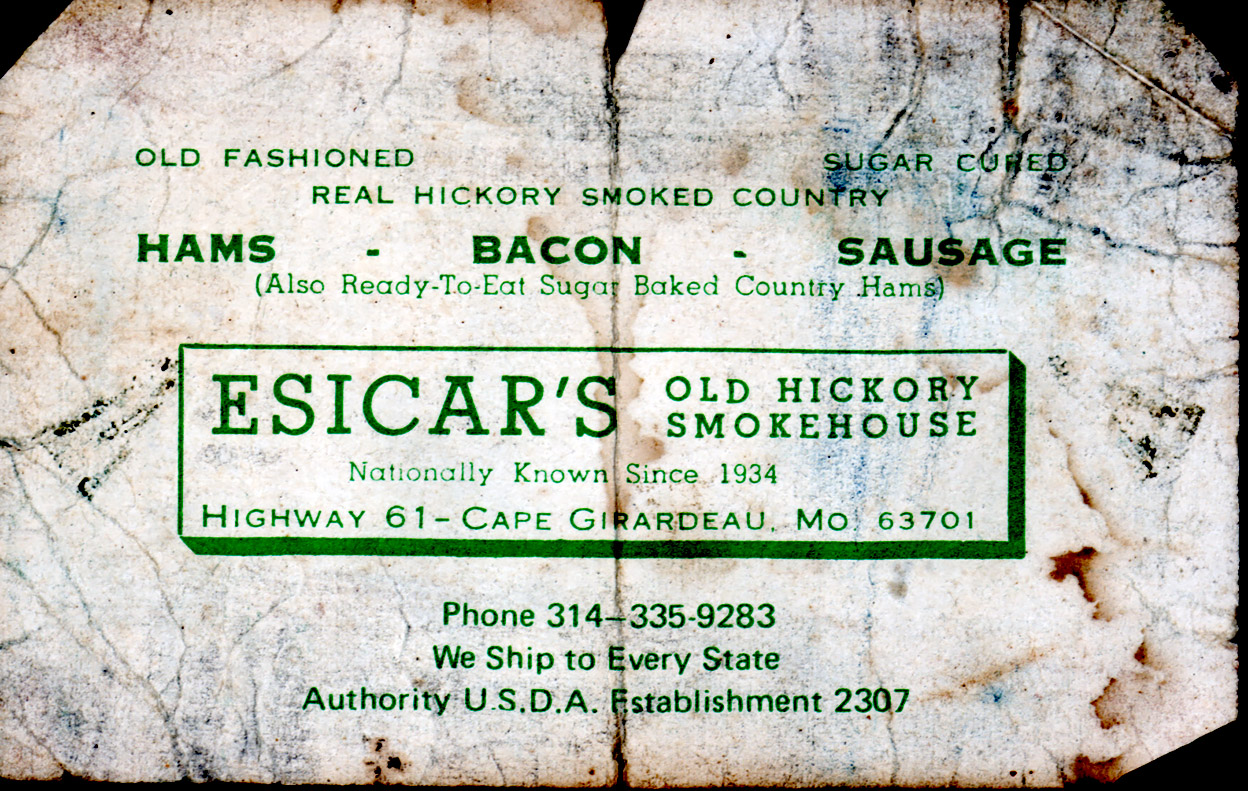 When I unfolded it, it was only half as wide as a regular bill, and this was on the backside.
Note that the address was Highway 61, not Kingshighway, and the Area Code was still 314.
Esicar's alas, went on the auction block in 2011, briefly became The Butcher Block, and is now empty.
My Totin' Chip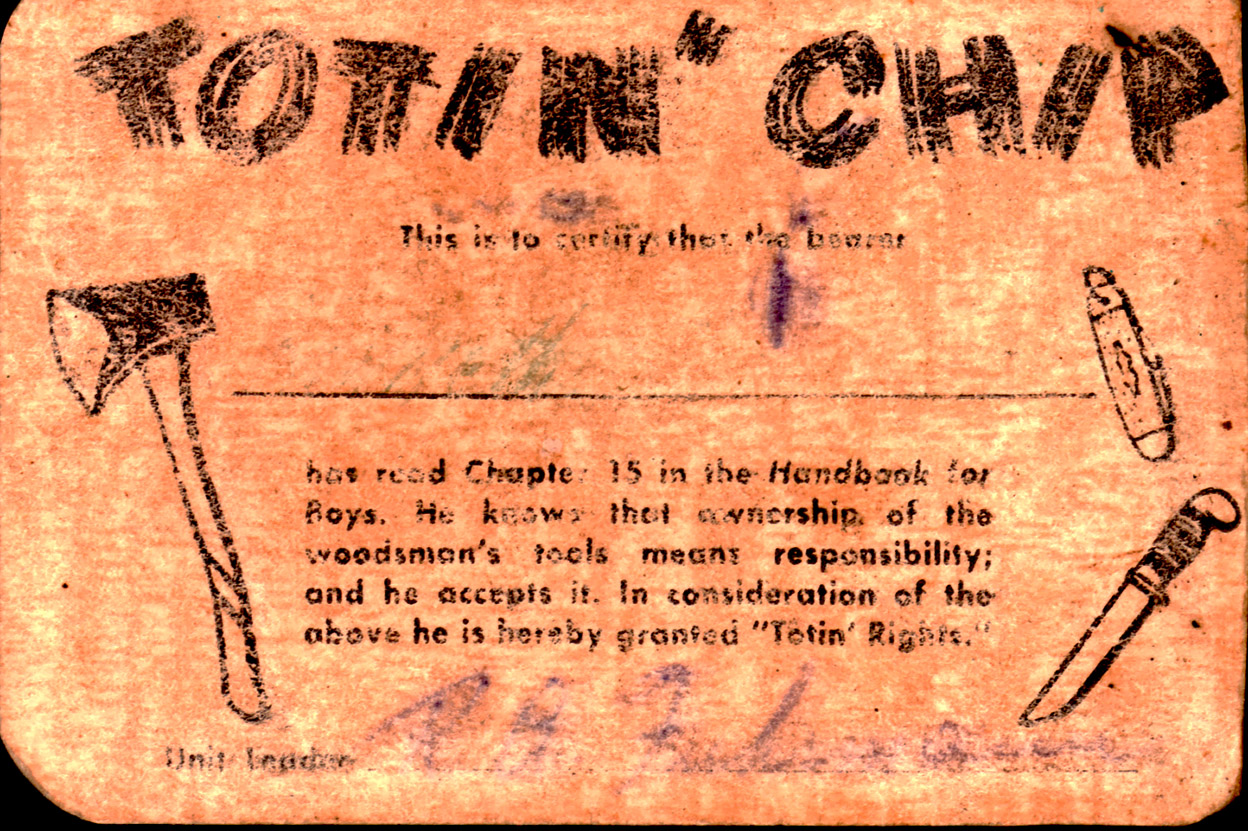 Barely visible through the glassine sleeve is my Totin' Chip, which attested that I had read Chapter 15 in the Handbook for Boys, and that I knew that ownership of the woodsman's tools means responsibility and that I accepted it.
"In consideration of the above, " he is hereby granted "Totin' Rights."
To this day, I remember how to hand someone an axe, and to say "Thank You" to signify that I am accepting a cutting tool from someone.
The ink has pretty much faded, but I think Scoutmaster Ralph Fuhrmann signed the card.
A Western Union Telegram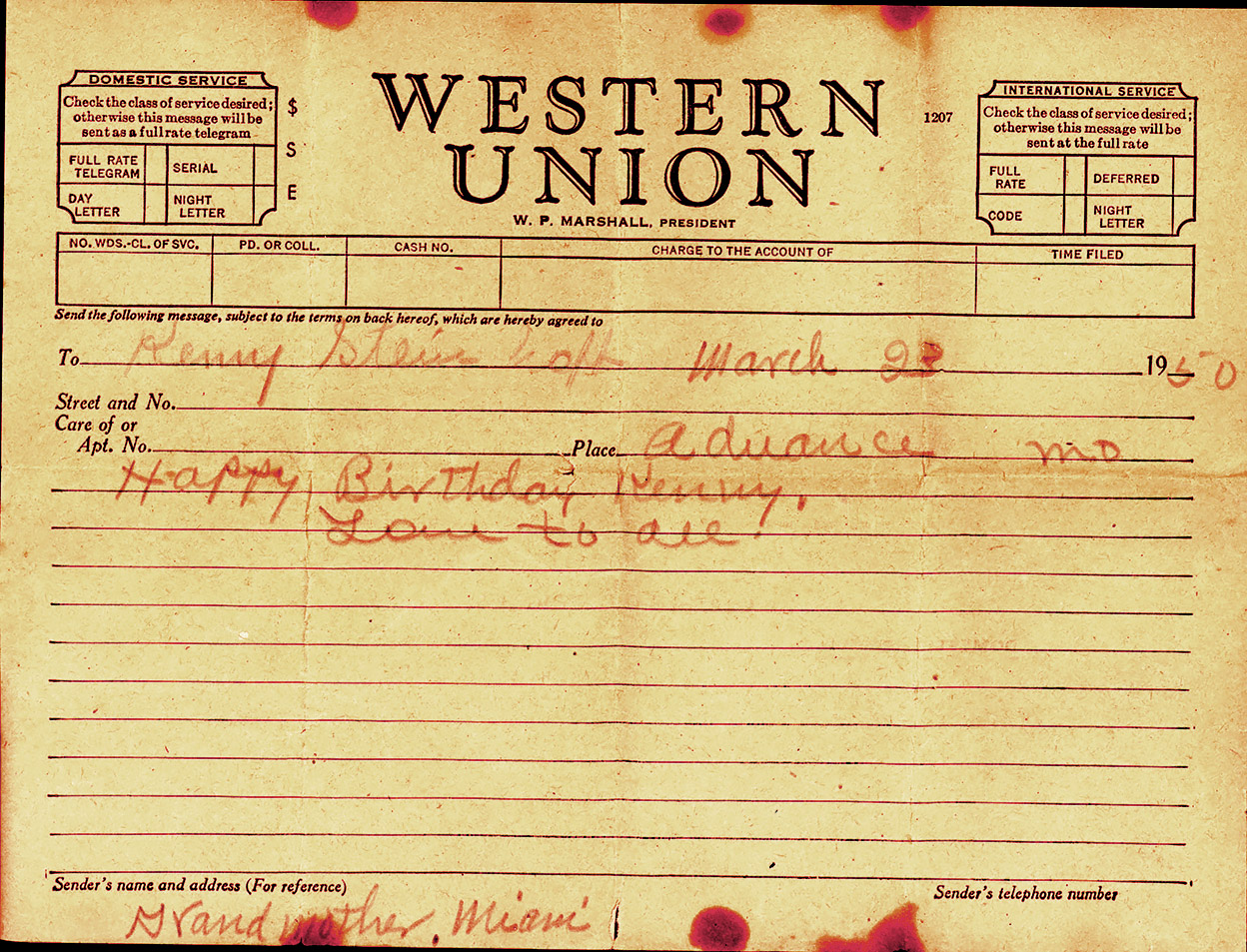 Also folded up was a bit of yellow paper that turned out to be a Western Union telegram from my grandmother, Elsie Welch, who must have been visiting Miami.
It was dated the day before my birthday in 1950. I don't recognize the handwriting, so it may have been an actual telegram received in Advance, Mo.
As years went by, hand delivery was phased out, and Western Union would simply call the recipient for permission just to read the message over the phone.
In the kinder, gentler years between wars, when the arrival of a telegram was unlikely to start out, "The War Department regrets…." I was known to send girls "thinking of you" telegrams to be delivered in school when I was out of town on debate trips, and the like.
I don't remember sending Wife Lila a telegram, but I DID send her flowers when she was at a weeklong water safety camp in Eldon, Mo. It caused quite a stir when the flowers arrived, and I assume I earned serious Brownie points.
My namesake uncle was killed in Eldon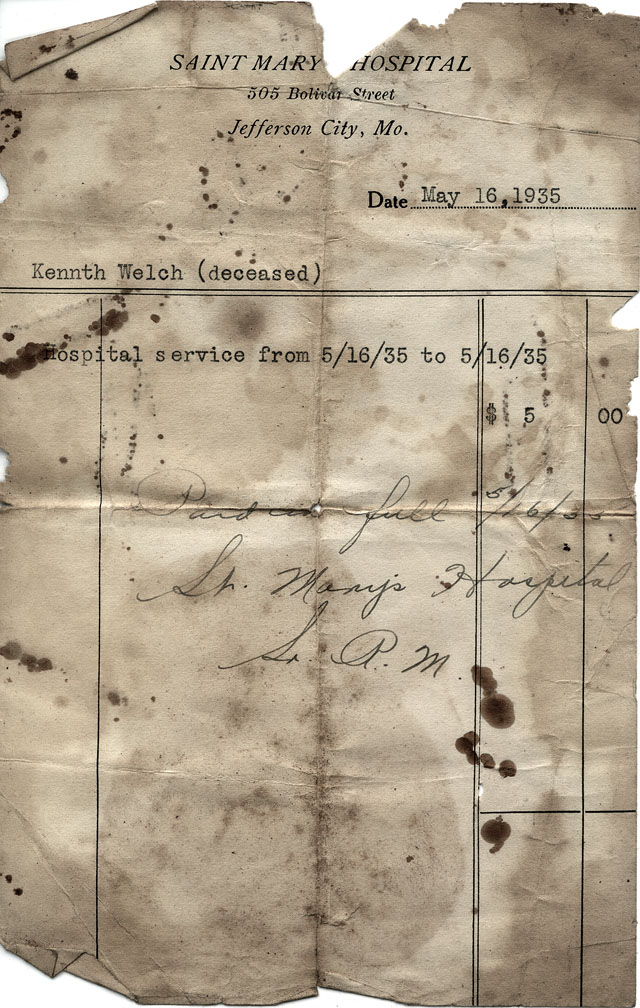 Eldon, ironically, was where my namesake uncle, Kenneth Welch was killed in a car vs. train crash in 1935.
The hospital where he was taken sent a $5 bill (that was paid in full).