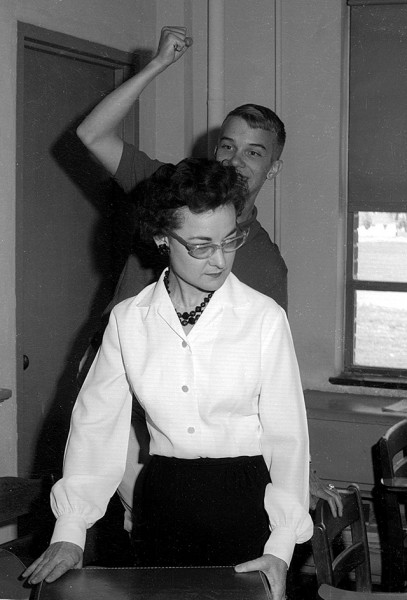 Speech teacher and debate coach Ruby Davis was a diminutive force to be reckoned with. She was on the short list of teachers who had a major impact on my life, even if my Swampeast Missouri twang drove her to despair. As I've mentioned before, she could dectect the "r" in "warsh" at a hundred yards, even if you were whispering.
She never discouraged my political ambition to be President of the United States in 1984 – the earliest year the Constitution said I could serve – even though she cringed when I told her that I would invite her to Warshington to see me sworn in.
This series of two photos is a chicken-and-egg conundrum. I'm not sure which came first. Bill Hopkins' sneak attack on Ruby (which was immediately picked up by the eyes in the back of her head) or the next shot.
You don't mess with Ruby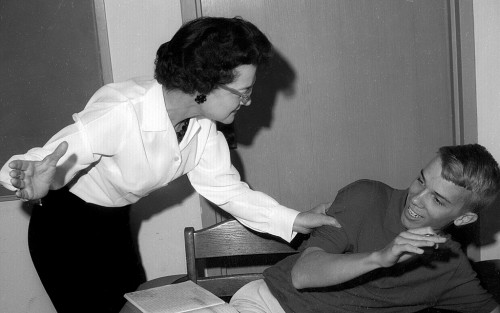 I'm betting the retaliation photo was the second in the sequence.
So far as I know, no students nor teachers were harmed in the filming of this encounter.
I'm sure Ruby would be happy to know that I gave up my dream of being POTUS after campaign manager Bill Hopkins torpedoed my chances of even making it to President of the Student Body.
She would be even more surprised to learn that Bill – someone she probably thought would be lucky to become a bartender – actually became a member of the bar and a judge who was never indicted. (So far as I know.)