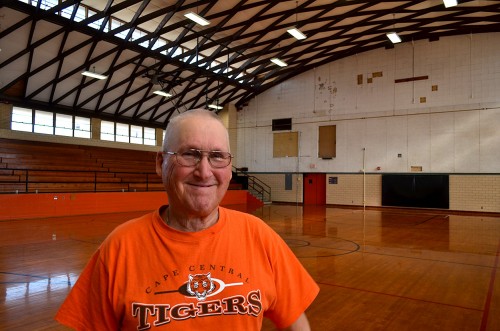 David Hente:  "I started here in 1956. Fall. I'll never forget the first day I walked through that door. This place was immaculate. There was a smell of varnish. The gym was only two years old at that time anyway, and every summer they came in here and redid the floors.
"When I worked at the paper, I was out here a lot for various functions, and, just for the fun of it, I always make sure to go down to the gym, walk in and just take a whiff. As soon as you'd walk in that door… and if they were still using it, you could get over by the dressing room and get that smell of water and whatever…."
More pictures later
I promised you pictures of the public's last glimpse of the old gym, but I need more time to edit the photos and go through my notes. I'll give you this quote from David Hente about walking through the door behind him on his first day as a freshman as a placeholder. I'll post the rest later.
By the way, you can click on David to make the photo larger.