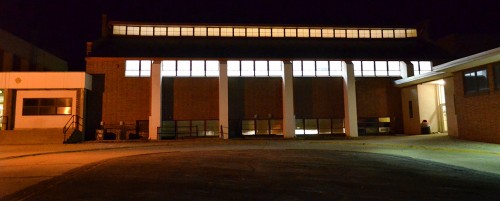 The night before its wake on Saturday, January 30, when the public would be invited to say goodbye to the Central High School gymnasium, the lights were burning brightly.
I did a post yesterday of previous stories, photos and a video of events I had covered in the gymnasium. If you didn't see it, I encourage you to check it out.
Photo gallery of the gym in 2009
I had forgotten I had taken more photos in the gym when I wandered the halls in 2009. I was impressed then with how well the overall building and the gym had held up since it was built in 1955. Maybe its defects are hidden.
Click on any photo to make it larger, then use your arrow keys to move through the images.