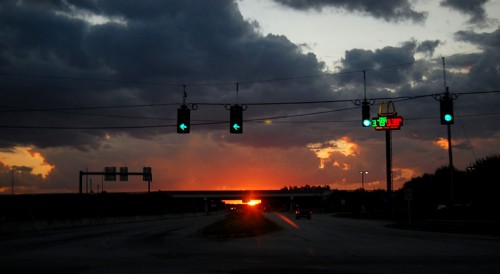 Why do you never catch a red light when you want one? I had just pulled out of the Steak 'n Shake in Ft. Pierce, Fla., getting ready to turn onto the Turnpike when I saw the setting sun lining up right under the overpass. Luckily, I had my camera where I could grab it off the center console, but it was set for time exposures from a lightning storm we had a couple nights ago. (Click to make it bigger.)
By the time I got the camera setting right, I was where I was going to have to turn left, there was traffic behind me and the bleeping light was green. Any other time, it would have been a long red. I managed to get off one frame.
Fixin' to get a car wash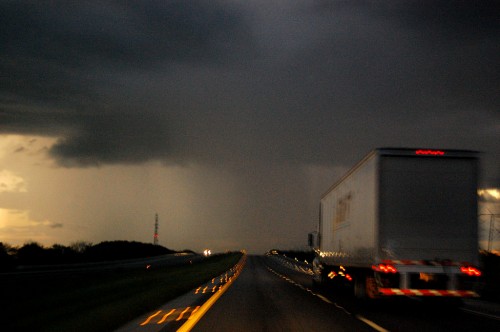 Just south of the Fort Drum service plaza, I noticed that the sky was getting dark and that there were streaks of rain right where the road was heading. A couple miles north of here, the skies really opened up.
That's when I'm really glad I put Rain-X on the windshield before leaving home. I've been using that stuff for years and I made sure it was in all our hurricane go-bags. It makes it possible to see clearly without having your wipers on.
I made it to Gainesville Tuesday night. Traffic was moving smoothly and the couple of rain squalls I hit didn't last long.