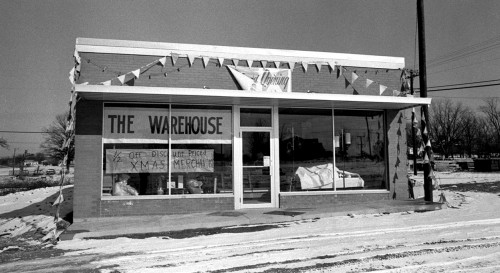 This photo was taken in January 1968, probably for the annual Missourian Achievement Edition, but I wasn't sure where it was taken. There was no listing for "The Warehouse" in the 1969 City Directory, and the newspaper had a gazillion stories about generic, lower-case warehouses, so that was no help.
It had the feel of being near the Town Plaza Shopping Center and south of Central High School. You can get a sense of the old railroad line off on the left side of the building, and those look like Central's practice fields at the corner of Independence and Caruthers beyond that. Click on the photo to make it larger.
When in doubt, turn to Google
When in doubt, turn to Google. I pulled up the Google Map for the general area, then started "driving" down the street with Streetview.
Google Streetview has a building that has a similar shape at 1810 Plaza Way East, but it appeared to have been enlarged.  The 1979 City Directory has a listing for the Eagles Club at that address. That was probably when the building was expanded and the display windows covered up.
It's in the neighborhood of Griff's Burger Barn, which was also having a grand opening about this time.
Anyone have any more of the history of the building?