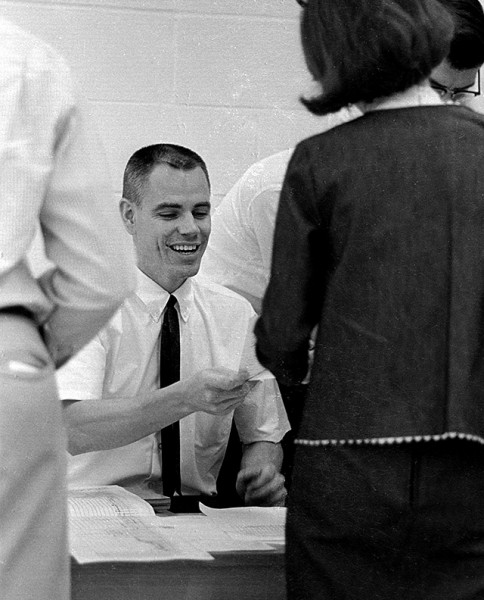 This is going to sound like a contradiction that John C. Bierk would have marked me down for, but the English professor was one of the handful of instructors I remember from SEMO, but, for the life of me, I can't recall why.
I had him for Freshman English, the year before I shot this photo of him for The Sagamore (which has been consigned to the dustbin of journalism). He wasn't an engaging lecturer like Arthur Mattingly, the history prof who taught American History in the present tense and could make you see the enemy sneaking up over the rise. He didn't have the easy style of speech and debate teacher Fred Goodwin.
He was a man who set high standards for his students and wouldn't accept anything less than their best. I ran across my old SEMO transcript not long ago, but don't know what grade he gave me. I had a 3.75 grade point average when I transferred to Ohio University, so I couldn't have done too badly in his class.
I did quick Google and Southeast Missourian searches without finding much. One surprising thing was that he became a prolific Letters to the Editor writer after his 1957-1987 academic career. He was a lot more liberal than I would have thought from his class demeanor.
Did anyone else have him? What do you recall about him?