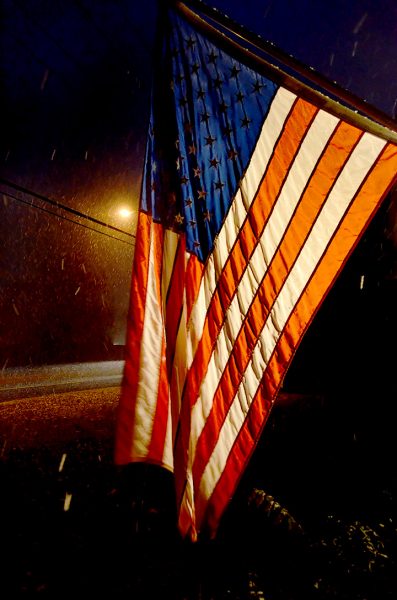 The weather folks have been teasing us all week telling us that a big snow storm (they call it an "event") is coming. We had a little God Dandruff scatter for a few minutes earlier in the week, but Wednesday was supposed to be the biggie.
I had to go to the Jackson Walmart to have some prints made. As I backed out of the driveway, some fairly sizable flakes were getting organized, but I wasn't worried. Just as I closed the car door, I noticed how the flag was nicely backlit, and some of the flakes were popping out. (You can click on the photos to make them larger.)
Rose bush looks like cotton field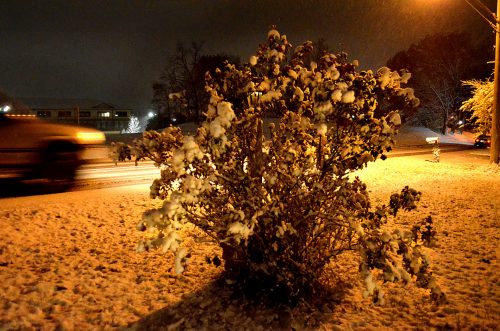 Since I was already almost to Jackson, and because I had some time to kill, I decided to have a combo, slaw, fries and a Mr. Pibb at Wibb's.
By the time I finished, there was serious snow on the road. I got behind a slow driver going up the steep hill next to the city park, and I kept thinking, "If this guy don't dial some giddy-up, we're going to spin out here."
There wasn't a bread and milk freak-out going on at Walmart when I picked up my prints, but a lot of baskets were filled with snow melt.
Hwy 61 between Jackson and Cape was covered. I got in behind a snow plow (at a safe distance), but parts of the road were still slick. Even going up Kingsway Drive kept my traction control popping on and off.
I looked at the rose bush in the front yard, and was glad I had a nice, warm house to hide away in.
Memories of snow and smack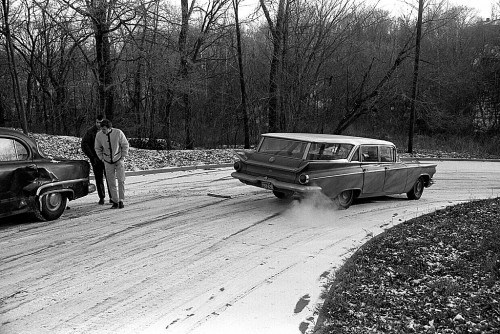 I'm pretty cautious about driving on snow and ice because I learned at an early age that just because you can go doesn't mean you can stop. Jim Stone, Carol Klarsfeld and I were checking out the sights on a steep hill near Bertling when we came around a curve and saw a car on our side of the road.
I put on the brakes, but gravity was not on our side. We slowly crashed into the other car with my tank of a 1959 Buick LaSabre station wagon. My car suffered so little damage I didn't bother to take a photo of it. The other guy was less lucky.
OK, I'll go take a look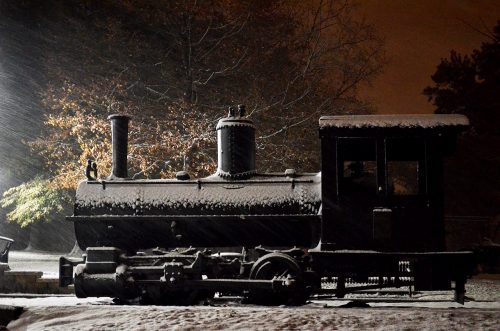 After pacing around in the kitchen for a few minutes, temptation overcame good sense and I grabbed for a jacket and headed out.
I learned as a Missourian photographer, that there are a few places in Cape that are like shooting fish in a barrel when it's time to come up with some weather or wild art.
Capaha Park and the train is one of them.
A heavy, wet snow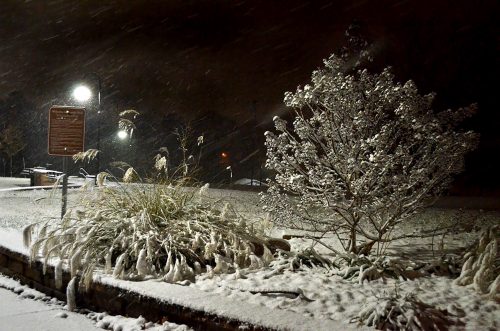 This may be one of those great snows that turns out to be very pretty, but probably won't stick around long. Roads that were pretty treacherous when I set out were already plowed or in the process of being plowed by the time I headed back.
This was taken near the new pavilion in Capaha Park that overlooks where the pool used to be.
Next stop: SEMO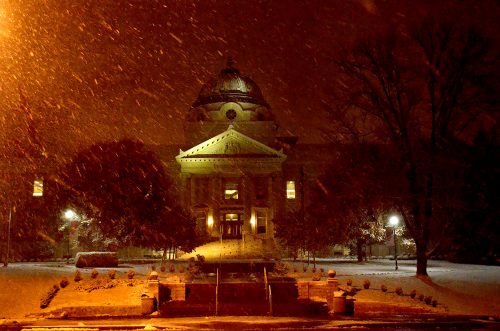 It took two passes to shoot this picture of Academic Hall. When I got right in front of the building, I looked in my rearview mirror and saw a bus coming up behind me. I figured I'd better keep going to give him room.
Then, I saw him turn off.
When I made my second pass, I managed to get off a few frames before a car showed up in the mirror again. What are those fools doing out on a night like this?
A swing and a miss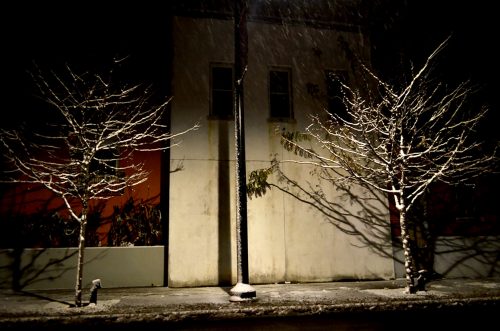 I felt like I had to shoot something along Broadway. These trees and utility pole caught my eye, but I'm not overjoyed with the result.
Oh, well, you can strike out 7 of 10 times at bat, and still make a million bucks a year.
Main Street decorations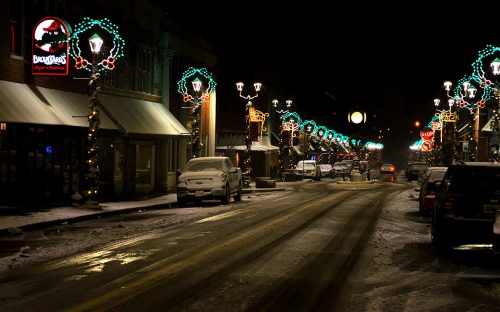 Some other folks had posted pictures of Main Street's decorations on Facebook before the snow, so I actually got out of the car to shoot this.
Lady Liberty and Freedom Corner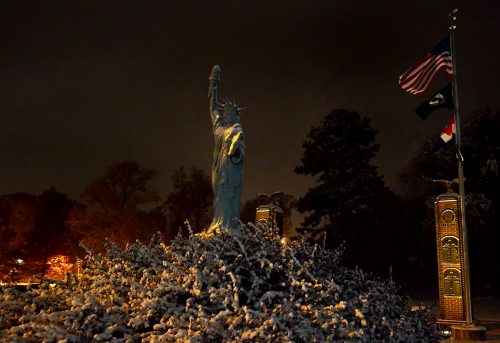 This situation looked better than it photographed. I'm including it because it was the second time I got out of the car.
As I stepped off the curb, I thought, "Please don't let this slush be deep enough to fill my shoe."
It wasn't.
I was acutely aware of the possibility, because the night before I was pricing a pair of old-fashioned galoshes that I could slip over my shoes when confronted with mud, slush or snow. When I saw the price, I decided my toes could get pretty chilly before I'd spring for overshoes.
I decided that I had cheated death enough, so I hung it up and headed home. My meanderings didn't produce any great art, but it felt good to check snow off the year's bucket list.