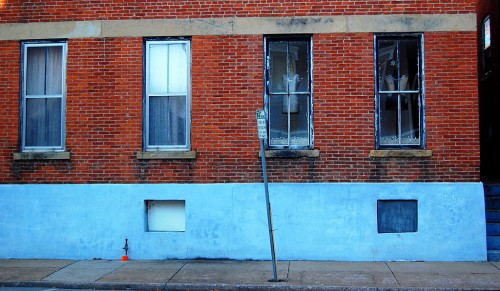 From time to time, I meander through old photos to see if something catches my eye that I might have missed. I was telling a friend the other day that there's almost always a reason WHY you shot a picture, you just may not realize it the first time you look at it, particularly if you have a particular story in mind. (Click on any photo to make it larger.)
The first couple of these shots fit into the "What am I seeing in that window?" category. The shot above was on the north side of Broadway just east of Annie Laurie's Antiques. The dummies, if that's what they are, just popped out at me as I was walking down the street. When I looked at the frame later, I liked the cool cast the bluish colors give the overall image, then there's that incongruous splatter of fluorescent orange around what appears to be a gas line.
Another dummy in the window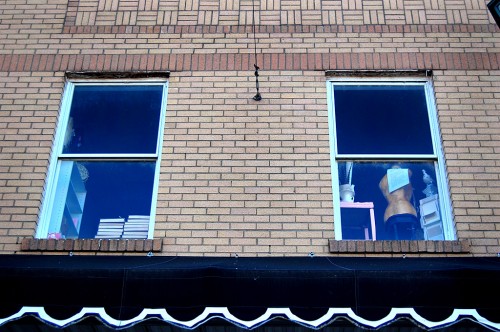 This is the building at the southwest corner of Main Street and Broadway that housed the St. Charles Drug Store after the St. Charles Hotel was torn down. It had once been used by the Singer Company. You can see the Singer sign if you look closely at the photos of the teen dance held in the First National Bank parking lot. Some of  Main Street Midnight Madness pictures may have been taken inside the drug store.
Stag Beer
No telling how many times this Stag beer sign has been painted over. It's on the side of a building being restored on the southwest corner of Independence and Frederick.
Building on Water Street
I thought it was curious how the stacked pallets mimic the windows in this Water Street building, down to the colors.