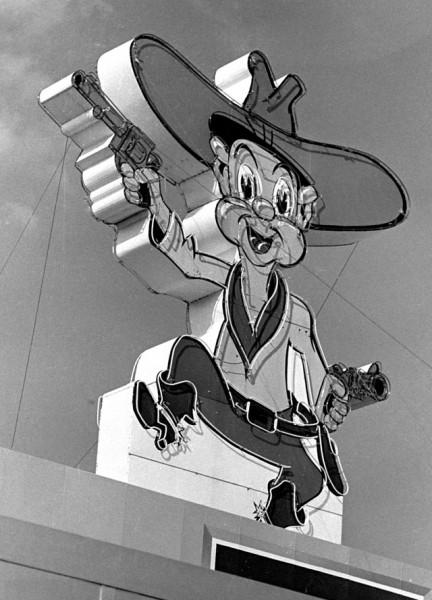 I shot these photos of Rueseler's Motor Company, better known as Rueseler's Chevrolet, in the summer of 1966. The signature cowboy with blazing six-guns reminds me of the iconic Bunny Bread mascot.
Chevrolet dealer at night

I shot some of the photos in the daytime, then went back at dusk to try to get the signature cowboy to show up. My attempt was only marginally successful.
"Trusty Chevy II," "Sporty Corvair"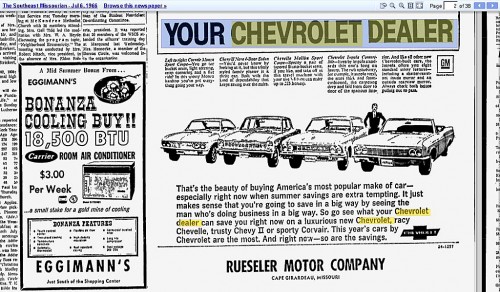 The building looks new, so the photos could have been taken for an ad or a business column. I thought it would be easy to find stories about Rueseler's, but a couple of ads were the only thing to pop up in the Google archives. This July 1966 Missourian advertisement tried to entice you buy a "sporty Corvair." Those are two words I'm not sure I'd use together.
How do you like the Eggimann's offer to sell you an air conditioner for $3.00 a week?
Blazing Chevrolet deals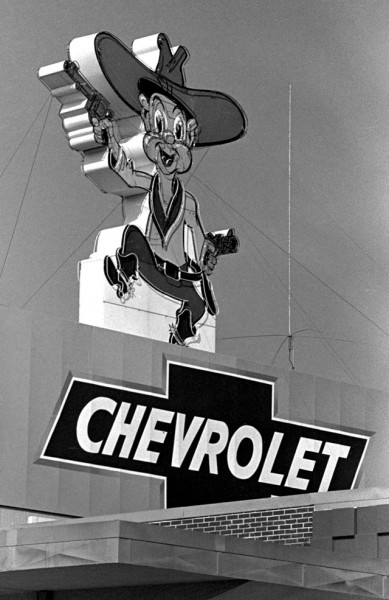 I'm not sure what's in the building on Kingshighway these days. I'll have to check it out when I go back to Cape in October for Mother's Birthday Season.