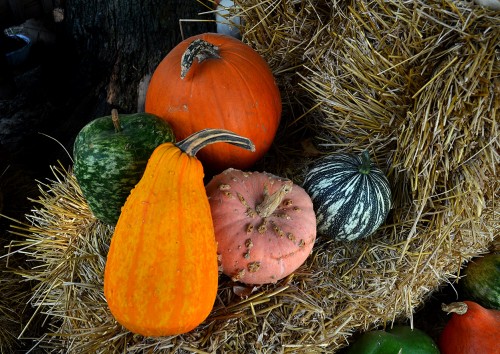 Bob Campbell did a story on the Perryville Pumpkin Farm in the September 28, 2014, Missourian. When Friend Shari and I wrapped up our business at the Altenburg Lutheran Heritage Center and Museum, I suggested we head up the road to take a look at it.
I had never seen so many different colors, shapes and varieties of pumpkins and squash. They aren't ALL orange and round, children. Bob's story said the farm raises 146 varieties of pumpkins. There are some that have long necks like swans; others are covered with "warts" and look like brains.
Rides, mazes and more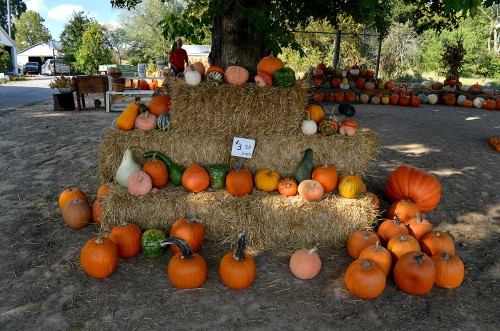 We got there late in the afternoon, so we didn't take advantage of a lot of the things the farm had to offer like rides out to the fields, the one-mile corn maze, the pumpkin slingshot or Sophia the simulated cow. I couldn't even convince Shari that it would be fun for her to crawl through the straw tunnel while I photographed her head sticking out from time to time.
We bought some small items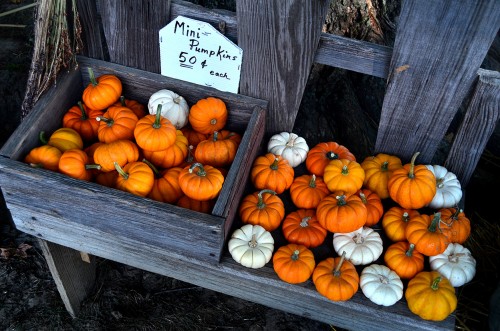 We both bought some small, colorful pumpkins and squashes to take back to our mothers. It's little things like that that keep you listed in the will (sorry Brothers David and Mark).
Shari was kitty-captivated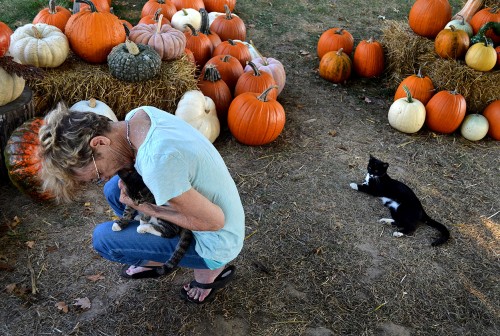 Shari, who is owned by two cats, fell in love with this kitten. Mom Meckler said they were overstocked on kittens, noted how Shari was "the only one the cat would allow to pick her up," and brought out a cardboard box for her to take it home to St. Louis. I tried to guilt her into taking it, but she called that evening to say she was going to have to pass this time, and to find the critter a good home.
Curator Jessica saw this photo and said she wants the black and white cat. She's coming to Cape in November, so maybe it'll find its way back to Ohio.
Pumpkins in the semi-wild
One of the farm's pumpkin patches bumps up against the Immanuel Lutheran Cemetery. It's a bit disconcerting to look in one direction and see hundreds of pumpkins, then look over your shoulder to see hundreds of tombstones.
How to get there
Here is the Perryville Pumpkin Farm's website. They are open 7 days a week, from 9 a.m. to 7 p.m., from September 1 through October 31.
If you want to make a Perry County day of it, stop by the Altenburg museum for the new exhibit, Revision: Recovery, Repair, and Transformation by artist, Kurt Mueller of Minneapolis. Mueller is the fifth generation descendant of the 1839 German-Lutheran immigration to Perry County, MO This extraordinary exhibit consists of sculptures, paintworks, and assemblages including detailed narratives of the artist's journey.
The opening reception is Saturday, October 4, from 6:30 p.m. to 9 p.m. It is free and open to the public. The exhibit will be shown from October 4 through November 7, 2014. If the exhibit is half as impressive as its catalog, it's going to be worth a scenic drive to see.